The London Studio announces new Art of Drag deal with Tall Boy Prints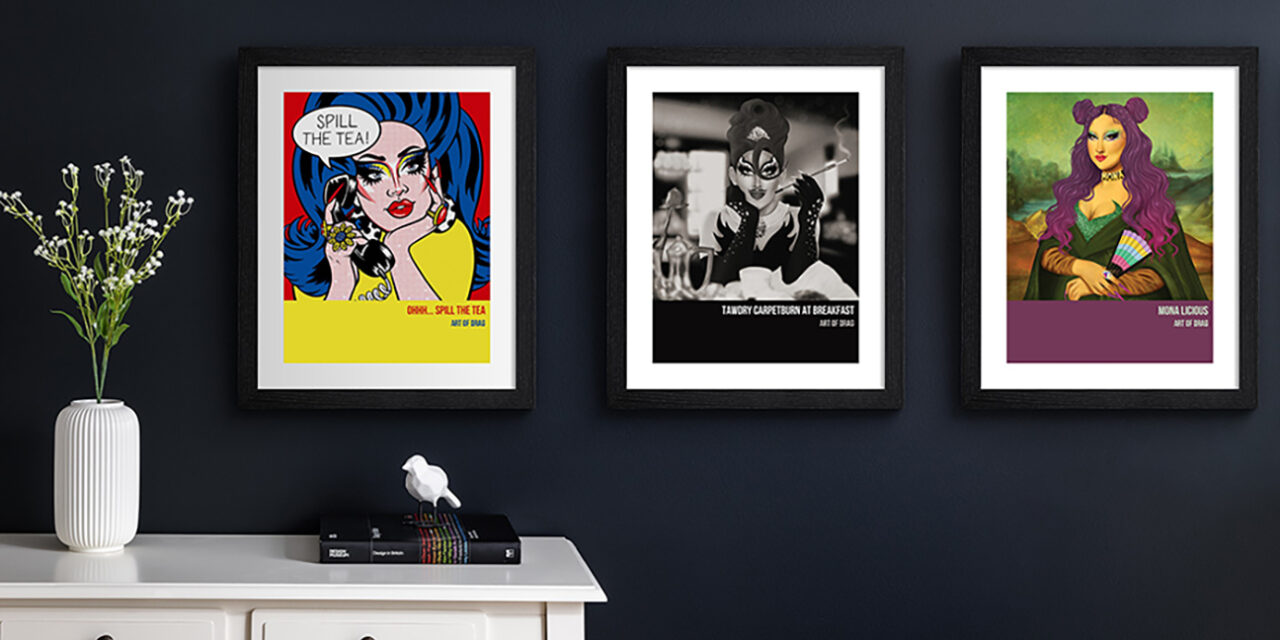 The London Studio has announced another major licence award for its playful, funny and ever-so-slightly-subversive new brand, Art of Drag.
It has licensed six Art of Drag images to Tall Boy Prints, an independent wall art company whose mission is to provide high-quality, affordable pieces to art lovers everywhere.
The six images highlight Art of Drag's trademark style: the reimagining of famous artworks that feature cultural female icons, which it then replaces with drag artists – to stunning and memorable effect! Each original Art of Drag artwork features a beautylicious Drag Queen, created by an award-winning independent art house of LGBTQ+ artists and allies.
The range has been on sale from 9 June at Tall Boy's own online store, tallboyprints.com. Tall Boy Prints and The London Studio will between them donate twenty per cent of the sales of the prints during Pride Month to akt, a charity that supports LGBTQ+ young people aged 16-25 in the UK who are facing or experiencing homelessness or living in a hostile environment.
There's also a sustainability angle to this agreement. A tree will be planted for each Art of Drag print sold, thanks to Tall Boy Prints' partnership with Ecologi, a company whose mission is to inspire and empower businesses to accelerate global action on climate and nature.
Tall Boy Prints first put down roots in 2020, working together with its sister company, The Art File, to bring customers a constantly evolving eclectic mix of art with an emphasis on affordability and sustainability. Along with its own in-house designers it licenses an incredibly talented mix of artists from around the world. The company prints and frames all of its art on demand, using the highest-quality inks and materials to create wall art that will last a lifetime. Its licensing partners include the Victoria & Albert Museum for which it creates a wide range of wall art prints inspired by the museum's world-renowned holdings.
This is another very significant deal for Art of Drag and The London Studio, which this year has already seen the Art of Drag brand appear on t-shirts, made using sustainable fabrics, through major UK retailer boohooMAN, and later this year will see the brand adorn 2024 calendars, jigsaws and foiled embossed notebooks for independent publisher Flame Tree Publishing. A number of other Art of Drag deals are in the pipeline, with more announcements planned soon.
All these products target a core market of young adults, but The London Studio expects a strong secondary market among teens and tweens, for whom drag is now very much part of mainstream British culture.
But that's not all that has been keeping the London Studio busy in the runup to Pride Month. A member of The London Studio's LGBTQ+ team recently designed a range of LGBTQ+ charity cards for the British Heart Foundation. They are available now in British Heart Foundation stores and in the charity's online shop.
Pride Month is a vibrant and inclusive global celebration that honours the LGBTQ+ community, its history, its achievements, and the ongoing struggle for equality. In the United Kingdom, the first official Pride march took place in London in 1972. Pride Month in the UK culminates in a march in London From Hyde Park Corner to Whitehall Place on 1 July that annually attracts over 500 groups and 30,000 participants.
Karen Mace, Tall Boy Prints Company Director and Creative Head, says: "Our aim is always to work with exceptional images that will bring colour, originality and joy to people's homes – and Art of Drag does all that and more. The stunning and witty imagery would be a hit with customers any time, but launching these artworks during Pride Month is both very appropriate and very special. We've immensely enjoyed working with The London Studio and its talented team on these wonderful and memorable prints."
Founder and director of The London Studio, Soula Zavacopoulos, adds: "We're thrilled to be bringing Art of Drag to a set of prints from Tall Boy Prints, one of the leading names in wall art and a company with a justifiably strong reputation for curating collections of exceptional images – and of course a company that shares our passion for sustainability. Tall Boy Prints is a wonderful addition to the fast-growing Art of Drag licensing programme."
Awareness of The London Studio and its work is growing fast. Its success in greeting cards and gifts now extends to a fast-growing list of international retailers and licensed publishers. It has also launched a number of specially created lifestyle brands appropriate for apparel, gifts, homeware, stationery and more.