The full programme for Top Drawer S/S 2022's RetailFest has been announced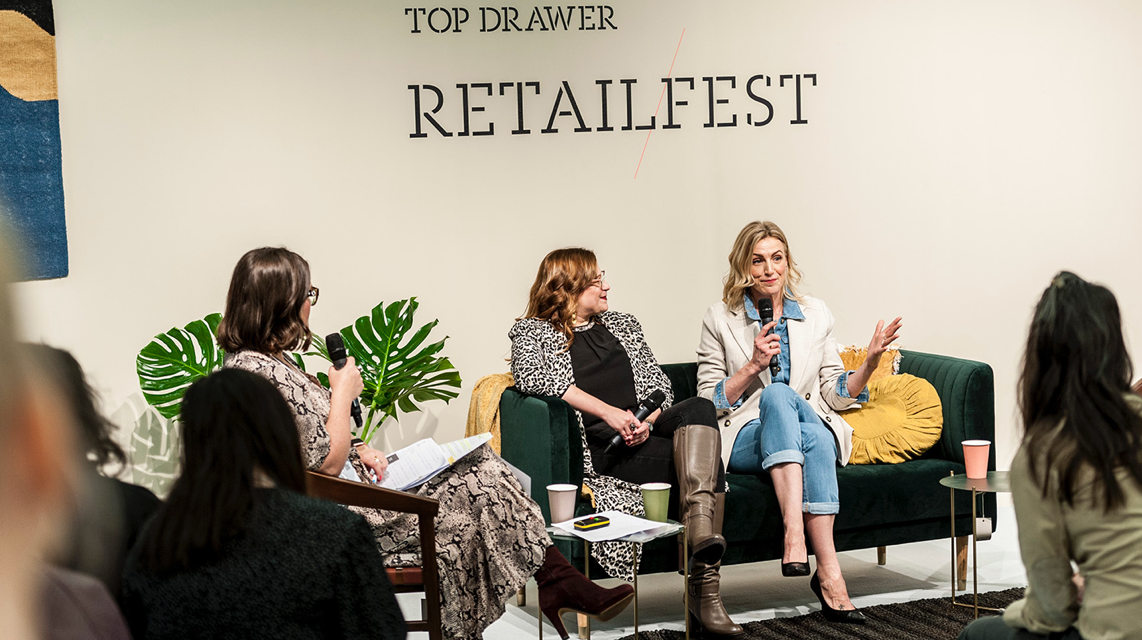 Top Drawer, the UK's leading design-led trade show, is excited to announce the return of RetailFest!  RetailFest is a hub for inspiring content and thought-provoking conversations with experts, influencers and beloved brands within the industry. Join us at Top Drawer in Olympia London from the 16th-18th January 2022 and enjoy a series of talks, panels and seminars to gain a little insight from an exciting variety of inspirational speakers, including Holly Tucker, MBE, Founder – Holly & Co, Tash Bradley, Head Colour Expert – Lick, David White, PR and Social Media Manager, Loaf and Mark Russell, Social Media strategist in the design sector and Co-founder of Forward Features. Check out the full line-up below. 

Sunday 16th 11:00 – 11:45 RETAIL EXPERT SERIES – HOW CONSUMER HABITS CAN HELP SHAPE YOUR 2021 STRATEGY RETAILFEST In the age of e-commerce, retail isn't simply online or in person – we're here to help you tap into the future of physical and digital retail to successfully grow your revenue. Hear from our expert panel as they walk you through how the customer journey is evolving across a multi-channel approach and as they delve into trends including SEO, customer experience, brand storytelling and advertising.  – SPONSORED BY REVEAL  Louise Daniel, Founder – And so to Shop Ebi Sinteh, Founder – Our Lovely Goods  12:30 – 13:15 DIGITAL MARKETING STUDIO – CONTENT, COMMERCE & COMMUNITY – TEN SOCIAL MEDIA TRENDS RETAILFEST Brand strategies on social media are changing in step with new ways now that customers are using social platforms more than ever. From influencer and social marketing on Instagram and Facebook to Pinterest's golden rules, what makes TikTok tick and YouTube go viral. Join our panel as we explore trends that we're seeing for 2022 and share tips for building a thriving and sustainable social media presence that works for you and your business and will support you through the post-pandemic recovery, using social media as a way to showcase your shop window.   –  SPONSORED BY REVEAL  Fiona Minett, Founder – Boss Your PR Enass Mahmoud – Decor by Enass Charlotte Left, Founder – Social Marmalade  14:00GOOGLE DIGITAL GARAGE RETAILFEST  15:30 – 16:00 FUTURE RETAIL FOCUS – THE CONSCIOUSLY CURATED STORE RETAILFEST Do you want creative yet practical ideas on how to make more sustainable choices for your retail brand? Join our panel as we discuss what purpose really means for brands that stand for something bigger than what they sell, communicate their purpose and demonstrate a transparent commitment to a sustainability journey. Expect tips for taking action beyond the values and mission statements, as we share ways to make changes within your own brand in 2022 and beyond. Learn actionable ideas for adopting sustainable practices.    – SPONSORED BY REVEAL  Alice Odeja, Founder – Authentic House Aicha Lada, Founder of Dear Katiopae – Dear Katiopae Catherine Erdly, Founder – Future Retail Consulting Anna & Dani, Co-founders – Positive Retail 

Monday 17th 11:00 GOOGLE DIGITAL GARAGE – SPONSORED BY REVEAL  12:30 – 13:00 TRENDS IN RETAIL – COLOUR TRENDS FOR 2022 RETAILFEST In conversation with Fiona McCarthy, author, journalist and Vogue Living's London Editor and Colour Psychologist and Interior Stylist Tash Bradley, as our expert pair take us on a journey of the Instagram-famous paint and wallpaper company Lick. Explore colour trends for 2022 as we share how you can integrate the trends into your bricks and mortar shop, online destination and designs. Fiona McCarthy, Journalist, Author and Editor – Vogue Living Tash Bradley, Head Colour Expert – Lick  14:00 – 14:30 PR EXPERT SERIES – HOW TO GET YOUR DESIGN-LED BRAND IN THE PRESS Emma Morton-Turner, Founder – Inside Stylists Nikki Snell, Founder – Press Loft  15:30 – 16:00 RETAIL EXPERT – E-COMMERCE PACKAGING THAT SELLS RETAILFEST Cubitts Founder Tom Broughton on the importance of physical retail and using tech to create the perfect specs. Tom Broughton launched his Cubitts spectacles brand online in 2013 from the kitchen table in his flat on Cubitt Street in London's King's Cross.Tom Broughton, Founder – Cubitts 

Tuesday 18th 11:00 – 12:00 RETAIL EXPERT – HOLLY TUCKER Holly Tucker MBE, Founder – Holly & Co  12:30 – 13:00 RETAIL EXPERT FOCUS – STORYTELLING IN THE DIGITAL AGE RETAILFEST Be inspired by our founder stories series. Join Eloise Showering of Eloise Home, and Freya Bramble-Carter, London-based ceramicist and member of the Black Artists + Designers Guild, as they discuss their brand stories and share how you can go beyond your company's history to tell an authentic and compelling narrative that inspires brand loyalty. 
Amira Hashish, Editor Design & Travel – Soho House & Founder of Rapport Eloise Showering, Founder – Eloise Home  14:00 – 15:15 ECOMMERCE RETAIL EXPERT – SECRETS TO SUCCESS: THE THREE PILLARS OF DIRECT-TO-CONSUMER REVENUE HACKING USED BY FAST-GROWTH LIFESTYLE AND HOME BRANDS RETAILFEST In the last two years alone we have seen e-commerce advance by an estimated ten years. Join us to discover the formula used by existing lifestyle and home brands and new digital start-ups for stand-out D2C success. We will cover customer acquisition and retention, creative strategy as well underlying financial metrics that drive fast growth. Hosted by Tash Courtenay-Smith, and Luke Courtenay-Smith. SPONSORED BY REVEAL Natasha Courtenay-Smith, CEO – Bolt Digital Luke Courtenay-Smith, Managing Director – Bolt Digital  
15:30 – 16:00 DIGITAL MARKETING STUDIO – LESSONS FROM THE INSIDERS – SOCIAL MEDIA TIPS AND INFLUENCER MARKETING RETAILFEST Join London-based blogging duo Forward Features – experts in interior, trends, design and industry news – in an exclusive session talking social media trends for 2022. With brand strategies that include influencer and social marketing, join our must-attend conversation as we explore upcoming trends for 2022 and share actionable tips for building a thriving and sustainable social media presence.    – SPONSORED BY REVEAL Kirsty Raper, Founder – Rebuildagram David White, PR & Social Media Manager, Loaf – Co-Founder of Forward Features Mark Russell, Social Media strategist in the design sector – & Co-Founder of Forward Features