Teletubbies Celebrate Pride 2022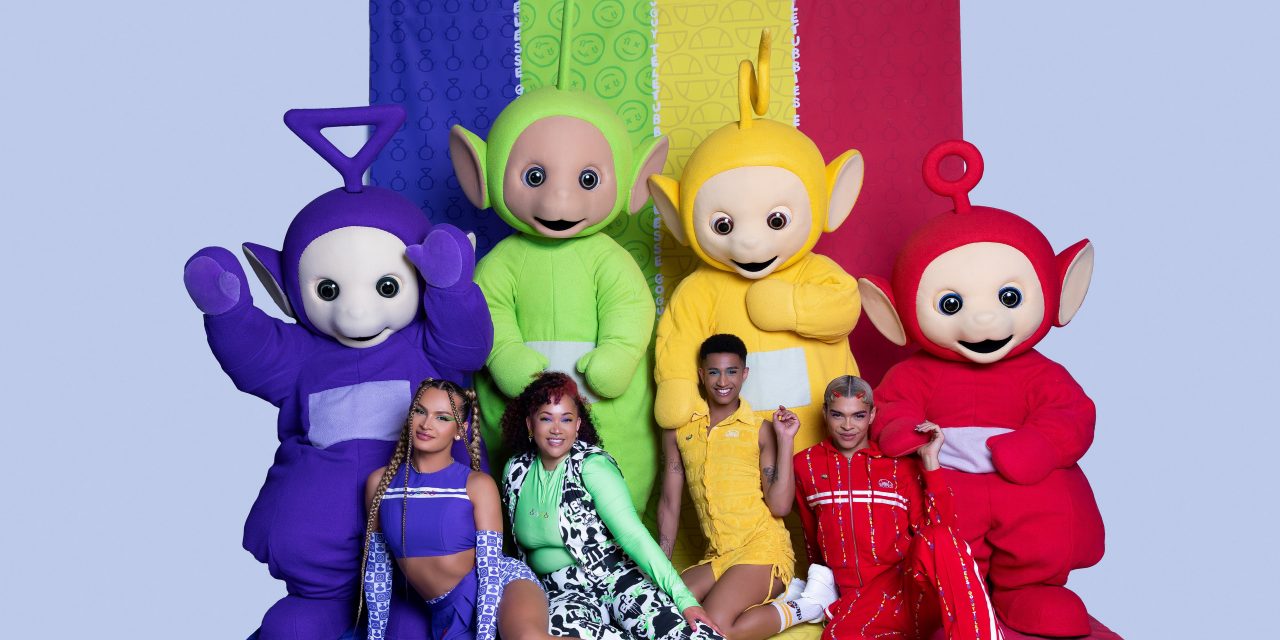 WildBrain has announced it has teamed up with Italian sports and lifestyle brand ellesse and festival and streetwear clothing brand GoGuy for a limited-edition Teletubbies adult fashion collection to celebrate Pride 2022. The gender-fluid collection launched on Friday, June 24 and encompasses five colorful trend stories, reflective of each Teletubby character and a hero sticker print. The deal with ellesse was brokered by WildBrain's dedicated licensing agency, WildBrain CPLG.
The launch of the Teletubbies x ellesse x GoGuy range will be celebrated by an influencer launch event in Manchester, UK, social media activity and featured appearances at Pride in London. The collection was designed by GoGuy's Founder and Director, Sophie Guy, who leads an all-female team of four creatives, who work tirelessly to produce the most unique and original apparel.
The five trend stories featured in the collaboration are:
A Tinky Winky purple range inspired by ellesse's tennis heritage, with pleated skirt and crop-top combination.
A Dipsy range that nods to the Teletubbies' roots and Dipsy's favorite hat, with a bold green and monochrome graphic cow print on cargo pants, bucket hat and cropped vest.
Laa-Laa's iconic sunshine yellow is encapsulated in the 'Big Love' dress, a celebration of all love and unity.
Po's red range is in recognition of GoGuy's festival roots, with crop top and co-ord tracksuit featuring the signature ellesse jet strip detail.
The fifth part of the collection is a bold and vibrant print, which includes all elements of the collaboration—a mash up of Teletubbies' imagery as well as GoGuy and ellesse logos are emblazoned across a shirt, shorts, head scarf and fan.
The collaboration is part of WildBrain's year-long celebrations to mark the 25th anniversary of the Teletubbies, with activity encompassing fashion, art and music, all reflecting the unique brand DNA of unexpected joy, childhood development and diversity, while engaging fans both young and young-at-heart.
Melissa Goodrich, Director of Brand Management at WildBrain, commented: "The Teletubbies are recognized around the world as icons of inclusivity, togetherness and acceptance, so we're hugely excited to once again be embracing Pride and celebrating with fans in true Teletubbies style. Ellesse and GoGuy have done an amazing job at capturing the joy and 'love who you are' spirit of the Teletubbies and creating a range that is on-trend while brimming with fun and playfulness. We can't wait to see fans wearing this 'tubbytastic' collection during Pride celebrations and beyond."
Head of Marketing for ellesse UK, Jennie Bianco, said: "The idea of a collaboration between ellesse and Teletubbies actually began as an April Fools' prank a few years ago, but we ended up having such a high demand from ellesse customers, so we decided to make it happen. We have also been keen to team up with GoGuy for a while, and to all work together on something to celebrate Pride 2022 has been so exciting. As they are celebrating their twenty-fifth anniversary this year, the Teletubbies are working their way back into our hearts and now our wardrobes!"
Sophie Guy added: "Pride is something I have always been passionate about, as I am a proud member of the LGBTQIA+ community. The collection is gender fluid and has been designed with everyone in mind. I believe if you love it, you should wear it no matter what the gender! Teaming up with my favorite major sportswear brand and my childhood icons has not disappointed, and I'm sure you will feel the same after seeing the collection. Do dreams come true? YES, THEY DO!"
The collection is now available to purchase at www.goguyclothing.com.