Sinking Ship Entertainment's Dino Dana Franchise Continues to Stomp Across the World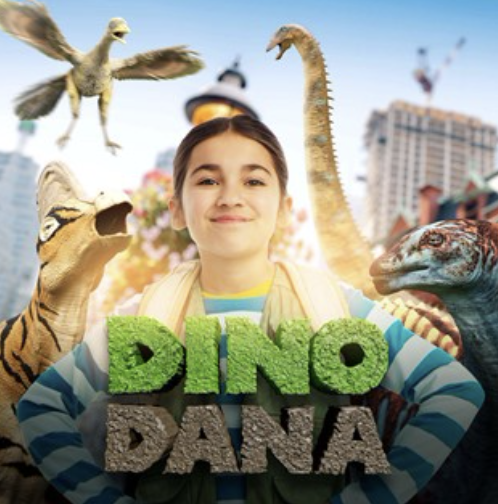 Canada's Sinking Ship Entertainment (SSE) has announced that the company's Dino Dana franchise will continue to stomp across the world with new products and partners. The upcoming offerings include a Dino Dana audio book published by Recorded Books, a new Dino Dana activity book published by Mango Publishing, and new Dino Dana dinosaur figures – Zuul, Nanotyrannus, and Stygimoloch – released by Safari Ltd., with realistic, accurate details and innovative Augmented Reality features, set to come out in 2022. 

Dino Dana, an Emmy Award-winning series created and directed by Sinking Ship's J. J. Johnson, follows Dana, a 10-year old girl who loves dinosaurs. Her life changes forever when she's given a Dino Field Guide, which not only teaches her new things about dinosaurs, but gives her the power to imagine dinosaurs into real life. 

Developed as a follow up to the Dino Dan series, it is produced by Sinking Ship Entertainment, in association with TVOkids and Amazon Prime. The series premiered in the US and UK on Prime Video in May of 2017 and was followed by the release of Dino Dana The Movie, presented by Téléfilm Canada, on Prime Video in September of 2020. 

"The loving reception to Dino Dana from kids and families across the world has been incredible to see," Kate Sanagan, Sinking Ship's Head of Sales and Distribution. "Education, curiosity, and spreading joy are at the core of Dino Dana and we are always looking for new ways to expand the franchise's positive impact. From books to toys, we cannot wait to share all of the new and exciting Dino Dana products and partners throughout the year." 

The Dino Dana expansion comes on the heels of another big year for the franchise. Last June, the Museum of Discovery and Science (MODS) in Florida, debuted the Dino Dana Experience. The fully immersive experience, complete with Dino Dana The Movie, a touring exhibit, an AR experience, and a camp guide, garnered 652 million impressions with an audience reach of 778,000 during its opening weekend. It was the museum's highest paid attendance in 2021 and had record breaking sales at the retail gift shop. Other museums, including Orlando Science Center, Science Museum of Minnesota, Kentucky Science Center, and Peoria Riverfront Museum, have picked up and begun showing Dino Dana The Movie. 

Dino Dana also recently secured additional broadcast partners in Latin America, including Canal Once in Mexico as well as Senal Colombia and Canal Capital in Colombia. Additionally, the Dino Dana Field Guides have sold over 75,000 copies internationally to date. Additional information on the specific timing of the releases will be shared at a later date.