Ryan's World and Chuck E. Cheese Host Mega Event, 'Ryan's World Fan Fest'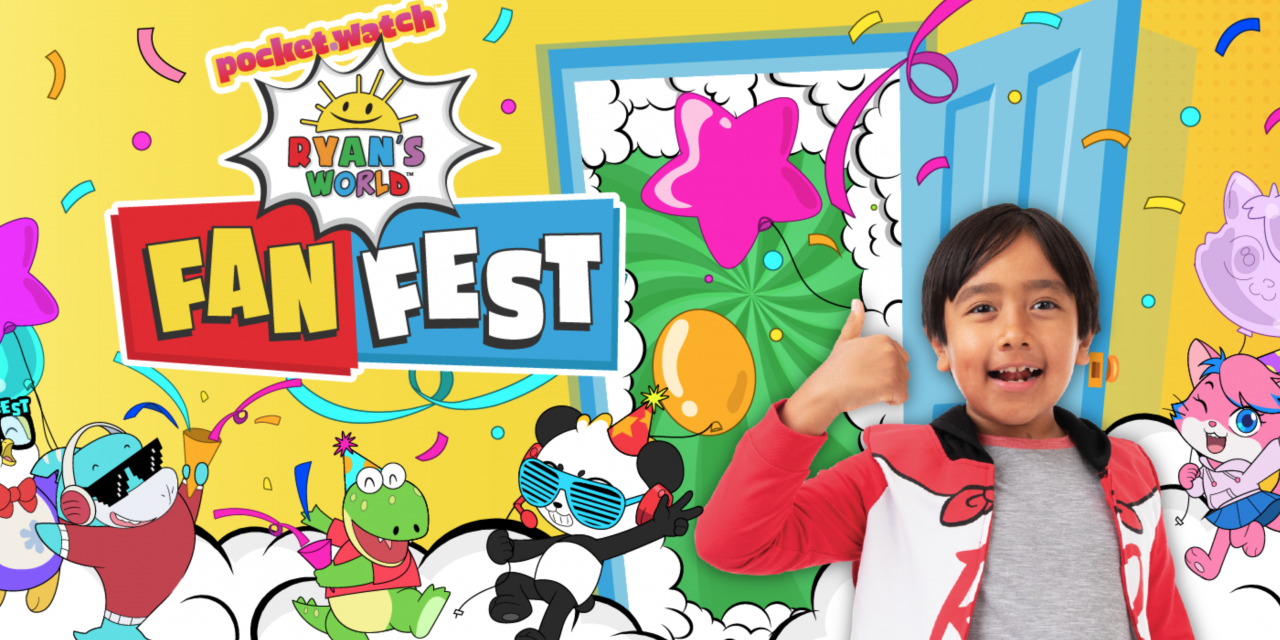 Pocket.watch, the premier kids and family entertainment company, and Sunlight Entertainment today announced a new interactive global experience, Ryan's World FanFest. The virtual real-time event takes audiences through a fun set of activities featuring YouTube sensation Ryan Kaji, his parents Shion and Loann, and twin sisters Emma and Kate, along with fan-favorite animated friends and special guests. The first-ever experience of its kind for Ryan's World's 30M+ fans is free to stream globally at www.ryansfanfest.com on Saturday, Nov. 27 at 10:30 a.m. PDT (1:30 p.m. EDT) and will air in-person at 468 Chuck E. Cheese Watch Parties nationwide as part of pocket.watch's new partnership with the family entertainment company.
The FanFest platform is a brand new and interactive event for Ryan's World fans who hail from all corners of the world. The 90-minute extravaganza invites fans into the Kaji family home as Ryan discovers a secret portal leading to "the multiverse" unlocking doors to various worlds, from the North Pole, to Ryan's Lab, to Rainbow World, where they work to solve puzzles and challenges alongside his animated pals of the Ryan's World franchise. Prior to the event, pocket.watch welcomed parents of Ryan's World fans to submit videos and photos of their children to be incorporated into FanFest.
"The hard work and success of pocket.watch creator franchises is made possible by the dedicated fans around the world who consume every piece of content and engage in these exciting activations," said Kerry Tucker, Chief Marketing and Franchise Officer of pocket.watch. "This first, and most interactive, Ryan's World experience to date is a giant 'thank you' to fans around the world who show up time and time again to play and learn with Ryan. Pocket.watch is proud to be working with FanFest's partners, Target and Chuck E. Cheese, who share in our mission to bring kids more of what they love and be everywhere they are."
"Ryan's World fans are so dedicated and have stood by our side these past six years throughout all the amazingly fun opportunities Ryan's enjoyed the privilege of hosting," said Shion Kaji, Ryan's father and founder of the family's production company Sunlight Entertainment. "We've never been more excited to bring together fans from all over the world at the same time to participate in what will be the biggest and most interactive extravaganza the Ryan's World universe has ever seen!"
"We are thrilled to offer our Guests and Ryan's World fans an immersive and in-person experience in our venues across the country," said Melissa McLeanas, VP of Global Media, Licensing and Entertainment for CEC Entertainment. "As the exclusive destination for FanFest viewing parties, this partnership brings to life the power of content and creators across multiple platforms, delivering family entertainment for the next generation of kids."