Registration Closes 24th June for Summer Conference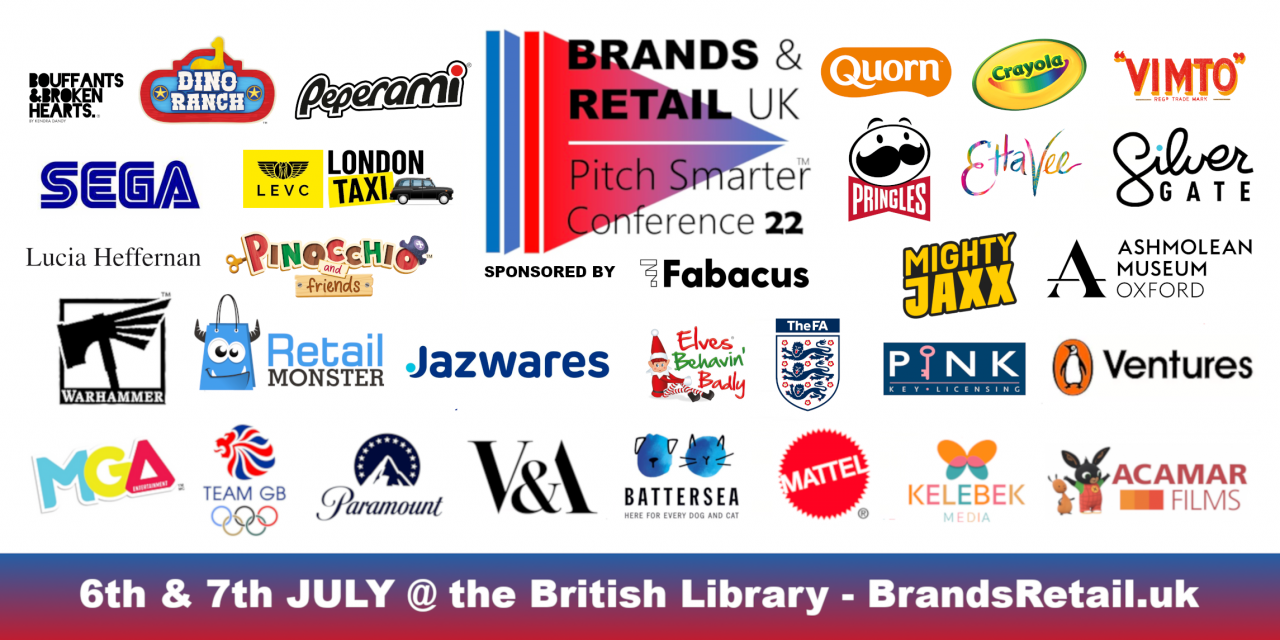 This is a final call for Retailers and Licensees that have not signed up to the Brands and Retail UK Summer conference (sponsored by Fabacus) taking place at the British Library (London) on Wednesday 6th and Thursday 7th July 22.
Registration to watch the screenings closes this Friday (24th June) with 37 tickets still available for the 'Meet the Buyers' networking party which will end the conference.
The final line-up of global brands is now confirmed – with recent editions including:
Crayola (Retail Monster) – Day Two
Quorn & Vimto (Pink Key – FMCG) – Day One
The London Taxi Company (GTL – London Electric Vehicle co) – Day One
EttaVee and Bouffants & Broken Hearts (Start Licensing – Art) – Day One
Silvergate Media – Day Two
Dino Ranch (Boat Rocker) – Day Two
These 15-minute back-to-back screenings are for all Retailers of licensed products and UK manufacturers interested in Licensing and existing Licensees and Partners of the brands.
Retailers attending include – Tesco, ASDA, Boots, Vanilla Underground, The Entertainer, Toys "R" Us, Primark, Character.com and eBay.
The conference is free to attend which gets you entry and a free lunch as well.
Save the Date for Winter 23 – Brands & Retail UK are also pleased to announce the Winter conference dates are now confirmed for the 18th and 19th January and will be returning to the British Library.
"I am currently speaking with the founding brand partners who took part this year and offering them first choice of slots for the January 23 event.
The concept for the winter conference allows Licensors to get their annual brand and company updates / plans out to the industry in 15 minutes before the global trade show season starts. Saving them time at trade shows and helping them move deals forward".
– Ryan Beaird (event director)
If you are a brand and want to present to UK Retailers and Licensees in January 2023 then please contact the event director Ryan Beaird – Ryan.Beaird@BrandsRetail.uk
Licensees and Retailers can book their FREE tickets for the conference and purchase their 'Meet the Buyers' party tickets which are priced at £65 each and available on the conference website – www.BrandsRetail.uk