PETER RABBIT COMMUNITY GARDEN OPENED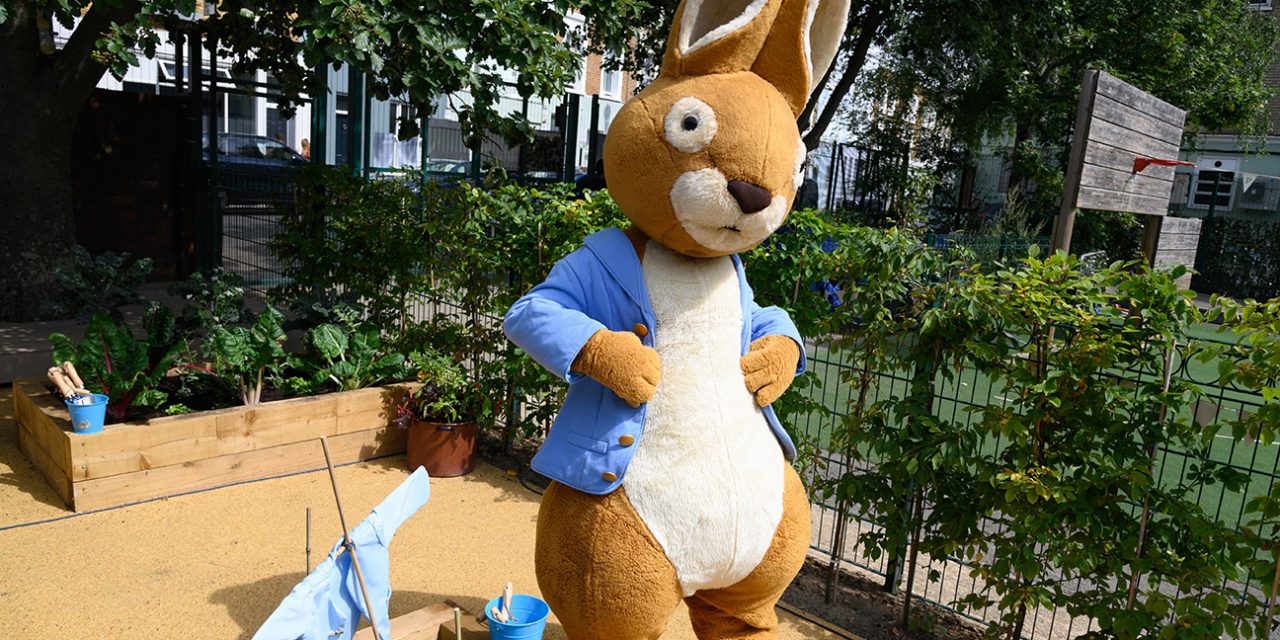 Wednesday 13th July 2022 saw the opening of a brand new community garden inspired by the much-loved children's classic, The Tale of Peter Rabbit, to mark the 120th anniversary of the story which was first published in 1902. This is the first of three community gardens to be designed and built as part of the Grow With Peter Rabbit initiative, a partnership between non-profit garden designers Grow2Know CIC and publisher Penguin Random House, on behalf of Frederick Warne & Co. (owners of The World of Peter Rabbit™).
The Peter Rabbit Garden in North Kensington will bring life and purpose to a previously disused plot attached to St Clement & St James CE Primary School: a school in the heart of the community where Grow2Know was founded by semi-professional footballer and local resident Tayshan Hayden-Smith in response to the Grenfell Tower fire tragedy in 2017, and the borough in which Peter Rabbit's creator, the writer and conservationist Beatrix Potter, was born on 28th July 1866.
Hayden-Smith, now a well-known TV presenter (BBC Two Your Garden Made Perfect and RHS Chelsea Flower Show), and his co-directors at Grow2Know — garden designer and TV presenter Danny Clarke (aka 'The Black Gardener'), and Ali Yellop, agriculturist, chef and herbalist — reclaim and transform blank spaces into gardens that contribute to local residents' health, happiness and wellbeing.
Taking its inspiration from the adventures of Peter Rabbit and his friends, the Peter Rabbit Garden is a celebration of the mischievous bunny and includes interactive areas for children to read, play, grow and learn, with visual references from The Tale of Peter Rabbit throughout, including vegetable beds, a scarecrow with Peter Rabbit's blue jacket and Mr McGregor's potting shed. Raised beds at the entrance to the garden will encourage children to learn about growing vegetables, filled with lettuce, beetroot, chard, carrots, curly and flat leaf parsley and strawberries, as well as Giant sunflowers and oriental greens. In addition to an established fig tree to the back of the garden, trees including pine, magnolia, silver birch and pear and climbers including grape vine and wisteria will offer shade and height. At ground level, ferns and grasses provide movement, whilst pollinator-friendly plants such as salvia, verbena, delphiniums and alchemilla mollis and lemon balm bring colour and scent. A Bugzone pond with a specially commissioned safety cover is filled with pond plants and wildlife, and will provide an opportunity for pond dipping. Benches carved from the trunk of a eucalyptus tree that previously stood in the garden are dotted about the path.
Tayshan Hayden-Smith, founder, Grow2Know, commented: "It takes a village to raise a child, and a community to create a garden like this. From the seeds of an idea — a tale about a mischievous bunny in a blue jacket, and a desire to raise awareness of the benefits of gardening and nature — this garden has evolved into a truly unique community space, shaped by a shared creative vision and the generosity of all those who have donated their time and their money. We wanted a sense of playfulness to come through in every corner of the garden for a truly child-first experience and we found ourselves swapping around different zones of the garden in order to create surprising viewpoints and hidden entrances to discover, as well as adapting our planting to incorporate the recycled plants and materials generously donated from gardens at the RHS Chelsea Flower Show, which will have a second life here in the Peter Rabbit Garden. Inspired by the timeless stories of Beatrix Potter, we have been able to create a space that allows children to play in nature and therefore the freedom to imagine."
Ellie Dowthwaite, Head of School, St Clement & St James CE Primary School, Kensington, added: "Watching this garden unfold on our doorstep has been incredible. Many of the children in this area do not have gardens at home, so to be a part of the development of this green space — and to fully immerse ourselves in Beatrix Potter's world, especially the story of Peter Rabbit — over the past few months has been a unique and transformative experience for teachers and children alike. We are so grateful to Grow2Know and Penguin Random House Children's for creating this gift for our local community. We know this garden will offer hope and sanctuary to the residents of North Kensington, who have endured so much in recent years, for years to come."
Izzy Richardson, Global Owned Brands Director, Penguin Random House Children's, said: "As custodians of The World of Peter Rabbit and publisher of Beatrix Potter's tales, we're delighted to be able to continue Beatrix Potter's extraordinary contribution to conservation through this 120th-anniversary initiative. This garden brings the story of Peter Rabbit to life in such an imaginative and thoughtful way; from its playful hopping stones, burrow and shed, to its use of natural materials and spaces for quiet time, as well as play. The thoughtful, playful crafting of the space and its stunning planting is sure to enthuse and inspire green fingers, in young and old alike. Grow2Know's attention to detail, and understanding of what is needed to create a nurturing, safe space, is incredibly impressive and exciting, and we could not have asked for a better partner to help us bring the legacy of Beatrix Potter and The World of Peter Rabbit to life for a new generation of children and families. To be able to use such an iconic brand and beloved story to continue to inspire and affect meaningful change and drive positive, social impact like this is a huge honour, and we are so thankful to all the many contributors who have helped to create such a special and important place."
As well as serving the school, the Peter Rabbit Garden will be used by the local community to host workshops and events from this summer onwards.
David Lindsay, Mayor of Kensington and Chelsea, commented: "Since its inception, Grow2Know has shown how it is possible to create space for connection and healing within our community through access to nature/green spaces. The new Peter Rabbit Garden is a perfect example of this: a project with children at its heart, which understands the importance of play and adventure when it comes to a child's growth and wellbeing, and provides a safe and nurturing environment for this purpose. I hope that this amazing garden, inspired by the stories of writer and conservationist Beatrix Potter, who was also born in this borough and whose books have built an imaginary world loved by children and adults alike, will inspire future generations to dream of their own adventure stories – potentially even to be a gardener, a writer or an artist when they grow up. My thanks to Grow2Know, Penguin Random House, and all those partners who have helped make this extraordinary space for our community a reality."
While not open to the general public the garden will be made available to local community groups and residents associations, and families across the UK can also take part in the Grow With Peter Rabbit initiative by gardening at home thanks to a series of filmed How-To videos, led by Tayshan Hayden-Smith, which are available via www.peterrabbit.com. By joining in with the Grow With Peter Rabbit challenge, families will discover how easy and fun it is to grow their own vegetables at home using simple, upcycled objects and a packet of seeds. The site of the next Peter Rabbit Garden will be announced next year.