MIPCOM: Mondo brings joy and excitement for kids – and broadcasters – to MIPCOM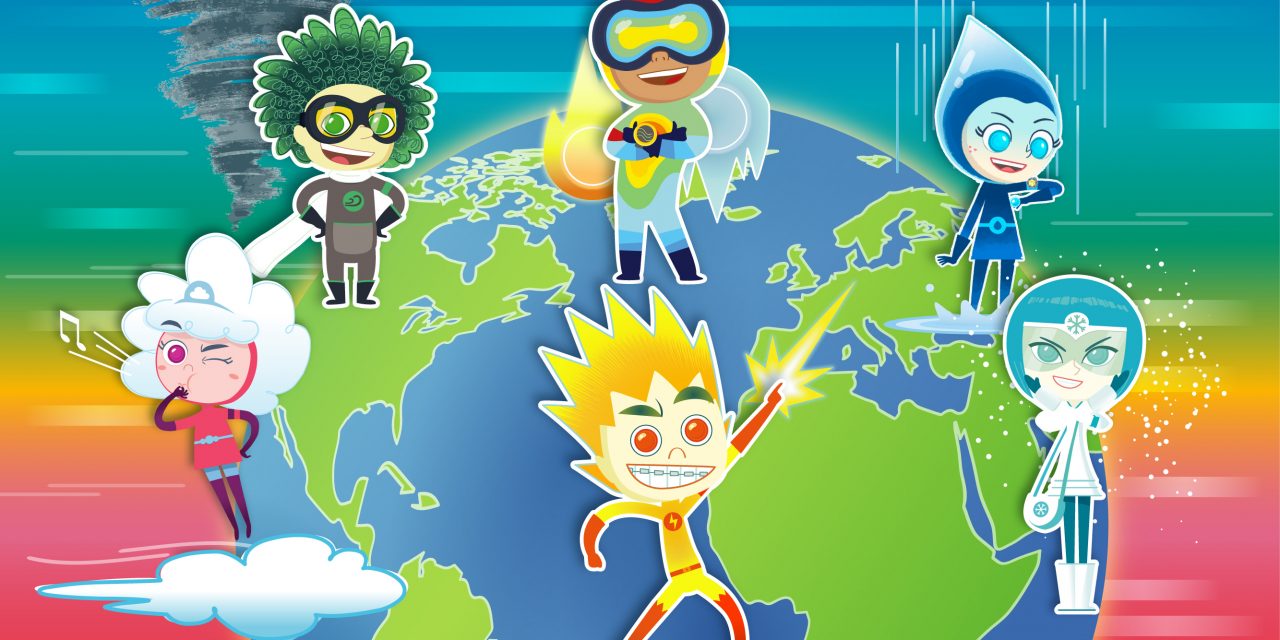 Mondo TV, one of the largest European producers and distributors of animated content, has announced that, for the return of MIPCOM to Cannes from 11-14 October 2021, it too will be returning – with some exciting new and expanding titles.
Highlights of the Mondo TV stand will include MeteoHeroes, Robot Trains, The Wee Littles, Monster Loving Maniacs, Grisù, Nina & Olga and Annie & Carola.
MeteoHeroes is the only cartoon in the world dedicated entirely to climate and environmental issues; it follows the adventures of six superpowered kids who can control weather phenomena. This innovative kids' animation that was among the biggest hit shows on Cartoonito in Italy after its launch last autumn and is continuing to expand its international reach.
MeteoHeroes' arrival at Cannes comes hard on the heels of the success of series one in a number of markets – and there are more broadcast sales on the way to join those in Italy, Spain, France, Greece, Turkey, Hungary, Poland, Adriatic, Baltics, MENA, and the Americas, and French overseas territories. The first of two TV movies premieres on Cartoonito Italy in the autumn, with the series two launch planned for October.
The MeteoHeroes videogame, coproduced by Mondo TV Iberoamerica (now Mondo TV Studios) in association with entertainment company Sony Interactive Entertainment España (SIE España) and game developer Gammera Nest, will launch worldwide on PlayStation® in spring 2022. Launches on PC and Mac platforms will follow later the same year. And there's a lot more going on for this colourful, funny, exciting and topical show – as visitors to the Mondo stand will find out.
Following the successful international roll-out on linear TV of the first two series of Robot Trains in over 60 countries – including worldwide distribution on Netflix since 2020 – series 3 (52 x 13) is on the way! In their newest adventure, full of the thrills, humour and invention that has made Robot Trains so popular for so long, Railwatch – trains that become robots to defend Rail World –face their toughest challenge when the villainous Train X takes control of a deadly source of energy.
With pre-schoolers in mind – and offering an appeal accessible to children across all cultures – comes The Wee Littles, a new 52 x 5' animation for 3-6-year-olds produced by MagPie 6 Media in a unique style: simulated stop-motion animation with puppets made by leading puppet-making studio Mackinnon & Sunders. Emma Hogan is attached as head writer and director.
The Wee Littles is about a family of four very small creatures – mum, dad, Bitsy and Itsy – living in a great big forest world where ferns and bushes tower over you like trees. And trees are like skyscrapers! Whenever we walk in a forest, we will probably miss these wee little creatures…
Life is very different when you're small, but The Wee Littles' stories are about how they handle their tiny size with their own unique and inventive flair. They work together figuring out how to overcome life's little obstacles – like raindrops the size of your head! – with imagination, positive support and humour.
Toon2Tango and Mondo TV will jointly distribute the show in the majority of the world. The first series is currently in production and has already been commissioned by Ireland's public broadcaster RTE. Other territories are in advanced negotiations.
Mondo TV and Toon2Tango are joining forces with Ja Film, Belvision and Ginger Pictures, for Monster Loving Maniacs, an animated 52 x 11' gender-neutral 2D adventure-comedy for six-to ten-year-olds.
Monster Loving Maniacs is about three siblings who go into training with their grandfather to become Monster Hunters. But where grandfather sees monsters as a threat, the kids have a different perspective and want to get to know the monsters to better understand them.
The show is fun, with lots of excitement and humour as well as bigger themes, like families, relationships and coping with our fears, all delivered with wit, energy and stylish, skilled animation. And – of course – there are lots and lots of monsters and lots of comedy!
Mondo TV will jointly distribute the show in the majority of the world. with Toon2Tango. The first series is currently in production and has already been presold to SUPER RTL, a major free-to-air broadcaster in Germany, and to leading broadcasters in Scandinavia. Many other territories are in advanced negotiations.
Mondo TV Group, Toon2Tango and ZDF along with ZDF Enterprises will jointly co-produce a new series, based on the classic property Grisù as created by its original authors Nino and Toni Pagot. Producer and broadcaster of children's programming Rai Ragazzi has pre-bought the animated series Grisù for its preschool channel Yoyo, confirming the strong potential of this new 3D CGI version of the much-loved story of a charming little dragon.
The series follows the adventures of Grisù, a brave, positive, determined young dragon – just like the firefighter he wants to be when he grows up. There's just one problem: he is supposed to be a fire-breathing dragon when he grows up! This ambition is the theme of all of his adventures – and his positive can-do attitude will give his 4-to-7-year-old audience a little hero that they can identify with.
The new series of Grisù will consist of 52 new episodes of 11 minutes each and is expected to be completed in the second half of 2022.
Co-producer ZDF Enterprises will be the distributor of the new series worldwide, excluding Italy, France, Spain and China. As part of the agreement, ZDF Enterprises will also play an active part in artistic and creative activities related to the show. Worldwide L&M rights will be handled by Mondo TV and Toon2Tango via their joint distribution network.
Nina & Olga, a co-production between Enanimation and Mondo TV Iberoamérica, along with Rai Ragazzi, is a brand-new 52×7' 2D HD animation for 3-6-year-olds. Based on the globally popular preschool publishing property Olga the Cloud – created by Nicoletta Costa and sold all over the world – it tells the story of Nina, a little girl who is a special friend of Olga, a cute and funny cloud, and how Olga helps Nina to cope with everyday emotions.
Mondo TV Studios (formerly Mondo TV Iberoamérica) will distribute the title in Spain, Portugal and Latin America, including Brazil and the Spanish-speaking US.
This rich, colourful world of children, parents, grannies and teachers, not to mention animals, birds, the sun, moon and stars, is already creating a buzz ahead of its upcoming launch in Italy. Nina & Olga arrives on September 13th on RaiPlay, the VOD platform of RAI. A major launch on linear TV follows on September 27th when Nina & Olga can be seen in three prime slots daily on Rai Yoyo, the Italian leading pre-school channel. More deals will be announced very soon.
Highly original, very funny and getting a great response from potential broadcast partners, Annie & Carola (2D full HD 52 x 11) centres around Carola, a nerd with no social skills who builds a robot clone called Annie to be her best friend. However, a freak accident turns her robot friend into a wild, fun-loving and outgoing companion – Carola's complete opposite – who drags Carola into all the kinds of situations she fears the most. This is a fun show about friendship and the need for friends. It's also a unique and original project that brings together a rich cast of characters whose feelings and emotions have a universal relevance, reflecting the aspirations and concerns of today's children.
Spain's RTVE has already confirmed its participation in the co-production with Mondo TV Iberoamerica (now Mondo TV Studios) and MB Producciones of this animated series – a new and exciting offering from the celebrated producer and director Myriam Ballesteros.
Matteo Corradi, CEO of Mondo TV, says: "Despite the difficulties of the past 18 months, we have successfully developed, produced and brought to multiple platforms many new, innovative and relevant shows for the demanding kids' market. All these shows are funny, involving and highly original and, at a tough time for everyone, will bring joy and excitement to kids – and to the broadcast market. We can't wait to tell friends and colleagues about our work in person as we return to MIPCOM, at last!"