Meg Hawkins Licensed by Gardiners of Scotland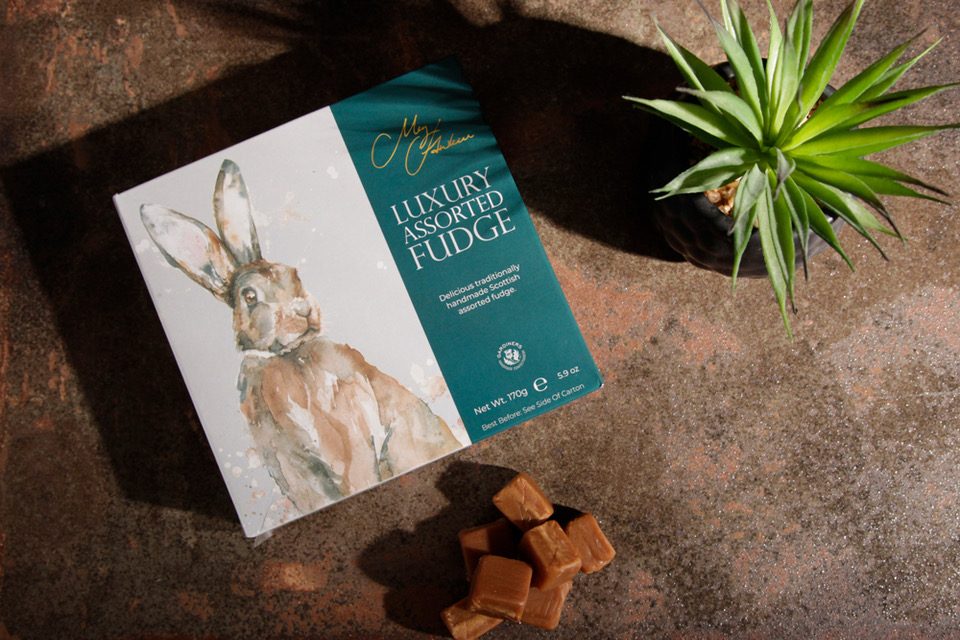 As we all know, 2021 started as a whirlwind of uncertainty for everyone, with the anticipation of the future ahead and what it may hold.
As we do every year (I'm sure along with many other businesses), we made a plan of everything that we'd love to achieve this year. There were brightly coloured pens and whiteboards everywhere. At this point we had no idea of what was to come, but hopes were high as was motivation.
With the success of our confectionery range including biscuits and our very recently launched chocolate bar range, we decided to explore the idea of expanding into fudge. At the beginning of this project we had some stipulations. These included; the product being made in the UK, great taste (of course) and quality. So, to begin our search; we asked our good friend Google!
After a short time and few enquiries, we contacted a company in Scotland to see if they'd make fudge for us. To our surprise and delight we had an even better conversation… Gary and Tom from Gardiner's of Scotland asked for a good old zoom meeting (as we were still in lockdown) and things really took off from there.
Our initial conversation went a little bit like this… "We'd like to licence your images and produce them for our fudge and toffee range… pause…" "Well that sounds amazing" we said, and so the new Meg Hawkins and Gardiner's of Scotland range began. They chose a number of wildlife images including a stag, kingfisher, puffin and hare; perfect for consumers across the UK and a selection of 4 flavours; Whisky, Vanilla, Salted Caramel and Assorted. Coral on our team then set about designing and creating the packaging for them.
Fast forward to July 2021 and we are over joyed with the results and product on the shelves. We've already had amazing sales feedback from Gardiner's that it's been selling really well, and we couldn't be more pleased!
Tom and Gary say: "We at Gardiners are so pleased with your Wild Life designs and on gaining the license to produce a range of Meg Hawkins Fudge as part of our portfolio offering.
The designs and packaging have been received enthusiastically by all our customer base and Pre Orders were excellent, and these are being delivered now.
We are also in the midst of Xmas pre- sale which again most of our UK customers have included the Meg Hawkins designs range within their selection.
It has been an exception launch, and all looks good for next year when we would hope there would be more confidence in the marketplace and further opportunities to gain additional listings.
The combination of the Meg Hawkins exceptional wildlife art designs and Gardiner's quality award fudge offers a unique winning combination which Gardiners are proud to be able to offer to our customers."
So when you're out and about see if you can spot the Meg Hawkins fudge range on the shelves.