Match made in the Nordic wilderness!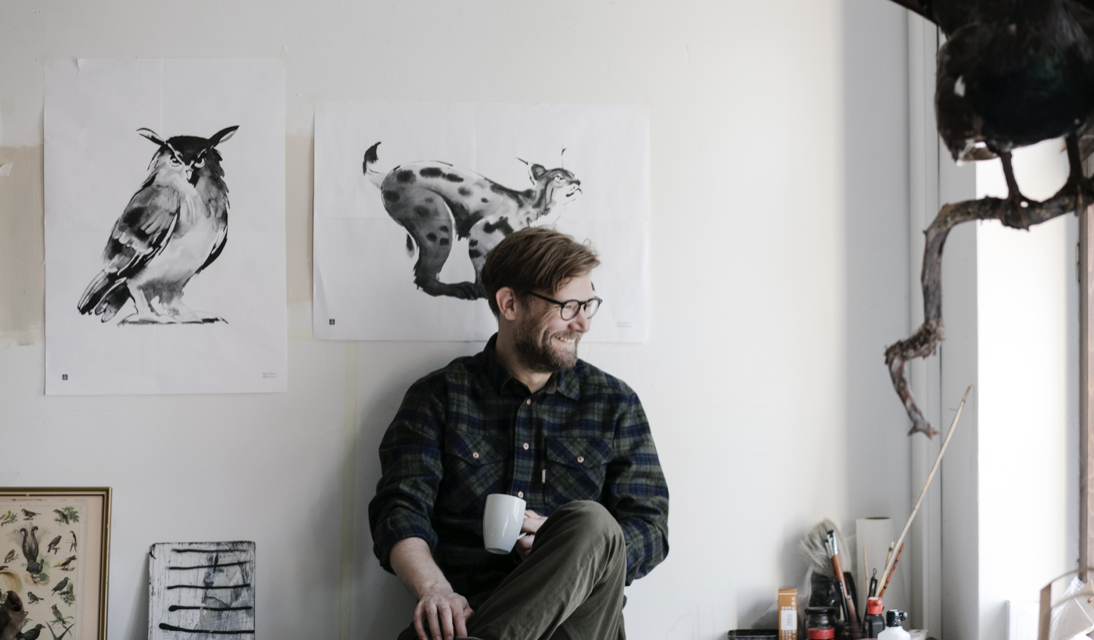 Finnish artist Teemu Järvi uses traditional tools and techniques to capture the soul of the Northern wilderness. Under the wings of Rights & Brands his popular fox cubs, bears and other artworks have now started on a new path to the everyday lives of people around the world.
New beloved characters join Scandinavian icons as the Finnish artist and designer Teemu Järvi bands together with Rights & Brands, a Stockholm-based licensing and publishing agency representing Nordic brands, artists and authors such as Tove Jansson and Mauri Kunnas.
Finnish artist Teemu Järvi uses organic, traditional tools like the reed pen to capture the soul of the Northern wilderness. His vivid animal characters and nature art have gained renown around the world – no wonder, considering his unique style and craftsmanship. In his art, Järvi masters traditional techniques such as Chinese ink drawing and Japanese Gyotaku.
"Rights & Brands is proud to welcome Teemu Järvi. His signature style is beyond comparison, capturing the true essence and movement of the animal. Respect and love for nature lie at the very core of his art – in a similar way that these values are present in the world of the Moomins created by Tove Jansson," says Ilkka Lind, Sales Director at Rights & Brands.
The works of Teemu Järvi derive from the artist's lifelong love of nature. A ceaseless explorer of Finnish woods and lakes, Järvi is familiar with the wildlife he depicts through first-hand experience. His works transport us from our hectic urban existence to the soothing calm of the wilderness.
"Drawing with a reed pen and ink is difficult to control. You never know exactly what you will get, there is an element of surprise. The result looks organic, like nature itself," Järvi says.
Teemu Järvi's art and projects include a wide range of printmaking, book and magazine illustrations as well as product designs and concepts. Since 2012, Järvi has been running a design company called Teemu Järvi Illustrations, offering nature-themed art prints, posters and calendars. The company currently has over one hundred resellers in Europe, North America and Japan.
Rights & Brands will represent Teemu Järvi for merchandising and publishing rights. The first collaboration to come out is for a men's leisure-wear collection by Joseph Abboud Japan for the Japanese market.
As a designer, Järvi has an eye for detail and passion for quality. Along with licensed collections, he can create exclusive, tailored collaborations for merchandising.
"It is an honour to join the renowned group of artists and brands that Rights & Brands represent. I am looking forward to collaborations but also to the opportunity this gives me to focus on my artistic work and find new ways of expression," Järvi says.
Rights & Brands (R&B) is a 360° licensing and publishing agency bringing Scandinavian rights and brands – within art, design, and literature – to a global arena. Rights & Brands operates a worldwide network of over 30 sub-agents and 800 clients. Rights & Brands represents iconic Scandinavian brands, artists, and authors. R&B is the worldwide master agent on behalf of Moomin Characters and represents the likes of Stig Lindberg, Carl Larsson-gården Sundborn, Astrid Lindgren & Ilon Wikland, Mauri Kunnas, the Beatles, the Smurfs, Tove Jansson, Sofie Sarenbrant and many more.
R&B is ranked #1 in Europe and #16 worldwide among licensing agencies, with an estimated retail value of 900M Euro. We develop and create collaborations and brand extensions with leading brands such as H&M, Uniqlo, Granit, Happy Socks, Fiskars, Rovio, Frever, Bvlgari and Finnair.
Rights & Brands' headquarters is in Stockholm, with local branches in Helsinki, Oslo, Hong Kong and Tokyo. R&B was founded in 2016 and has a yearly turnover of 270M SEK.
Image credit © Katja Lösönen