Massive Launches for Mighty Little Bheem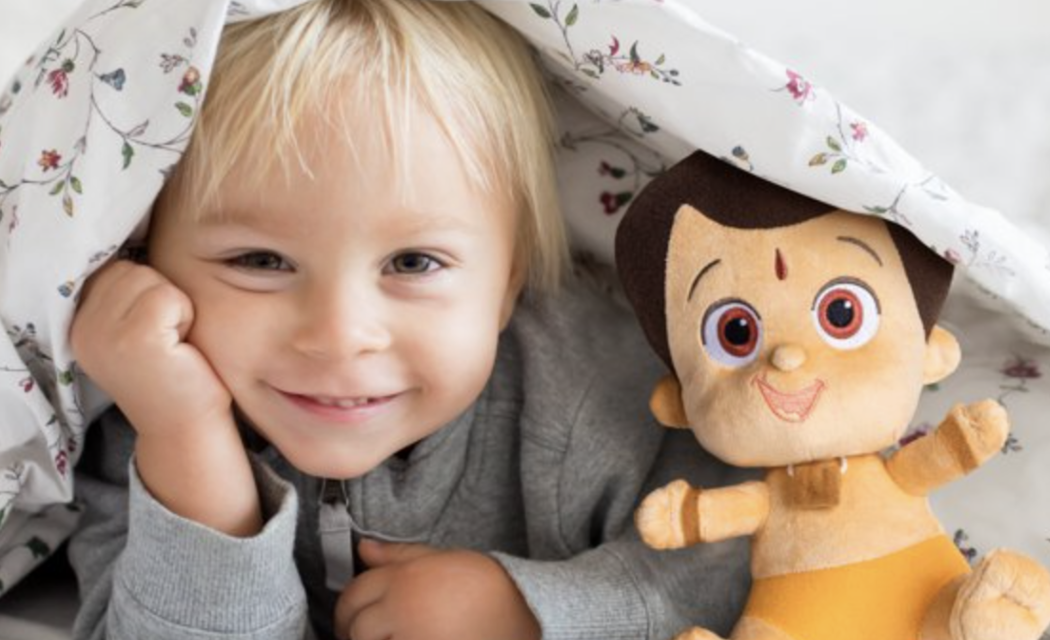 Mighty Little Bheem, the 3D, animated, series created by Green Gold Animation, was the first animated television series to launch worldwide in 190 countries simultaneously from Netflix. The show has since propelled to international fame as the one of the most popular Netflix Original series. Now in its thirds season on Netflix, Mighty Little Bheem holds a record-breaking 11 Billion views on YouTube Netflix Jr. alone and has built a fan following around the globe. Super strong with an appetite to match, Mighty Little Bheem is an unsuspecting hero, with a sense of adventure and near miss escapades.
Just in time for the holiday season, Green Gold announces a family of Mighty Little Bheem products this holiday season inspired by show. From Toys, Puzzles, Activity, Apps, Home Décor, Decals, and Posters, all created after the many, many requests from Mighty Little Bheem fans everywhere.
GBN Licensing, an award-winning toy design and manufacturing company, launched a collection of toys. The products include Bheem Plush, Bheem with a Beat Drum set, Educational Magnetic Puzzle Books Wooden Educational Puzzle Sticks, Wooden Building Block Puzzles. Each product is eco-friendly and designed to be fun, develop motor skills and be educational. Scott Davis, General Manager, GBN Licensing commented, "We fell in love with Bheem the first time we saw the show. GBN Licensing is a global company and we look for properties that we can take into all of our territories around the world …and Bheem is one of those." He continued, "With viewership numbers in the billions on YouTube alone and Netflix streaming the show in 190 territories, we knew we needed to develop the toy line."
Anvita Prasad, AVP Licensing, Green Gold Animation commented, "We are extremely happy to see that our IP, Mighty Little Bheem based toys are now being launched in the US, via Amazon.com and Walmart.com platforms. Our toy partner, GBN Licensing has put in a lot of effort in launching a great range of products. Looking at the immense popularity of the show and demand for show products based on their favorite characters, I am certain that the Mighty Little Bheem collection will be a hit amongst its fans."
When asked about other products based on the Mighty Little Bheem series, Prasad continued to express, "Fathead, a leader in the wall décor, poster and sticker industry, has launched an eye-catching range of Mighty Little Bheem decals, wall décor and posters for kid's room which kids have been requesting for months." Fathead has brought Mighty Little Bheem into the bedrooms and lives of kids. Bheem and his friends are featured on wall décor, posters, stickers, decals and more.
Bringing Bheem into the day-to-day activities of kids, Green Gold launched two new apps targeted
to young fans: Mighty Little Bheem Color and Puzzle app and the Mighty Little Bheem Activities app. As a backdrop, their kingdom, which lies deep in the heart of India, named Dholakpur. It's a timeless, beautiful place, with a big village and happy citizens and a jungle full of interesting animals. And best of all, on the outskirts of town, there's a little house that's home to the mightiest and littlest baby hero you'll ever meet… Mighty Little Bheem. The apps can be downloaded from the Android and Apple app stores.
Just in time for the holidays, visit Walmart.com and Amazon.com to check out these and other Mighty Little Bheem products.
These powerful Mighty Little Bheem product programs were brokered and managed by Marketing Immersion, an Orange County, California based brand, licensing, retail and business development company, winner of the US News & World Report Digital Agency of the Year for California and Best in Brea, Agency of the Year.