Major new report reveals British kids have squirreled away £38m to spend in 2021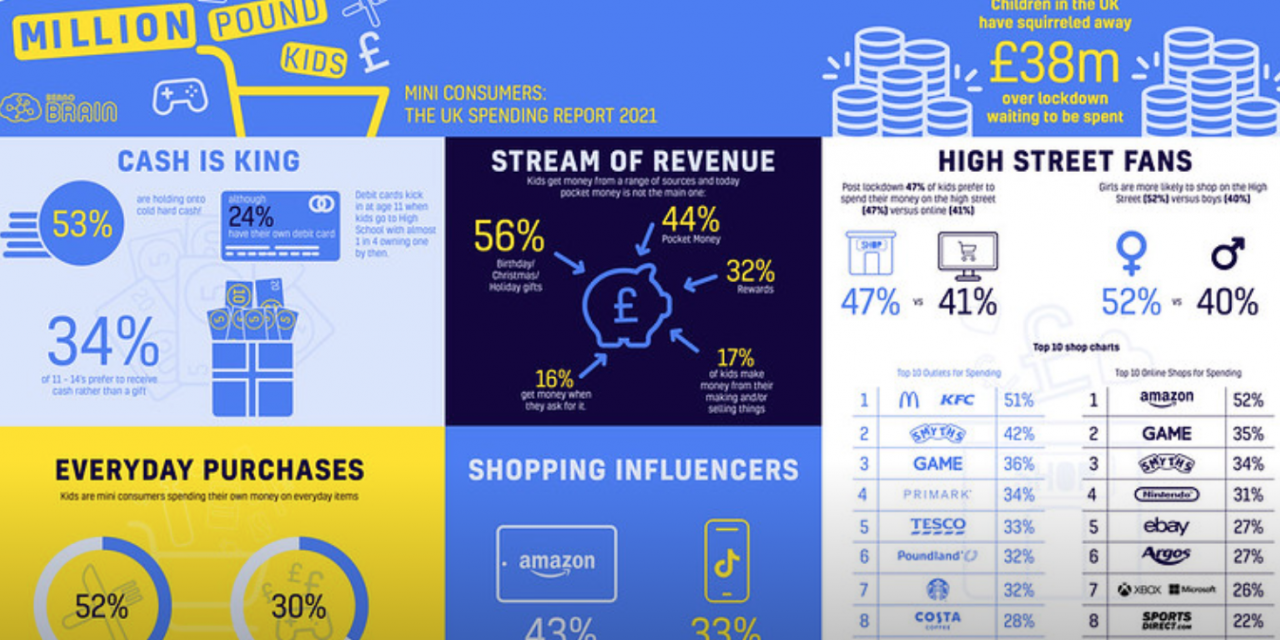 A new study released today reveals that children in the UK have squirreled away £38m over lockdown, waiting to be spent.

The research by specialist kids and family insight consultancy Beano Brain unveils spending habits of Britain's mini consumers with 47% of their money being spent on the high street.
Of the 8000 British children surveyed, 24% have their own debit cards, having been set up with their own account aged 11 on average – just in time for secondary school.
Nearly two thirds of kids (63%) revealed they have their own money to spend as and when they want with 53% of those preferring to hold on to cash. Unsurprisingly, 34% of 11–14-year-olds prefer to receive cash over gifts.
The new consumer spending report Million Pound Kids reveals that the high street rules supreme with restaurants and toy shops topping the list of products that British kids today are spending on. Whilst Amazon, Game and Smyths are the top three online shops that encourage children to part with their pocket money.
Recommendations have been revealed as the biggest influence on children's spending choices with 46% admitting they have purchased something after a friend has already bought it. 43% said that scrolling through Amazon had influenced their purchases whilst in 1in 3 (33%) said that social video sharing app TikTok gave them shopping inspiration, only just behind TV ads at 34%.
As lockdown lifts kids are keen to venture outside and make mini purchases of "everyday treats" of food and drink to keep spirits high (52%) whilst 45% are using their money for toys and collectibles. Surprisingly only 30% of kids are buying online gaming currency with their wealth.
Top 10 Outlets for Spending
Top 10 Online Shops for Spending
1
McDonald's/KFC
51%
1
Amazon
52%
2
Smyths
42%
2
GAME
35%
3
GAME
36%
3
Smyths
34%
4
Primark
34%
4
Nintendo
31%
5
Tesco
33%
5
eBay
27%
6
Poundland
32%
6
Argos
27%
7
Starbucks
32%
7
Xbox/Microsoft
26%
8
Costa
28%
8
Sports Direct
22%
9
WHSmiths
28%
9
JD Sports
21%
10
Argos
28%
10
Shein
19%
Savvy to the world of online marketplaces, 17% of children have added to their own pocket money by making and selling things on the internet. In contrast, 16% of 7 – 14-year-olds confessed to getting money whenever they ask for it.
Commenting on the report, author Helenor Gilmour, Director of Insight at Beano Brain said: "After a year of lockdown, online purchases have risen but kids have also rediscovered a love of the High Street. For these nascent shoppers being able to see their purchases, try them on, touch them and share with friends and family is really important. And although these modern mini-consumers can choose from debit cards, vouchers and gaming currency their preference is still cash which they are spending on small indulgences such as luxe-shakes, sweets, fidget toys and hair accessories preferably with their friends in tow."
Beano Brain is a specialist insights consultancy from Beano Studios. Born from decades of experience with kids through the iconic Beano comic, it now helps companies build their own connections with families using its unparalleled knowledge of Gen Alpha, Gen Z and their Millennial parents. It is on a mission to build an insightful and often untold view of kids, teens and their families to inspire innovation from brands and businesses.