Magic Light Announces First Licensees for Pip and Posy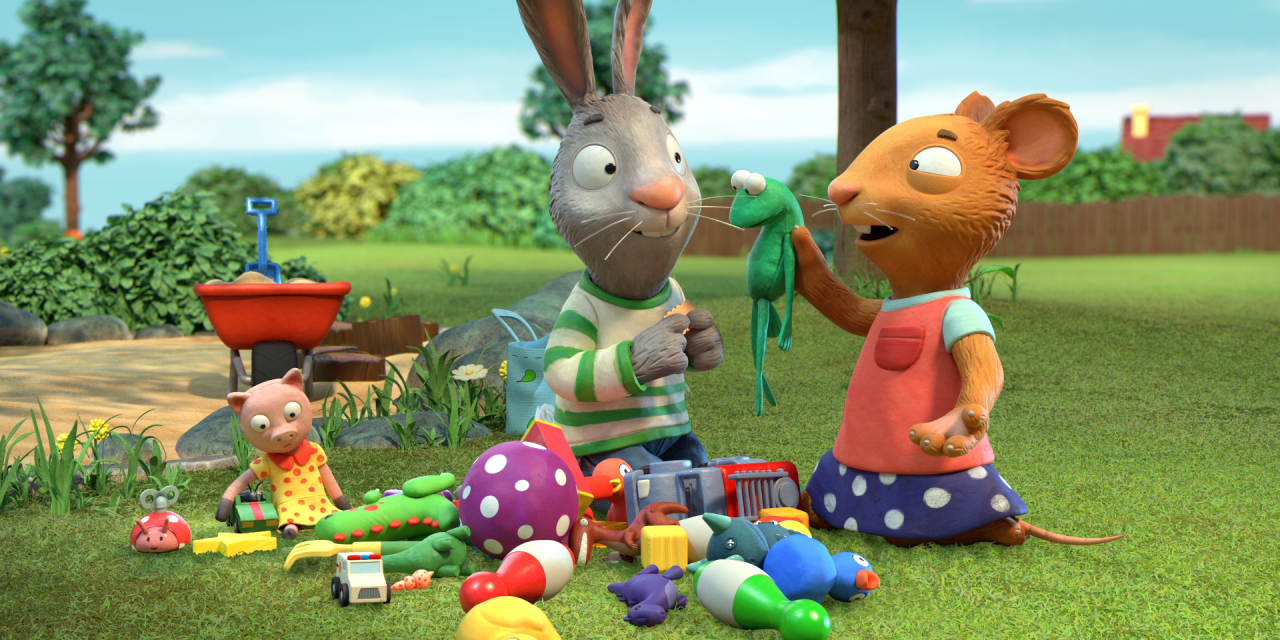 Magic Light Pictures has announced that it has secured its first raft of major licensing partners for its new preschool series Pip and Posy, reinforcing the amazing success of this fresh and unique show since launch.
Leading the way from the multi-award-winning, independent children's publisher Nosy Crow, is TV tie-in publishing. As publishers of the original classic picture books illustrated by Axel Scheffler that inspired the series, the wonderful new range of board, activity, sticker and lift-the-flap formats will showcase the show's CGI artwork in exciting and creative ways.
Adding to this, Amscan International has signed for dress-up, balloons and party goods, while Ravensburger will be producing Pip and Posy puzzles and games. To kick everything off a bespoke online store in partnership with Star Editions is now available at pipandposyshop.com, offering an initial capsule collection of 10 products.
In addition, Pip and Posy will feature as one of six children's brands alongside Channel 5's Milkshake! Monkey and the Milkshake! Presenters in a brand new Milkshake! Live Show, touring nationwide from 12th February 2022 through to 2023.
Pip and Posy premiered on Channel 5's Milkshake! in March. With almost 3 million viewers since launch, it is currently one of its top-rated shows. Sky Kids launched a box set of 20 episodes in May, and the series will begin to air on Nick Junior in Spring 2022. It is also proving massively popular on its growing social media platforms, reaching 3.5m people across Facebook and Instagram with over 9m video views, and a further 5.5m views on its YouTube channel.
The show is also proving to have huge international appeal, with Magic Light Pictures securing new broadcast agreements for Pip and Posy. RAI Yoyo (Italy) is the latest free-to-air broadcaster to join the multiple international partners already on board, including ZDF (Germany), FTV (France), SVT (Sweden), Hop! Channel (Israel), NPO (Netherlands), CTV (Czech Republic), Asiana (South Korea), DR (Denmark), YLE (Finland) and TVO (Canada).
This month, German public broadcaster ZDF is launching the 52 x 7-minute series, which will also run on its free-to-air kids' channel KIKA with the episodes available on their online platforms KIKA and ZDFtivi. Following its great response around the world, Pip and Posy has started airing across a number of territories, including Hop! Channel (Israel), ABC (Australia) and NPO Zapp (Netherlands), while the remaining broadcasters will roll it out early 2022.
Daryl Shute, Brand Director, Magic Light Pictures said: "We are thrilled with the way audiences have taken Pip and Posy to their hearts. As these two best friends set out on their global travels, we're excited that fans will be able to connect with them ever more closely and look forward to welcoming even more licensed opportunities soon."