Macmillan Children's Books celebrates 40th anniversary of Rod Campbell's preschool bestseller Dear Zoo with new publishing and key partnerships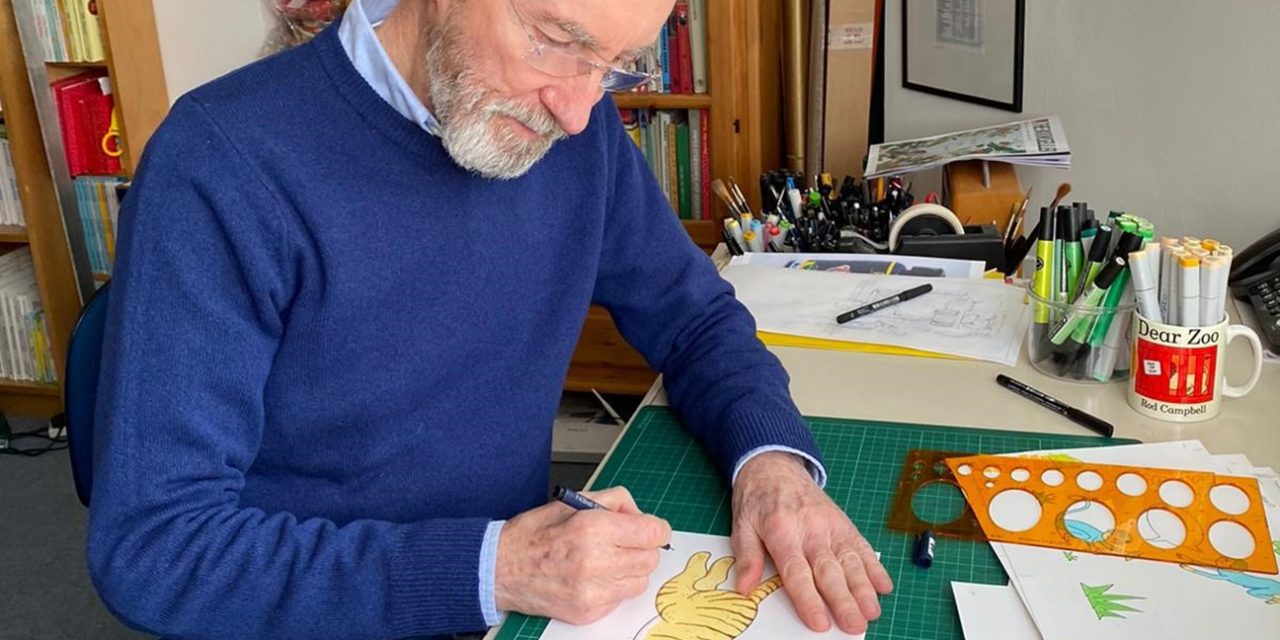 Celebrations are underway at Macmillan Children's Books to mark the 40th anniversary of Rod Campbell's interactive picture book, Dear Zoo. The publisher will celebrate this much-loved family classic with a year-long programme of activity, starting with the publication of a new golden board book edition in January.
A dedicated marketing and PR campaign will see a series of immersive events, national press coverage, experiential advertising and other surprise deliveries. A year-long digital advertising campaign will run alongside far-reaching trade and consumer promotions. An instore competition is currently running with JoJo Maman Bebe across 88 UK and Irish stores.
A major partnership with leading family attraction ZSL London Zoo launches in the spring. A Dear Zoo trail featuring all the animals from the book will feature through the zoo during the Easter holidays, launching on 2nd April. ZSL will also be running an experiential activity based on Rod Campbell's 2021 book Look After Us.
The sell-out Dear Zoo Live! on stage production will return for its third nationwide tour in 2022. Further partnerships designed to bring the brand to an even wider audience will be launched through the anniversary year.
Sales of Dear Zoo now exceed 13 million copies. In 2021 it appeared 38 times in the Preschool & Picture Books weekly Top 20. Rod Campbell's titles had a record year in 2021, with sales across all of his titles growing 9% to total 1.5m copies across all markets. Internationally his sales grew by 59% in volume across all markets. Five new languages were sold, bringing the total to 31.
Dear Zoo is available in a variety of formats in addition to the classic board book edition, including paperback, cloth and buggy, sound and pop-up, as well as audio books. For countless babies and toddlers Dear Zoo is their first book and many go on to share it themselves with their own children.
Rod Campbell said: "I am absolutely delighted that so many generations of young children continue to love Dear Zoo. Their pleasure when interacting with the story is so pleasing to see, and for me is the greatest of compliments. Here's to the anniversary activities bringing Dear Zoo to an even wider audience of families."
Stephanie Barton, Publisher, said: "With just eight animals, 16 pages and 115 words, Dear Zoo hits the spot every time. Putting the child at its centre, Dear Zoo is a joyful, playful first book for little children everywhere, and is much loved by parents and grandparents who remember it fondly from their own childhood. Rod Campbell finished 2021 as the second bestselling author/illustrator in the UK's Preschool market and Dear Zoo was the #1 best-selling preschool title by an author /illustrator in 2021. That's quite an achievement over 40 years and we are so proud to work with Rod and on Dear Zoo."
Belinda Ioni Rasmussen, MD, Macmillan Children's Books, says: "We are really privileged to publish Rod Campbell and our close working relationship with him ensures success for Dear Zoo and his wider publishing year after year. Our collaboration with ZSL is a key moment in 2022 and we hope that even more families will discover Dear Zoo with them and through other experiential partnerships, extending the classic story into a family day out to remember."
ZSL London Zoo's Chief Operating Officer Kathryn England said: "We're excited to be celebrating the 40th anniversary of Dear Zoo at London Zoo this Easter, when we'll be inviting families to visit the real-life animals from the much-loved book – including monkeys, camels, lions and giraffes – on an exciting new trail across our historic 36 acres of nature. Rod Campbell's story of a child who writes to the Zoo to ask for the perfect pet has delighted children for four decades; we're sure that children and adults alike will now love delving beyond the pages of this classic tale to become part of the story."