LUSH, NICKELODEON AND PARAMOUNT CONSUMER PRODUCTS ANNOUNCE NEW SPONGEBOB SQUAREPANTS COLLABORATION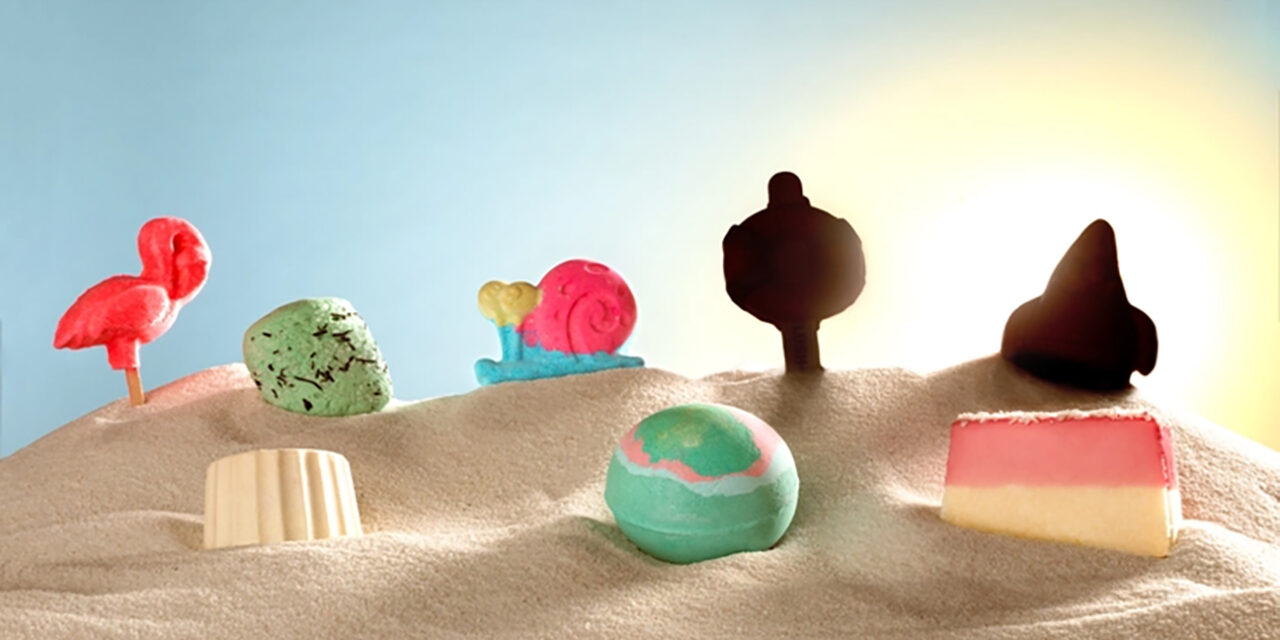 Lush, Nickelodeon and Paramount Consumer Products today announced a new SpongeBob SquarePants collaboration tied to SpongeBob SquarePants: Operation Sea Change, a global ocean conservation and sustainability initiative. The partnership includes an exclusive SpongeBob-themed box of plastic-free goodies based on fan-favourites Patrick Star and Gary the Snail along with Bikini Bottom. The Lush Kitchen subscription box will hit doorsteps July 2023, in time for Plastic Free July. Additional elements of the partnership will be announced in the coming weeks.
Lush customers everywhere can now subscribe to the Lush Kitchen for £35 a month + shipping and receive a Lush Kitchen Subscription Box featuring 4-5 exclusive products. The contents of every box is based on subscriber votes from a changing monthly menu, plus one or two surprise goodies chosen by Lush. All products are made fresh and to order. To find out more about when your fresh handmade products will be dispatched as well as other key Lush Kitchen dates, including voting, payment and registration dates, please click here. To receive this special Kitchen box, consumers can sign up now through June 5th.
'We love soap! So, to create a plastic free range of products on behalf of SpongeBob SquarePants, an iconic character, series and brand, representing an undersea world that we are all trying to protect, was an obvious fit for a Lush. We're proud that 66% of our entire product range is unpackaged and we are thrilled to partner with Paramount and Nickelodeon on SpongeBob SquarePants: Operation Sea Change. -Melody Morton, Lush Concepts Creative Director
Lush wants to help Lush Kitchen customers to make a sea change to help save the home of their favourite fictional sponge—whether they're taking their first step away from pump hand-soaps, or whether they feel motivated to move their full routine over to plastic-free alternatives, Lush is here with solutions for every point in the plastic-free journey.
Through partnerships with several non-profit organizations, SpongeBob SquarePants: Operation Sea Change aims to help remove and divert five million pounds of ocean plastic over the next four years by funding clean-up projects and educate millions of fans on how they can help protect the undersea home of all creatures—including a certain silly sea star, sourpuss octopus, and optimistic yellow sponge.
"We are thrilled to partner with Lush, a company that has a long history in protecting the environment and shares our excitement for the SpongeBob SquarePants: Operation Sea Change initiative to protect the world's oceans and its inhabitants," said Veronica Hart, Executive Vice President, Global Franchise Planning and CP Marketing, Paramount. "Pairing the colourful and creative plastic free products of Lush with the fun and positivity of SpongeBob is a perfect fit, while creating awareness around the clean ocean efforts and its importance."