LOCATION-BASED ENTERTAINMENT LICENSING WITH A TWIST
Pokémon Local Acts
There are few entertainment franchises as recognisable as Pokémon and even fewer with as broad an age range in its fandom. Thanks to this, and Pokémon's dynamic essence, the Pokémon Company is allowed to pursue licensing opportunities that you wouldn't regularly come across.
That being said, other brands and IPs can still take a page from Pokémon's playbook. A recent example is the Japan-exclusive Pokémon Local Acts initiative.
Pokémon Local Acts is a location-based initiative by the Pokémon Company to promote various prefectures (similar to provinces) in Japan, by cleverly pairing "Ambassadorial Pokémon", with compatible prefectures.
One of the aims of this initiative is to promote tourism to lesser-known and disaster-hit destinations, in an effort to encourage city dwellers, as well as international tourists, to explore these off-the-beaten-track locations. As of writing only eight of Japan's 47 prefectures have been selected – Fukushima, Iwate, Miyagi, Hokkaido, Kagawa, Tottori, Mie, and the subject of this case study – Miyazaki.
Ambassadorial Pokémon are paired with prefectures based on whether the characteristics of the said Pokémon align with those of the prefecture.
Local Acts manifest in the selected prefectures in various ways, with both local governments and local companies participating. For starters, each prefectural government oversees the roll-out of a select number of fan-favourite Pokémon utility hole covers – "Poké-Lids" – or "Pokéfuta", as they're officially known in Japan. Finding each Pokéfuta in participating prefectures can be a real Poké-adventure, as the utility hole covers are placed throughout the prefecture and also serves as a Pokéstop in the ever-so-popular Pokémon GO mobile game.
Each Pokéfuta is quirky and unique as they are designed by the Pokémon Company to incorporate the respective prefecture's Ambassadorial Pokémon while also highlighting the unique features of the area in which the cover is placed.
In turn, participating prefectures recommend potential local licensees, eager to join the Local Acts initiative by utilizing the respective Ambassadorial Pokémon in their products or services.
On a national level, Village Vanguard, a popular novelty goods retailer in Japan with an extensive footprint across the country, is also in on the action, retailing memorabilia and merchandise showcasing each prefecture's Ambassadorial Pokémon. From branded mugs to postcards, to collectors medallions featuring various Pokéfuta designs – merchandise allowing fans to commemorate their visit to a specific area's Pokéfuta.
To learn more about how this unique partnership is structured, I sat down with Mr Shinohara and Mr Yokogawa from the All-Miyazaki Sales Division, whose team successfully spearheaded the prefecture's bid to join the Pokémon Local Acts initiative.
Miyazaki is a small prefecture on the east coast of Kyushu, the most southerly island of Japan's five biggest islands. Nationally, it is known for its delectable mangoes, beautiful beaches, warm climate, and abundant nature but internationally people might only recognize it as the surname of a famous Japanese animated film director.
Due to Miyazaki prefecture's relatively unknown status among international tourists the local sales office decided to partner with the Local Acts initiative – to create awareness among tourists, that Japan consists of more than just Tokyo, Mt. Fuji and robot cafes.
This required Mr Shinohara and Mr Yokogawa's team to compile a campaign-like presentation for the Pokémon Company. The presentation involved the careful consideration of the Pokémon the prefecture would like to partner with, possible brand activations the prefecture could bring to the table, as well as recommended local companies that could be brought on board as licensees of the Pokémon Company.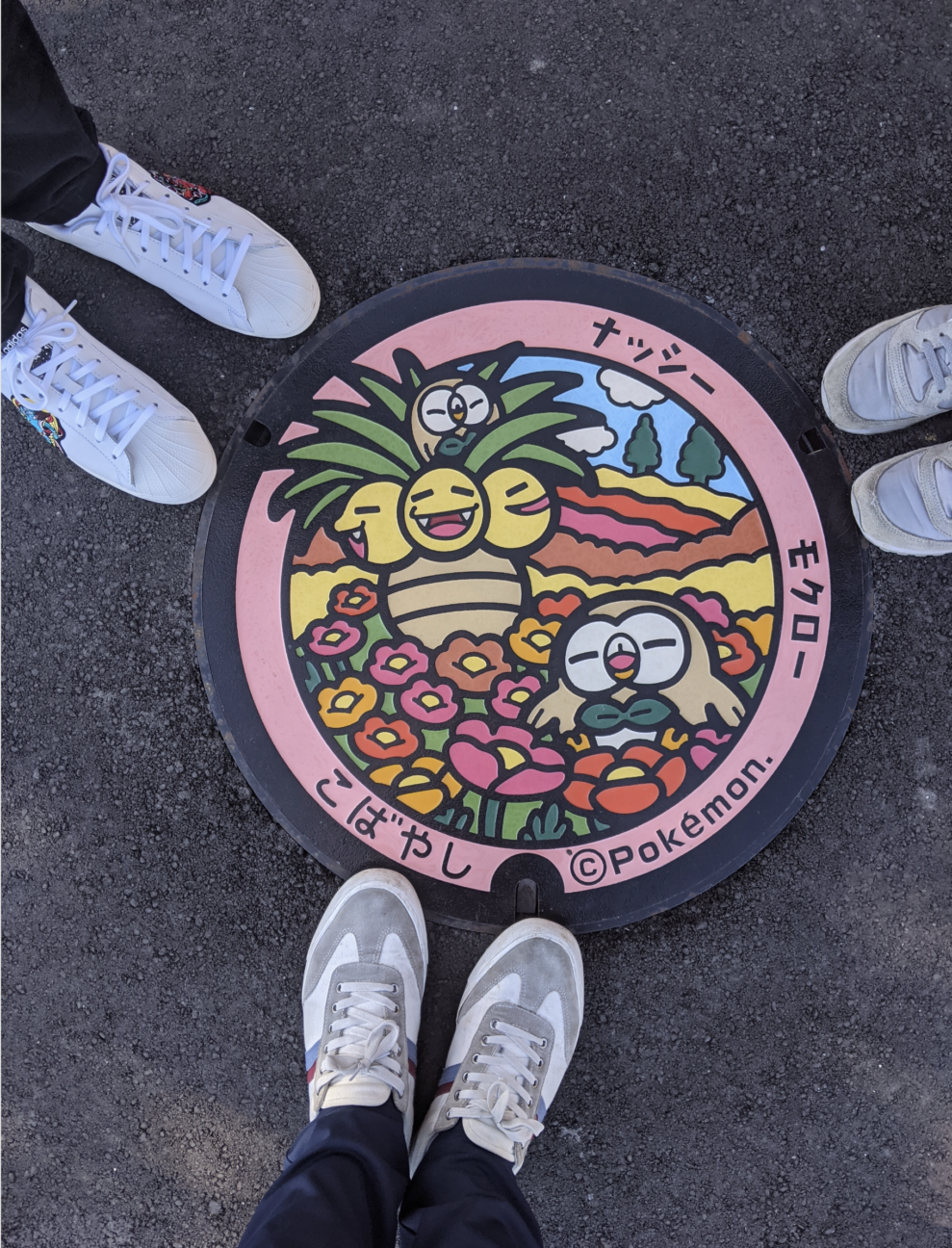 Since Miyazaki is synonymous with year-round sunny weather and lush green forests, and since its official tree is the Phoenix Palm tree, the decision was made to appoint the Coconut Pokémon, Exeggutor and Alolan Exeggutor, as its Pokémon Ambassador. No other Pokémon could have been a better match than the laid-back Exeggutor, said to be the moving jungle, to lend its support to Miyazaki prefecture.
A Local FMCG company, UTSUWA Co., Ltd. signed on to produce Exeggutor and Alolan Exeggutor branded canned foods and mango-flavoured salad dressings. While another local manufacturer produces beautifully crafted wooden bento lunch boxes with Exeggutor and Alolan Exeggutor branding.
Miyazaki prefecture offered another unique activation for the Pokémon Company by recruiting three major local transport companies for a comprehensive branded public transport experience. Solaseed, the local airline whose head office is based in Miyazaki, received the Exeggutor treatment with a fuselage wrapping and interior design makeover. The local car ferry, operating between Kobe and Miyazaki also partnered, being branded with Exeggutor's adorable face (this branding deal has come to an end since writing hereof). On top of this Miyazaki Kotsu has a number of inner-city buses in operation sporting Exeggutor and Alolan Exeggutor branding.
Since the launching of the partnership in October 2020, Exeggutor and Alolan Exeggutor utility hole covers have been installed in all 26 cities and towns informing visitors of each area's attractions. For example, Kushima City is famous for its many wild horses in Cape Toi, which are designated as a national natural treasure. Thus, Kushima City's Pokéfuta features a fun design of Exeggutor and Galarian Ponyta – an equine Pokémon – running along Cape Toi, thus educating visitors about the area in question.
Although the agreement between the Pokémon Company and the local prefectures is not a licensing agreement or even an agent agreement, it does open communications for local companies to become licensees of the brand.
Pokémon's ability to make global headlines enables partnering prefectures to instantly pitch to an international audience from a tourism point of view. While at the same time the Pokémon Company endears itself to locals as a company that has their best interests at heart with an honest sense of social responsibility – beautifying and uplifting disaster-stricken areas by boosting tourism to cities and towns that deserve recognition, and need the cash-injection that travel to the area brings.
Furthermore, the Pokémon brand also becomes more accessible to smaller companies that might not have considered becoming a licensee of such an established property. As far as both national and international exposure goes, you don't get much better than Pokémon, and as a result, the collaboration opens new market segments for partnered local companies.
Perhaps most impressive is the vast network of brand touchpoints the Pokémon Company acquires with the rollout of Pokéfuta across participating prefectures, branded services and local products.
Combined with the recently lifted COVID-19-related travel restrictions to Japan, Pokémon Local Acts is well-positioned to benefit from, and further encourage, the inevitable surge in travel to Japan.
It's no secret that today's consumers are more concerned with sustainability than ever before, with more support towards supporting and purchasing from local players, especially after the COVID-19 pandemic put pressure on small to medium enterprises. Applying the Local Acts model is thus a win-win solution for participating localities and big corporations – usually far from being considered local – to tap into the current zeitgeist of supporting local business, without coming across as superficial.
Of course, the essence of the Pokémon brand lends itself perfectly to this initiative but there is a laundry list of other brands and IPs that could leverage its unique qualities in a similar fashion and see similar success.
Pokémon Local Acts have already been adopted by eight prefectures and it will be interesting to see if more prefectures will partner with the Pokémon Company or whether an international rollout is on the cards. Regardless, Pokémon Local Acts is one of a plethora of partnerships that have helped keep the Pokémon brand relevant for the past 25 years and can serve as a masterclass in brand activation for other brand owners.
Ruan Botha manages iam_Licensed, a South Africa-based facilitator educating local fans and consumers on the licensing industry, by showcasing the best international brand and entertainment licensing partnerships.