Licensing The Met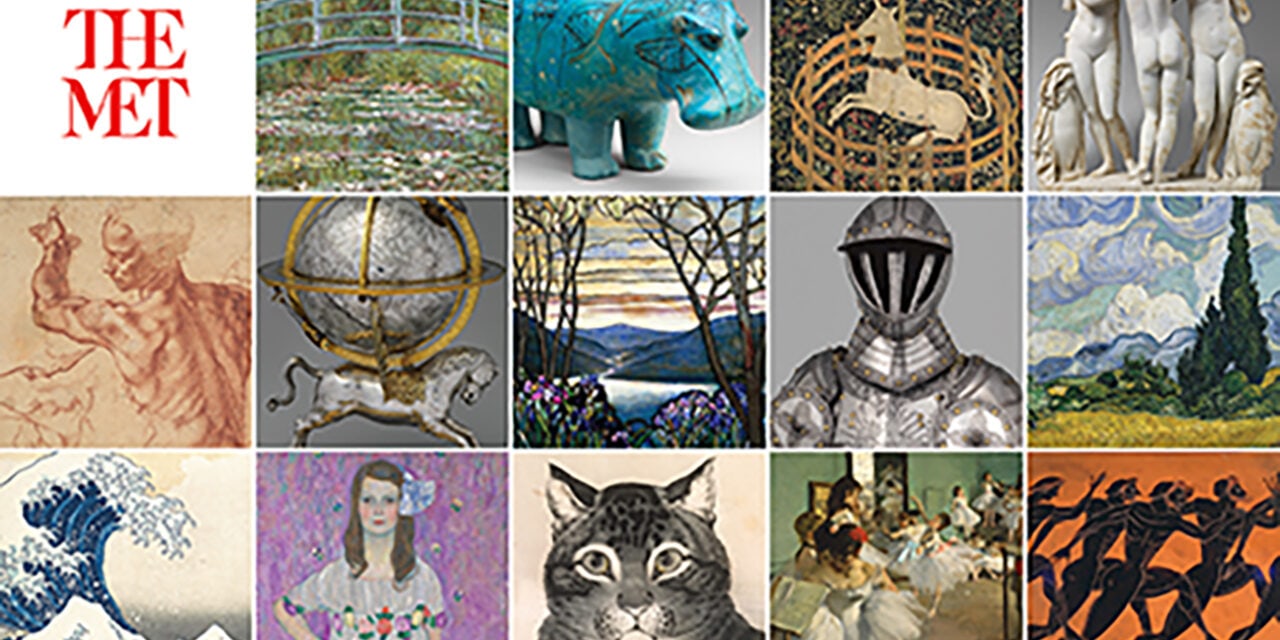 Two of the biggest licensing agencies in the world have signed to represent The Metropolitan Museum of Art (The Met) in several territories across the globe. WildBrain CPLG for the UK, EMEA & Russia, and Beanstalk for the US & Japan are gearing up for what looks to be an incredible global licensing program.
Two of the biggest licensing agencies in the world have signed to represent The Metropolitan Museum of Art (The Met) in several territories around the world. WildBrain CPLG for the UK, EMEA and Russia and Beanstalk for the US and Japan are gearing up for what looks to be an incredible licensing program.
Total Licensign spoke to Victoria Whellans, Group Brands Director at WildBrain CPLG Lifestyle; Linda Morgenstern, VP, Brand Management at Beanstalk; and Lisa Silverman Meyers, Head of Licensing and Partnerships at the Met, on why now is the perfect time to launch this extensive brand program.
Victoria Whellans, Group Brands Director at WildBrain CPLG Lifestyle
Which areas of the globe will WildBrain CPLG be looking after? How well known is The Met in some of these countries?
WildBrain CPLG is the exclusive licensing agent for The Met across the UK, EMEA and Russia. The Met is one of the most famous museums in the world and the brand enjoys very strong international awareness. Each year, people travel from around the world to visit The Met and view the many iconic masterpieces housed within its walls, by artists such as Van Gogh, Louis Comfort Tiffany, Rembrandt, Monet and Pollock, to name just a few.
In 2018, a third of The Met's visitors were from outside of the US, with visitors from France, Spain and Italy being in the top five of these countries. I think anyone who has visited New York from overseas, especially those who have an interest in art or history, is likely to have visited The Met, or at the very least walked past the iconic location of its main building situated alongside Central Park.
Having been widely used as a film location, The Met is also very familiar to many through its frequent appearances in movies, and of course there's the famous Costume Institute and the Met Gala which every year receives widespread global publicity.
Traffic to The Met's website also shows a large number of visitors from key European markets, including the UK, France, Germany, Spain and Italy.
What kind of partners are you looking for and in which categories?
Homewares will be a key category – bedding, trade textiles, tabletop, room décor – in addition to gifting; apparel, including halo-fashion and brand collaborations; and stationery and paper goods. And eventually we'll extend into accessories, health and beauty, and toys and activities.
There will be short term opportunities such as sustainable fast fashion collections with accessible price points while also maintaining good quality and design, alongside longer-term brand building products with a mix of accessible and premium price points.
We will also be looking for partners that have a commitment to environmental responsibility to reflect The Met's commitment to promoting sustainable practices.
Across the programme though, we want to create a merchandise offering that targets not just museum enthusiasts, but also a broad pool of families and millennials so we can engage and educate a diverse audience.
You will have a treasure trove of pieces to work with – how do you choose which parts of the museum will form the licensing program to start with?
The Met collection is vast – it includes paintings, artefacts, sculptures, drawings, decorative objects, ceramics, silver, textiles, jewellery and more – so this is a very nice challenge to have and a fantastic opportunity! We have been working closely with the team at The Met who have highlighted many iconic masterpieces, artefacts and some lesser known works from their collection that we're really excited to utilise within the licensing programme.
There won't be style guides in the traditional sense, as the programme will be very trend led. We will work closely with the team at The Met to review trends and create mood boards using assets from the collection to work into these.
In the first year, our focus will be showcasing the breadth of The Met's collection by utilising assets from a cross-section of its 17 curatorial departments, while combining this with the energy of New York and the museum's mission to inspire and educate. We will also have the ability to work with licensees to create bespoke ranges for retail utilising assets that are grouped together into themes, such as time periods, artistic movements, motifs or geographic locations.
How will you maintain and expand the brand ethos of The Met?
The licensing programme will aim to bring art and culture into people's lives and homes and educate consumers about the art, people and beliefs behind The Met's iconic collections. We're looking for partners who have the ability and passion to tell a story and can translate The Met attributes and its assets into creative product ranges that align with The Met's mission to inspire and educate.
Linda Morgenstern, VP Brand Management at Beanstalk
Why do you think the Metropolitan Museum of Art (The Met) has chosen Beanstalk as its partner in the US?
From our first meeting, Beanstalk was very passionate about The Met as the most dynamic and inspiring art museum in the world and its mission to expand access to its unparalleled collection and educate visitors about 5,000 years of history and culture through art. Having built an award-winning licensing program for the Andy Warhol Foundation, we demonstrated a creative vision for what's possible and a strategic plan to execute on that vision.
Given the iconic nature of the institution, is there any particular reason for the timing of driving the licensing program forward?
The Met is celebrating its 150th anniversary this year. As The Met looks to the future, it is an excellent opportunity to expand its product footprint, globally. As The Met was founded on the principle of making art accessible to a broad range of audiences and celebrating cultures from around the globe, the time is now for The Met.
Tell us about the kind of partners you will seek.
Beanstalk will be inviting best-in-class licensees who have experience interpreting a world renowned brand such as The Met to take part in the program. There is so much storytelling that accompanies the art, so we'll choose partners that share our passion for The Met and its mission of making art accessible to and resonate with all audiences.
And are there any areas of particular interest for licensing? The Met program will be built upon three pillars – home décor, social expressions and gifting, and beauty and apparel.
You will also be looking after Japan – Asian countries have a long history of interest in Western cultural institutions. What plans are there in this country?
Japanese consumers are among the most sophisticated in the world with a design aesthetic that is often cutting-edge, taking a fresh, fashion forward approach in how artworks are applied to product. We will work with partners to ensure that the stories and translations are relevant and appealing to the Japanese consumer. We are confident The Met-branded product will do exceedingly well in this market.
How will you go about choosing which pieces of art, etc, will form the core licensing program?
Working closely with the team at The Met, our program development will be categorized by theme and across 17 curatorial departments. For example, The Met's Arms & Armor is the best in the world and makes for an endlessly fascinating design inspiration. Additionally, seasonal themes like botanicals, beasts, fauna, fantastic voyages, and a myriad of textile and other decorative designs come through all areas of The Met's collections.
And tell us how you plan to maintain and yet expand on the brand ethos of The Met?
The Met has presented and highlighted cultures from around the world for the past 150 years. We intend to choose best-in-class licensees that will reflect the quality and unique perspective, offering the specialness the institution has always stood for.
Lisa Silverman Meyers, Head of Licensing and Partnerships at the Metropolitan Museum of Art
Can we have a history of The Metropolitan Museum of Art (The Met)?
The Metropolitan Museum of Art was founded in 1870 by a group of Americans – businessmen and financiers as well as leading artists and thinkers of the day – who wanted to create a museum to bring art and art education to the American people. Over the past 150 years it has grown and deepened its collection and mission to present works of art spanning 5,000 years to people from all over the world.
Since its founding, The Met has always aspired to be more than a treasury of rare and beautiful objects. Every day, art has come alive in the Museum's galleries, through its exhibitions and events, and through its digital programs, which reveal new ideas and unexpected connections across time and across cultures. World-renowned for its seventeen curatorial departments including its collections of European Paintings, Greek and Roman art, Egyptian art, and the Costume Institute; it houses world-class collections of Ancient Near East, Islamic, South American, African, and Medieval art, as well as decorative arts, textiles, musical instruments, and much more.
As a result, The Met is one of the most visited and well-known museums on the planet. In 2019, The Met welcomed over 7 million visitors and has more than 10 million followers on social media.
The Met it is an iconic institution – why now in particular to drive the licensing program forward?
We feel strongly that a global licensing program amplifies and supports the Museum's mission to inspire and educate through sharing the stories of its more than 1.5 million works of art. At this moment, there is a hunger for beauty, for resonance, for meaning and for stories that foster connection and understanding. This is equally true in the licensing space, as consumers in the new normal give deeper thought to their purchases and buying decisions. With the help of our licensing partners and curatorial staff, we are uniquely positioned to bring art to the everyday, educating consumers and inspiring future generations.
Are there any areas and categories of particular interest for glonal licensing?
The Met branded licensed products are inspired by its diverse collections, cultures, and beautiful stories. While we are excited to work across all categories, we are particularly excited to work with sustainable and diverse partners in the trade, home and gift category. We also love the idea of bringing beauty into everyday living through consumer packaged goods, personal goods, and social expressions. Additionally, we believe there is immense opportunity in the kids space for educational toys and publishing that we are excited to explore.
Where do you begin when choosing works to use? It is simultaneously thrilling and daunting! With 1.5 million works, it can be overwhelming to create collections for licensing within our 17 curatorial departments. Beyond the iconic collections that The Met is known for, we work closely with our partners to create collections that are aesthetically appealing and on-trend. Every object in our collection has a story, and we look for artworks that tell compelling cross-cultural stories that resonate with consumers. It is our goal to raise awareness of lesser-known works while also celebrating fan favorites, in hopes to broaden knowledge about the spectrum of human creativity showcased within The Met. It is the biggest thrill of my life to be surrounded with these works and to work with the talented staff of the museum.