Kids Industries launches new report into kids, parents and sustainability at BLE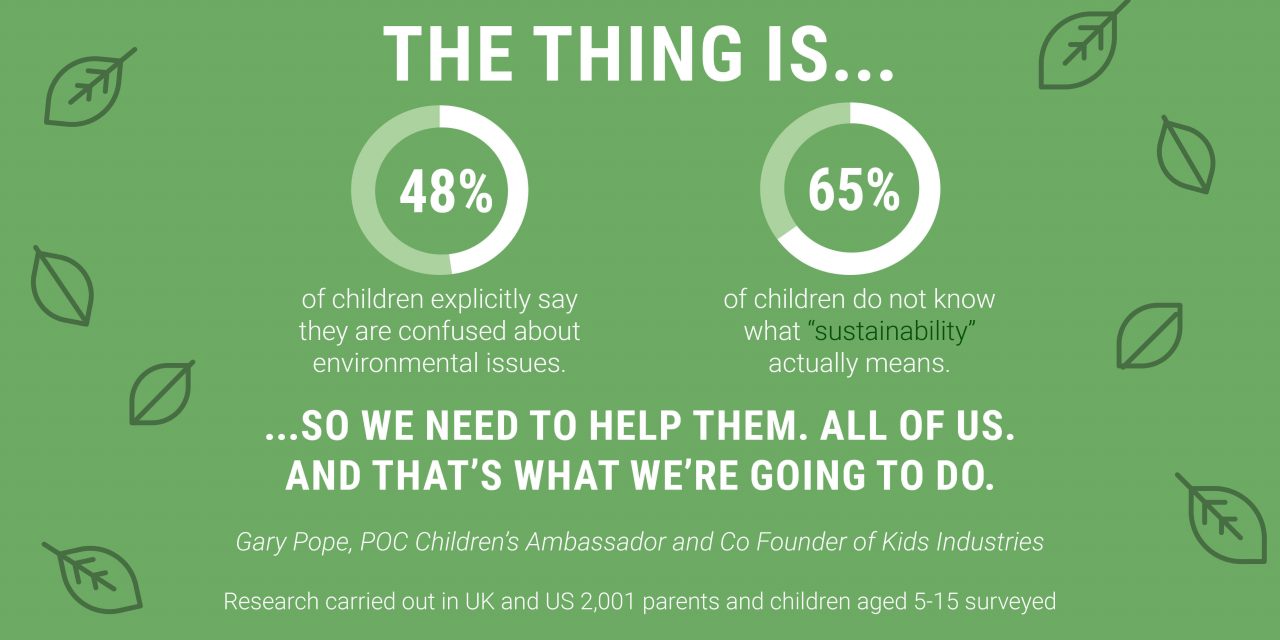 Family-focused marketing agency Kids Industries (KI) launched a new report today at Brand Licensing Europe (BLE) exploring the relationship children and their parents have with the environment.
Hot on the heels of COP26 and the announcement that Government is planning to change the primary curriculum to include climate change science and sustainability studies, the survey of 2,001 children and parents in the UK and US shines a light on current perceptions today and what families would like to see change.
It showed that the current understanding of climate concerns and topics is limited:
65 percent of children aged 5-15 do not know what 'sustainability' means – this includes 80 percent of 5–7-year-olds and 50 percent of 12-15 year olds
65 percent of children aged 5-15 do not know what 'sustainability' means – this includes 80 percent of 5–7-year-olds and 50 percent of 12-15 year olds
87 percent of UK children don't know what 'greenwashing' means
86 percent don't understand the term 'bioplastic'

42 percent of UK children are confused about environmental issues (this confusion reduces with age) – this rises to 53 percent amongst US children
Children do think the environment is important:
While 63 percent of UK children (67 percent in the US) aged 5-15 believe our impact on the environment and wildlife is the most important issue we face today, the specifics vary by country.
In the UK, they are:
Plastic waste (53 percent)
Climate change (50 percent)
In the US, they are:
Pollution (41 percent)
Saving endangered species (39 percent)
Children are trying to do their part – even if it is small:

94 percent of UK children (92 percent US) have done something for the environment, most commonly recycling (63 percent UK, 36 percent US).
83 percent of UK and US children US agree everyone can be environmentally friendly if they try hard enough.
70 percent of UK children (76 percent US) agree it is important to them that their lifestyle is more environmentally friendly.
69 percent of UK children (77 percent US) would do more for the environment if they had more time and money.
The circular economy and product reuse, recycle, repurpose
It's clear that plastic is still king, but planet-friendly toy options are catching up.
Plastic toys were the most popular toy category purchased in the past 12 months by UK parents (40 percent) and US parents (52 percent), followed by second-hand toys in the UK (37 percent) and wooden toys in the US (38 percent)
In the US, plastic toys are also the most frequently bought (32 percent) but in the UK, more parents buy second hand (25 percent) over plastic (22 percent).
What happens when toys outlive their use:
Thrown away and heading to landfill (14 percent UK/16 percent US)
Given to charity (32 percent UK/26 percent US)
Interestingly, 25 percent of UK parents said that they had bought a 'sustainable' toy in the past year (rising to 37 percent of US parents).
What next?
Parents want to see…
Products that are easier to recycle (48 percent UK/41 percent of US)
Cheaper sustainable product options (45 percent UK/32 percent US)
Products that are easier to refurbish or fix (37 percent UK/35 percent US parents).
Gary Pope, CEO and Co-Founder at Kids Industries and Children's Commissioner for Products of Change, commented:
"The introduction of a new environment-based curriculum couldn't come at a better time. Children need supporting in their knowledge of the issues at hand and what they can do to make a difference – never underestimate the power of collective responsibility. That said, parents don't want more information, they want it to be easier and they're looking for companies that can facilitate this.
"The demand for new solutions from children and their parents is evident – and just as recycling is at the forefront of children's minds, it's playing on their parents thinking, too, and best of all, it's the easiest solution. There's now a genuine desire too for toys that are produced more sustainably – a consciousness to see less waste. The toy industry has a responsibility to review these figures and adjust accordingly. The time to take action and listen to wants and desires in these areas is now."
Gary Pope will be at BLE on the Products of Change Sustainability Activation from 17-19 November,