INTERVIEW: THE VAN GOGH MUSEUM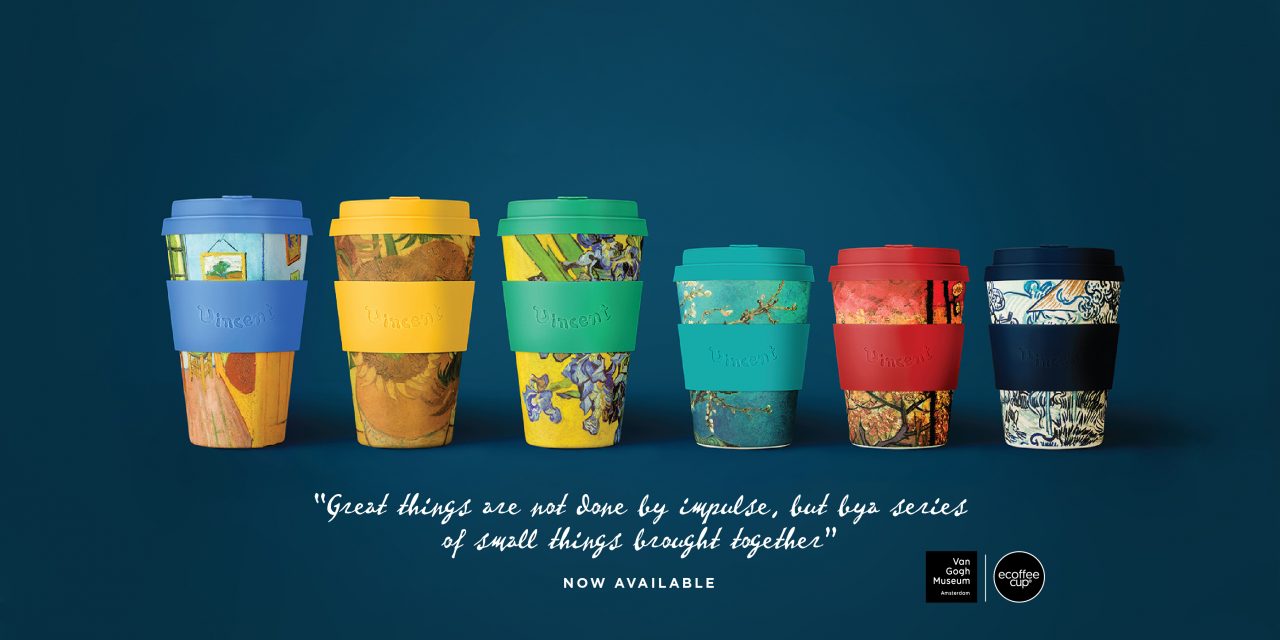 INTERVIEW: EXCITING NEWS AND COLLABORATIONS FROM THE VAN GOGH MUSEUM
Total Licensing caught up with Marijn Veraart, Licensing Manager at Van Gogh Museum Enterprises B.V to see how the Museum's licensing programme has grown during this tricky year, and hear about some exciting announcements…
Can you outline some of your most recent announcements?
We have lots of new collaborations to tell you about!
The Ecoffee Cup x Van Gogh Museum line with reusable coffee cups is now available in the UK and US. Other markets will follow in July. This collaboration allows us to raise awareness of single-use waste through the beauty of Vincent van Gogh's works. We recently shared the news about our long-term partnership with the Dutch brand Royal Talens. We have partnered up to create a collection of painting and drawing materials to invite people to unleash their inner Vincent. The collection of creative materials is now available in our webshop and at retail partners of Royal Talens all around the world. We are also very excited to extend our collection with the Dutch brand Beddinghouse this Spring. Bath and kitchen towels have been added to the popular Beddinghouse x Van Gogh Museum line of duvet covers and decorative cushions featuring Almond Blossom, Sunflowers, and Irises.
We've also launched several fashion collections inspired by the work and art of Van Gogh. For example with Chinese brands like Peacebird, MeetLady, Duibai, and Balabala. In Australia, we've teamed up with Anthea Crawford to develop a limited-edition autumn/winter 2021 collection in celebration of the brand's 45th anniversary.
Regarding your latest licensing partner, what makes them a perfect match for the Van Gogh Museum?
Our new four-year licensing partnership with the sustainable fragrance brand Floral Street was a no-brainer. We share a love of nature and finding beauty in the everyday. Floral Street is the first fragrance partner of the Van Gogh Museum, and we are delighted to start our collaboration with the launch of perfume this summer and a line of home products in 2022 celebrating fine arts and fine fragrance. We recommend following Floral Street and the Van Gogh Museum on Instagram to stay up to date.
Obviously, this has been a very tough year for museums around the globe. How have you kept in touch with the fan base while you've been closed?
It was and still is challenging for us. We are thrilled we can welcome visitors to our museum again on June 5th. We've missed interacting with our guests in real life. We have always aimed to integrate our website and social media into one digital Van Gogh world to connect with fans worldwide. Of course, we've continued with this during the pandemic. Quickly after closing the museum in March 2020, we built a webpage on which people could and still can find information on how to 'bring the museum to their homes.'

As you previously mentioned in your last interview with Total Licensing, you were running virtual tours and an online painting class, Let's Paint Like Van Gogh. How has the support been for these, and will you continue with virtual collaborations even after the museum can open again?
The Van Gogh Museum has always been searching for new ways to tell the story of the life of Vincent van Gogh and to show his art, letters, and sketches from a new perspective. For the Van Gogh Museum visitors in Amsterdam, but also to reach Van Gogh fans around the world online. Of course, we will continue to do so: not everyone can travel to Amsterdam and visit our museum. We still want to inspire people who are interested in art and Van Gogh all around the world.
How important, as a revenue stream, is the brand extension and licensing to the museum?
Through licensed products, Van Gogh's art is widely accessible and available for visitors ánd non-visitors. Collaborations help us to be less dependent on ticketing sales and enable us to reach new audiences and make an impact. For example, every purchase from our Ecoffee Cup x Van Gogh Museum line of reusable takeaway cups supports the museum and promotes people making sustainable changes in their lives.
Have you noticed any particular increase of interest and awareness in any particular territory?
During the pandemic, we've noticed that the interest in the work and life of Vincent van Gogh is very strong. Art and culture offer comfort and inspiration, especially in tough times. In 2020, the Van Gogh Museum reached more than 330 million people through social media worldwide, making it once again the art museum with the highest engagement anywhere in the world.

The products in the Van Gogh Museum webshop are available to everyone. Most of the international orders at the Van Gogh Museum webshop are placed from within the United States and UK. In addition, we have just started a shop in WeChat. Via the Mini Program, we offer our licensing partners the opportunity to present their licensed products to our Chinese fans.
How, through brand collaborations and licensing partnerships, do you manage to engage with a younger audience?
The Van Gogh Museum hopes to inspire a diverse audience from all ages and backgrounds. Inside the museum, but also with the products we develop with our partners. For example, in collaboration with Royal Talens, we've created a collection of painting and drawing materials that caters to amateurs and professionals and burgeoning and experienced artists. The Jelly Rolls Pens and Bruynzeel Coloured Pencils are popular with a young audience.
In our partnership with the Amsterdam-based clothing label Daily Paper in 2020, we took the chance to explore how fashion and art can bring people from all walks of life together. It is an excellent opportunity for us to be present in new communities introducing people to the world of Vincent van Gogh with a product made with his heritage in mind.
How do you always make sure to maintain the ethos of the brand?
With every partnership, we use the brand guidelines to ensure the correct use of the Van Gogh Museum brand. It is of utmost importance that the reputation of Van Gogh, his art, and the museum is protected and treated with great care and respect. The museum approves all products developed under licenses. We aim to improve the quality of the Van Gogh Museum merchandise by developing strong, long-term partnerships.