How Classic Peter Rabbit hopped onto the global fashion scene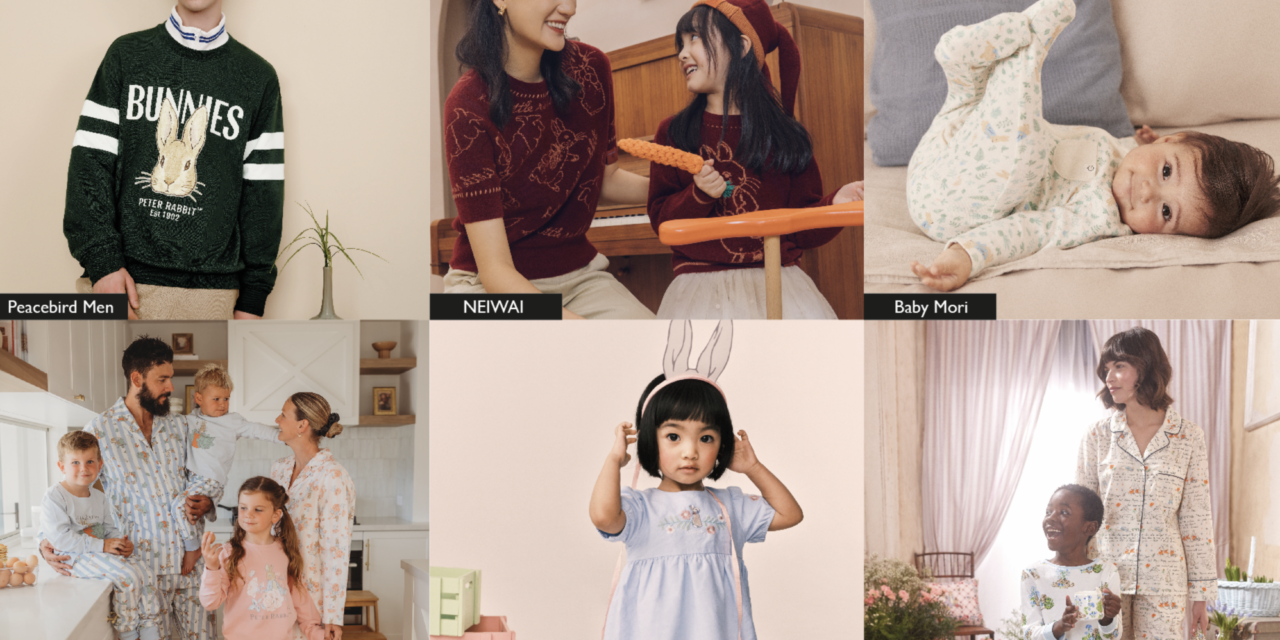 Penguin Ventures, the licensing team at Penguin Random House Children's UK, shares the most successful global fashion collections from the past 12 months which have resulted in exponential growth for The World of Peter Rabbit™.
David Sprei, Commercial Director, Penguin Ventures said: "It has been a fantastic year for Peter Rabbit, and I am grateful to our team and our global licensing agents for their continued enthusiasm for the brand and their unmatched regional expertise which has delivered significant YOY growth. The 120th anniversary celebrations placed us in a superb position delivering opportunities for new partnerships and brand collaborations, elevating Peter on a global scale and securing unprecedented placement across the retail landscape. Peter Rabbit connects with fans around the world and resonates differently from territory to territory, with fashion collections being influenced by culture, tentpole moments and trends which are unique to each market."
Apparel collections have performed particularly strongly in the UK, as the home market for Peter Rabbit. Marks and Spencer were a halo partner during the 120th anniversary celebrations last year. They launched a stunning range of infant apparel, with the collection extending into nursery bedding and accessories. Impactful point of sale, window displays and a dedicated digital campaign featuring lifestyle photography, ensured a sell-out success and the continuation of the partnership into 2023.
Zoe Smith, Senior Category Manager, UK Softlines at Penguin Ventures said: "The demand for Peter Rabbit has seen a huge growth in UK apparel lines with collections available across all retail environments, providing fashion items for every member of the family. It is important that we are able to maintain the high quality and creative application associated with the Peter Rabbit brand and our fashion partners have shown exceptional care and attention to detail with these beautiful collections."
A successful collaboration with Cath Kidston, paired their distinctive handwriting with the delicate drawings of Beatrix Potter, resulting in an entirely bespoke range including infant and adult fashion lines as well as homewares and accessories.
The Peter Rabbit Blade & Rose collaboration delivered a high end, highly desirable infant range for discerning new parents in a multi territory deal with Penguin Ventures. The first trend-led collection launched in the UK in January 2022 to immediate success, securing a second launch this year with expanded product range and to follow.
The 120th anniversary and the Year of the Rabbit celebrations have proved compelling hooks for China with capsule collections launched to mark both occasions. Shanghai Lingdong Trading Co. Ltd created a licensed range for premium Chinese loungewear brand, NEIWAI who announced their Peter Rabbit collaboration to welcome in the Year of the Rabbit. Their symbolic New Year Red head-to-toe outfit for the whole family formed part of this iconic collection and generated over 70 million social media impressions on launch.
Peacebird Men Fashion Co., Ltd. in China launched a Peter Rabbit menswear collection, to coincide with the Year of the Rabbit, the first-ever menswear range for the brand! Other successful apparel ranges for the Chinese market included lines from Chickabiddy, Hangzhou Zaiyi and Ribo who all launched major collections in collaboration with fashion retailers, as this classic British brand continues to appeal to an overwhelmingly diverse audience demographic in China.
Peter Rabbit has also performed strongly in Australia over the past 3 years, with licensee, Designworks supplying adult and infant clothing to key fashion retailers. Target has fast become the home of Peter Rabbit, stocking adult and children's sleepwear and clothing ranges which include everything from rompers, dresses and trousers to tracksuits and swimwear. Other success stories for Australia include Peter Alexander who launched their third Peter Rabbit DTR collection – and Cotton On Body who launched women's sleepwear and loungewear.
"We have seen incredible growth for Peter Rabbit across key global territories. Target in Australia is a standout success with the retailer being a year-round destination for the brand and Peter Rabbit being available at all of their 128 stores." said Lindsay Pearl, Head of International Licensing, Penguin Ventures. "Meanwhile our North American apparel business has delivered its best year to date, with Peter Rabbit collections now available at major retailers. This impressive growth places us in a strong position looking ahead and I am excited to see the consumer response to our forthcoming global fashion collections."
In North America, TJ Maxx and Marshalls both launched new Peter Rabbit collections from Children's Apparel Network, whilst children's brand, Mori launched a high-end Peter Rabbit collaboration for little ones which has been supported by an influential PR and marketing campaign, securing impressive coverage with global fashion press.
Japan has also seen a sharp rise in Peter Rabbit apparel licensing over the past 12 months with a slightly different consumer profile for the brand. Classic Peter appeals strongly to young adults, providing a wealth of opportunities for fashion retailers.
Japanese licensee Melrose Co., Ltd designed trademark feminine ranges for Pink House, which included skirts and dresses and bags and accessories for women. Domace Co., Ltd launched a line of women's pyjamas which sold exclusively via the Distribution shopping TV channel – which was the perfect retail environment for their customer base.
Peter Rabbit has provided the inspiration for fashion-led collections around the world, which in turn have been the catalyst in connecting him with brands and fans across a wide and diverse demographic. Penguin Ventures has capitalised on the timeless appeal of this classic property, taking Peter Rabbit off the page and positioning him at the forefront of this influential and exciting category.