Have Your 'Elf A Very Merry Christmas…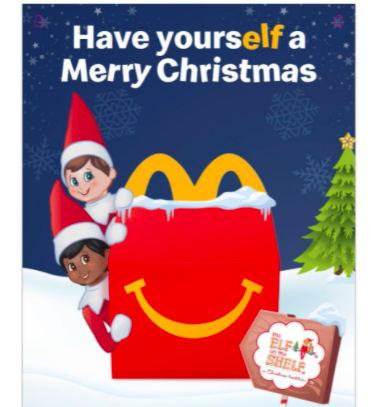 The Lumistella Company, Rocket Licensing and McDonald's announce the launch of the first-ever The Elf on the Shelf® Happy Meal® – with branded packaging, including a choice of one of ten North Pole plush characters – The Elf on the Shelf Scout Elves, Elf Pets and Elf Mates toys – or one of two books: Merry Christmas, It's Your Elf and Merry Christmas, It's Your Reindeer. The collaboration is available in all UK and Ireland restaurants, through McDelivery and via the McDonald's app, from the 16th November to the 20th December 2022.
Lumistella-themed activity sheets and games are available online at McDonald's Family Fun Hub and an activity pack envelope is on hand for drive-through restaurant visitors. McDonald's restaurant customers can also enjoy a "Gift Launcher" table game, a "Spot The Elf Pets" digital floor game and two iPad app games available in selected restaurants – "Find Santa's Helpers" and "Santa's Sleigh Stack Up". Exciting restaurant touchpoints will support the campaign, including a cabinet displaying Happy Meal® toys and books, an animated window screen, posters, balloons, and flags.
Inspired by the characters' values of kindness, fun and curiosity, The Elf on the Shelf® Happy Meal® campaign will create joyful family moments throughout the holiday season with a diverse and merry range of aspirational and imaginative toys. Children will engage in the wonder of Christmas and the magic of Santa's North Pole universe, by collecting up to ten unique toys including four Scout Elves, three Elf Pets – Reindeer, Saint Bernard and Arctic Fox – or three Elf Mates – Chef, Toy Maker and Cobbler – or they can choose one of two festive, adventure-filled mini-story book, available exclusively for Happy Meal®.
The campaign itself will be supported by a significant marketing campaign across multiple media, including an animated TV commercial showcasing Santa himself! The Elf on the Shelf® Happy Meal® toys, books and in-store communications were designed by McDonald's long-term partner, customer engagement agency The Marketing Store.
Christa Pitts, co-CEO at The Lumistella Company says: "This first-ever The Elf on the Shelf® Happy Meal® is a wonderful collaboration that brings together these much-loved brands and characters in an exciting new campaign.
Starring Santa's official North Pole helpers, Scout Elves, Elf Pets and Elf Mates, this Happy Meal® is sure to be a holiday hit with families at McDonald's restaurants across the UK and Ireland."
Rob Wijeratna, Joint MD, Rocket Licensing, which manages licensing for Lumistella and The Elf on the Shelf brand in the UK and Ireland, says: "The Elf on The Shelf brand is a memorable Christmas tradition that creates enjoyable shared family moments, cherished memories, and new holiday traditions. This partnership with McDonald's underlines the continuing strength of The Elf on The Shelf brand and fellow North Pole characters as an iconic Christmas brand in the UK."
About The Lumistella Company
CCA and B, LLC d/b/a The Lumistella Company