Geronimo Immersive Experience set to Launch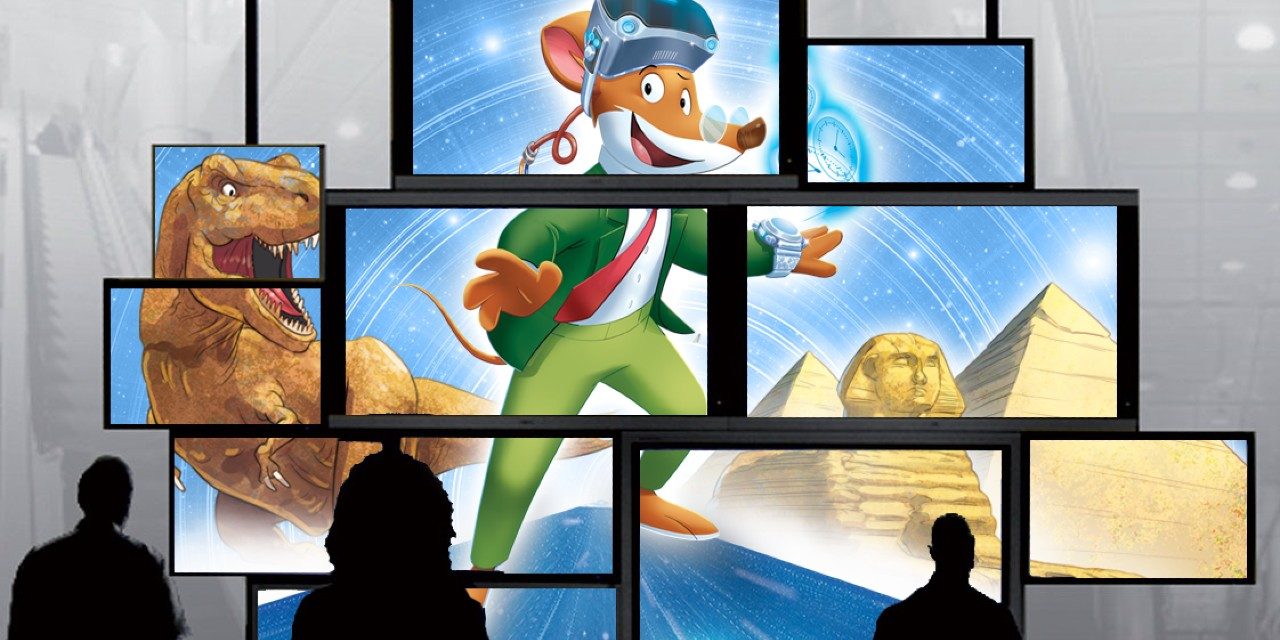 The Fabbrica del Vapore in Milan, at Spazio ex Cisterne, will host the world premiere of the first Atlantyca  Geronimo Stilton exhibition: "GERONIMO STILTON LIVE EXPERIENCE. THE JOURNEY THROUGH TIME", an immersive adventure that is entertaining, fun and educational, where participants will be taken on an exciting journey through history with the special mission of saving Geronimo Stilton. This unique exhibition will also feature special guides: Time Rangers, who will accompany visitors through the exhibition playing exciting interactive games. www.geronimostiltonexperience.it
The story is based-on the book series "A Journey Through Time", where readers are invited to travel to far off times and experience fabumouse adventures, and it is created to involve children aged 4-12, schools and all generations of readers who have grown up with the adventures of Geronimo.
The exhibition experience is designed to be immersive, interactive and empathetic: visitors will be able to experience an exciting journey through time, with tests to be passed and puzzles to be solved, learning while having fun. Thanks to a set design that is full of surprises, to interactive games and the guidance of the Time Rangers, having fun, feeling emotions and learning are one and the same.
You can explore the lost world of the dinosaurs, the mysterious world of the ancient Egyptians, and the adventurous world of Treasure Island before getting to the end of the journey and finally returning to the present, richer in experience, and more excited and enthusiastic than ever!
The exhibition will incorporate a variety of different technologies:
– Mapping: In the room dedicated to the Cretaceous era, images and videos will be projected onto the surface of one or more objects, transforming them into displays. Combined with sounds and music, mapping will provide an immersive audio-visual narration;
– Digital Signage: in each room, a digital display device will allow contents on ledwalls, touchscreens or mirror displays to be viewed;
– Augmented Reality: in the room dedicated to ancient Egypt, tablets will create an overlapping of digital, virtual and interactive elements in the real world, providing an exciting, unique experience.
Thanks to all of these technologies combined, the exhibition space at the Fabbrica del Vapore is a real Geronimo Stilton Experience Village: on the first floor the exhibition layout will be divided into three settings. On the ground floor, a bookshop, an interactive area for the Time Quiz, an area dedicated to photographs at the "A Journey Through Time'" Gate, a room for educational activities and events, and a space dedicated to Virtual Reality "Moon VR- Geronimo Stilton Edition" where Geronimo Stilton will accompany visitors to witness the Apollo 11 moon landing thanks to Virtual Reality, which transports visitors on out-of-this-world experiences and amazing adventures, immersing them into 360° environments through VR visors.
Marco Pizzoni, Way Experience CEO commented: "In such a long-lasting, unique moment in time, we asked ourselves as entrepreneurs and parents of children between the ages of 5 and 14, what would be the value of constructing Travelling Through Time with Geronimo Stilton – choosing a large, physical, wonderful, safe place where we could take our children on a journey that they can hardly take anywhere else these days. We didn't even need to answer that question: we just did it".
Noted Claudia Mazzucco, Atlantyca Entertainment CEO: "Geronimo Stilton has always had special powers: he manages to make even the most superficial topics interesting and stimulating even for his young fans. The big exhibition in Milan makes this gift of his even more real and creates a new bridge between the world of adults and that of children. By visiting the exhibition, children will discover new educational content and will  travel through different historical eras, but adults will also have more fun than they have had in a long time. Because Geronimo Stilton always makes us feel playful and eager to make discoveries, just as we were when we were our children's age. This union between generations seems to us to be an important opportunity, especially at a time like this, when dialogue between adults and children is a crucial factor in overcoming the challenges of everyday life."