Floral Street Fragrances Continue with Van Gogh Museum Inspiration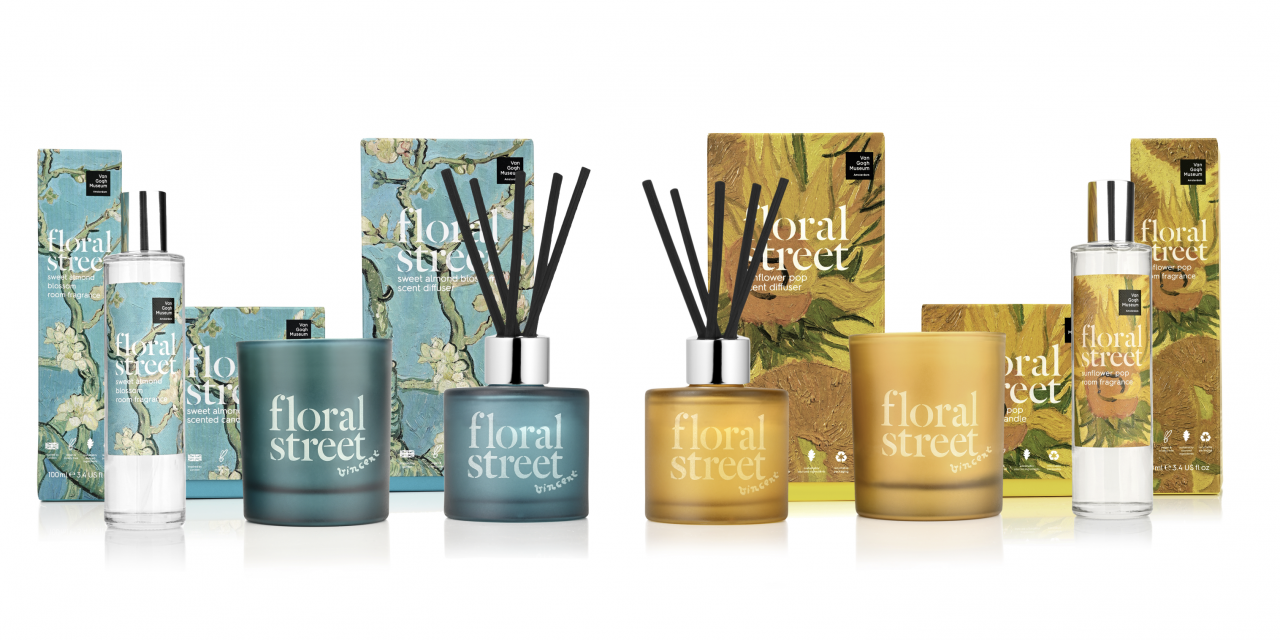 In 2021 the collaboration between independent, clean, British brand, Floral Street Fragrances and the internationally renowned Van Gogh Museum, Amsterdam introduced Sunflower Pop to the world. Following the success of this vibrant and expressive vegan fragrance their partnership extends, in Summer 2022, into two ethical scented home collections.
They have once again been inspired by Van Gogh's iconic Sunflowers, 1889 and also by his Almond Blossom, 1890 masterpiece. Continuing to tell their story of a shared respect and love of nature, they have captured the mood and emotion of these renowned masterworks through the sensory experience of home fragrance.
The bright, yellow-tipped sunflowers inspired the joyful citrus Sunflower Pop blend. Bursting with rays of optimism, it lifts and illuminates every pocket of your home to instantly transport you to the warmth of the Provence. Whilst the serene Sweet Almond Blossom scent, brings a fresh, hopeful aroma, like the first buds of Spring, creating a tranquil and mellow ambiance.
"So many loved our bright and happy Sunflower Pop fragrance, that they wanted their homes to smell like it too," said Michelle Feeney, Floral Street Fragrances Founder. "But this time we have also been inspired by Van Gogh's Almond Blossom, creating two different facets of his masterworks. Van Gogh brought the plants to life visually and we are bringing them to life in our clean fragrances" she added.
Ian Wickham, director at Licensing Link Europe cannot wait to see the impact at retail: "this extension to the Floral Street range has been as carefully planned, researched and considered as the launch of our Sunflower Pop fragrance so we are all hugely excited to see the reaction when the range goes live. The team have done an incredible job."
The collections include candles with vegan wax made from sustainably sourced rapeseed and coconut oil and unbleached cotton wicks; naturally derived vegan oil diffusers; 100% plastic free scented reeds and non-toxic, alcohol-free room fragrances. All presented in exclusively designed FSC certified recyclable packaging.  Marijn Veraart, Licensing Manager at the Van Gogh Museum concluded: "So proud of this range extension to the already incredibly successful Sunflower Pop parfum.  Moving into Home fragrances was the obvious next step and we are all hugely excited by these new developments. A huge thank you to an amazing team who have worked so hard to make this a reality."