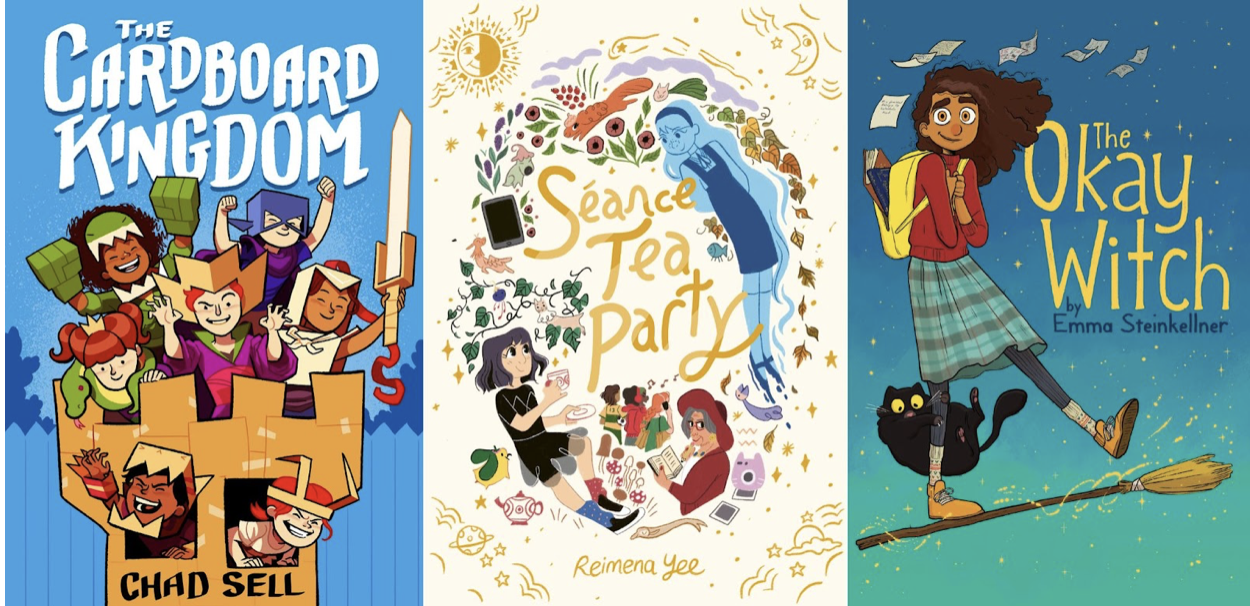 OddBot to Develop and Animate Trio of Critically Acclaimed Graphic Novels
OddBot Inc., the production company behind Disney Junior's Emmy® Award-nominated "Muppet Babies," Netflix's "Action Pack" and other hit programs, has announced that it has optioned and plans to develop three graphic novels into animated series and a special. Each of the critically acclaimed titles – "The Cardboard Kingdom," "Séance Tea Party" and "The Okay Witch" – is full of imagination and unafraid to take on real-life issues faced by kids as they come of age.
"Kids are growing up faster than ever today, and we love how these stories show them overcoming inherent obstacles through imagination and creativity," said Chris Hamilton, President of OddBot. "They also feature stand-out characters that will resonate with both kids and their parents, strengthening bonds and initiating conversations."
"The Cardboard Kingdom," "Séance Tea Party" and "The Okay Witch" are critically acclaimed graphic novels being developed for animation by OddBot.
The Cardboard Kingdom (11-minute CG/2D series) affirms the power of imagination and play during the most important years of adolescent identity-searching and emotional growth. Drawn and co-written by Chad Sell, its award-winning story touches on themes like family conflict, inner-strength and gender identity, as we meet a diverse neighborhood of kids who transform ordinary boxes into colorful costumes — knights and rogues, robots and monsters — creating adventures filled with humor and action.
Séance Tea Party (60-minute CG special), by Reimena Yee, is a beautiful, middle-grade graphic novel about the trials of growing up. In this fantastical story, 12-year-old Lora Xi wants to stay a kid forever, and she'll do anything to make that happen… including befriending Alexa, the ghost who haunts her house. What follows is a journey of self-discovery as the lovable characters each realize what it means to be who you are.
The Okay Witch (22-minute CG series), based on the critically acclaimed graphic novel debut from Emma Steinkellner, is a story packed with humor and heart about the weird and wonderful adventures of a witch-in-progress. Thirteen-year-old Moth Hush learns the surprising truth about the history of her hometown and her family as she attempts to control her new powers. But with the help of her best friend (who has a secret of his own), her mom, a few good witches and her talking cat, Moth might just be okay.
OddBot is a prolific animation studio that has worked with a who's who of networks and studios. In addition to producing three seasons of "Muppet Babies" with Disney Junior and Netflix's popular preschool series "Action Pack," OddBot was enlisted by Stampede Ventures to produce Mo Willems' highly anticipated "Naked Mole Rat Gets Dressed: The Underground Rock Experience!" – a stunning CGI-animated hour of "underground" music and comedy debuting June 30 on HBO Max's Cartoonito.
Added Hamilton: "While OddBot is known for our work in the preschool space, these three latest titles are fantastic additions to an already growing slate of kids and family projects with more complex, relatable storylines, and we're excited to help them jump off the page where they'll be enjoyed by new and existing fans alike onscreen."