First Spin-Off Character From Blippi gets Own Show, Costume and Doll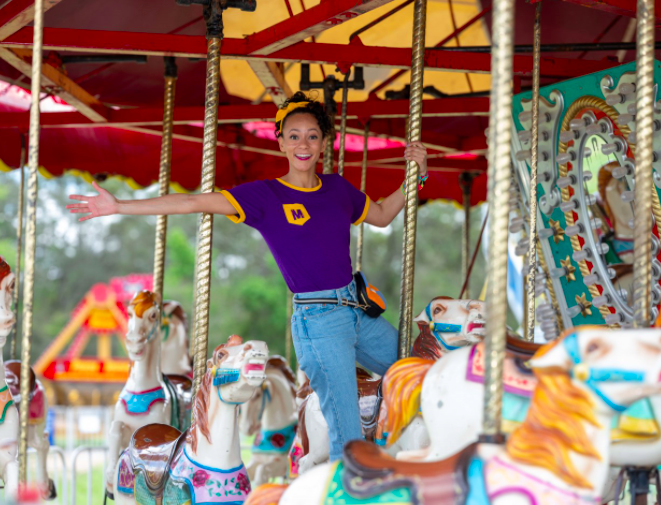 The Blippi franchise, which has been inspiring curiosity in millions of preschoolers around the world, is further expanding its reach with an increased investment in Meekah, Blippi's beloved best buddy. Moonbug Entertainment, a subsidiary of Candle Media, is spinning off the Meekah character with a dedicated YouTube channel, merchandise items, a music album, and a streaming distribution deal with Netflix.
In Oct. 2021, Blippi fans first met Meekah, Blippi's creative, inventive, cart-wheel loving best buddy, when she joined Blippi on his YouTube channel as a co-star. Meekah has the same passion for curiosity and learning through play as Blippi. She's eager to explore the world with a song and a tune, learn new things, create, tinker, and most importantly, have fun.
"Meekah is our first addition to the Blippi universe and she has proven to be an instant hit with fans. In fact, we see a double-digit increase in viewers for episodes that feature Meekah," said Andy Yeatman, Managing Director, Americas, for Moonbug Entertainment. "This is such an exciting milestone for the Blippi franchise, we can't wait to see how kids continue to connect with this character on and off screen."
Meekah is a live action, preschool program that follows Blippi's best buddy Meekah around the world as she learns how to plan, tinker and craft her way out of any problem. With Meekah, young viewers explore places and experiences they're naturally curious about. She loves to learn about the world around her, see how things work, and sometimes when she can't quite figure it out, she knows how to remix it, look at the situation from a different angle, or just dance it out. Meekah helps kids learn skills like patience, wonder, and compassion for others when things don't go as planned. Season 1 of Meekah will launch Dec. 1st on Netflix in all English, Spanish and Portuguese speaking territories.
Dance with Meekah, a 20-track music album, launched in September across music streaming platforms including Spotify, Apple Music and Amazon Music, and includes original music by Meekah as well as Meekah's versions of classic preschool songs.
Meekah Merchandise – Initial merchandise plans include Meekah's iconic T-shirt, which will launch on Amazon in December, as well as a Meekah Halloween costume in partnership with Disguise and a Meekah doll in partnership with Jazwares, both slated to launch in 2023.
Move with Meekah – Meekah loves to dance and as part of her curious nature, she wants to meet experts in all kinds of movement. First up, in what is anticipated to be many talent collaborations, is a movement series with Olympian Shawn Johnson that will be available in early 2023.
Blippi's Treehouse co-starring Meekah, the original series that's become a fan favorite on Amazon Kids+, will roll out the final four episodes of the first season Thanksgiving week. The show, with its curriculum designed by award-winning child development expert Dr. Natascha Crandall, invites viewers to Blippi and Meekah's magical treehouse where they go on curiosity adventures to sing, play, dance and learn about the world around them. In one of the new episodes, soccer superstar Javier Hernández Balcázar, known by the nickname Chicharito, will give Blippi and Meekah a soccer lesson just in time for the World Cup.
Blippi's Buddies: Meekah, the YouTube channel, has already amassed 500,000 fans since its springtime launch. Content featuring Meekah has been viewed more than 650 million times since she joined Blippi in Oct 2021.
Blippi: The Wonderful World Tour – Meekah will now have a starring role in Blippi's second nationwide tour. Blippi the Musical, the inaugural live show, toured more than 190 cities in 48 states and entertained kids at more than 250 performances. The brand new extravaganza will tour select markets beginning February 2023, including Milwaukee, Charlotte, Nashville, Houston, and Louisville.