Ella's Kitchen partners with The Very Hungry Caterpillar in first ever licensing deal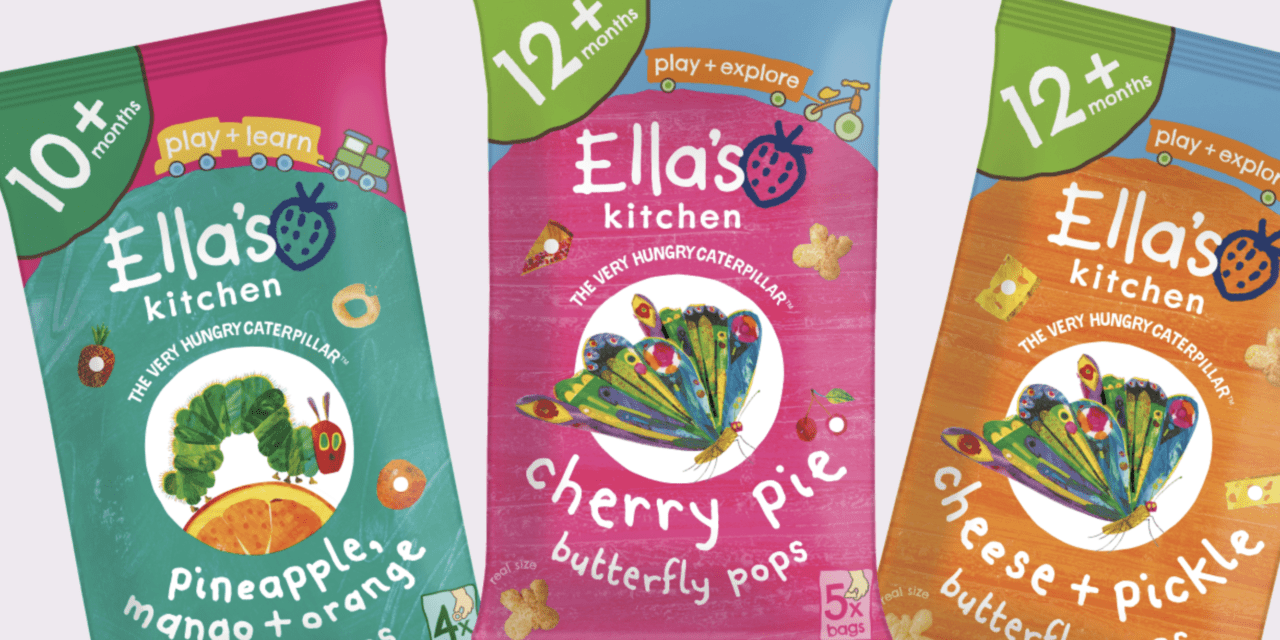 Rocket Licensing has brokered a partnership with Ella's Kitchen Brands Ltd. to create a range of snacks for little ones based on Eric Carle's classic literary tale, The Very Hungry Caterpillar, to launch in autumn 2022. it has been announced
Ella's Kitchen is planning products including Butterfly Pops and Oaty Biccies, both in sweet and savoury flavours, inspired by the different foods that the famous caterpillar eats throughout the story on his journey of metamorphosis. Some of the flavours in the collection include cheese + pickle and tomato + nice green leaf – the shapes and designs of the biscuits will include butterflies and caterpillars.
The mission for Ella's Kitchen first ever licensing partnership is – 'Using the famous Hungry Caterpillar to engage little ones in their food through imagination and storytelling. Shape, flavour, and packaging will all be inspired by the Caterpillar's exciting journey to become a beautiful butterfly.'
When the new range launches it will be supported with extensive marketing including shopper media, sampling, social media support, as well as direct marketing to the Ella's Kitchen Friends database, which has over one million members.
Zoe Batt, who makes Friendly Stuff at Ella's Kitchen said "We are super excited to be launching this range of The Very Hungry Caterpillar snacks. When parents are choosing snacks for their little one it is so important that they love them, and we know that our partnership is going to appeal so much to little ones by delivering play + fun using such a well-known character. There is so much affinity between the brands missions and it's been great to develop products that really encourage a foodie adventure for little ones inspired by the Caterpillars journey to becoming a beautiful butterfly"
Charlie Donaldson, Joint MD, Rocket Licensing, commented: "It's a real privilege to be working with Ella's Kitchen on this collaboration and we are thrilled that Ella's chose The Very Hungry Caterpillar. The two brands have a brilliant synergy and are both loved, trusted, and instantly recognised by parents and little ones alike. Ella's Kitchen are creating a beautiful range of snacks with an incredible attention to detail, which will delight fans of The Very Hungry Caterpillar"