E.T. Celebrates 40th Anniversary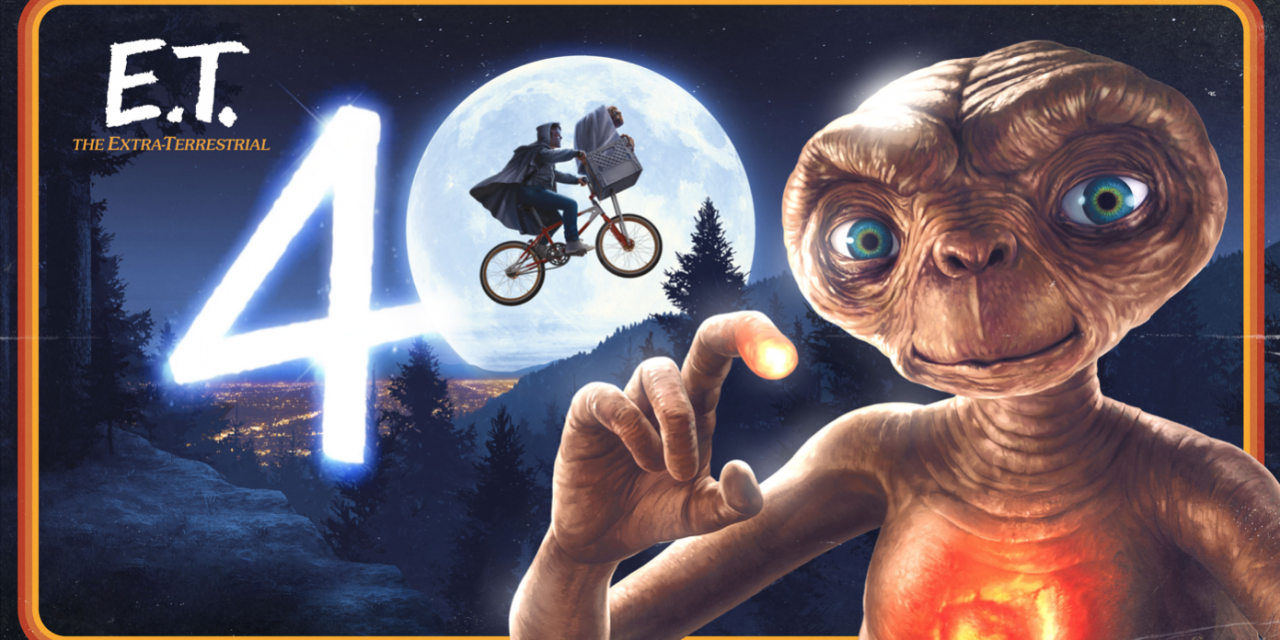 Universal Brand Development (UBD) has given a first glimpse at the 2022 to celebrate the 40th Anniversary of one of the most iconic and indelible events in cinema history – E.T. the Extra-Terrestrial.
The beloved film from Universal Pictures and Amblin Entertainment will be marked with a curated mix of special screenings, new consumer products, digital and social media campaigns as well as unique retail activations that capture the magic and timeless appeal of this classic movie.
"It is simply a masterpiece and still invokes such a strong connection and reaction from global audiences," says Paul Bufton, Vice President, EMEA. "It is also a particularly good time for this anniversary because recently so many families have rediscovered, together, the immense joy of the film. Parents have watched E.T. and the kids, of course, now love it as much as the previous generation – quality storytelling and genuine emotion never get old."
E.T. the Extra-Terrestrial forever altered the pop culture landscape when it was released in June 1982. The unforgettable story of a lost alien and the young boy who helps him to find  his way home has endured through generations with its timeless message of trust,   courage, and the sustaining power of friendship.
Warranted for a big screen anniversary of this unprecedented stature, UBD has lined up a first-in-class roster of global licensees to fully explore the boundless product possibilities with organic extensions that leverage the toyetic and kidult appeal of the property. Iconic toymaker Mattel has signed on to create iconic E.T. feature plush that brings the classic, beloved character to life. Additional new global partnerships include Funko & Fisher Price (collectibles), WOW Stuff (novelty), Basic Fun (retro collections) and Ravensburger (puzzles) bring depth to the licensed category range. In addition to the global toys and games players, UK-specific partnerships have been forged with Posh Paws (plush), RMS (amusement toys), Nobel (chess) and Tomy for pre-school plush.
Of course, the reach of the big screen event of the Winter goes well beyond toys and games. In the UK, there is a robust Fashion & Lifestyle programme that includes babywear launches from Poetic Brands, Crib Star and Sleep no More to meet the newest generation's demand for E.T.-branded clothing.  As further proof of the multi-generational appeal of the brand, a slew of new adult soft lines are also set for release in the UK from established names such as BooHoo, Poetic Brands and Fashion UK.
On the global fashion front, UBD has ensured that the E.T. programme will be prominently spotlighted in high-end boutiques and elite shopping destinations across Europe throughout 2022. New partnerships with some of the most influential retailers across the continent include Difuzed (adult/young adult apparel and accessories), Mini Rodini (kids apparel and home textiles) and popular fast fashion online platforms such as Zaladno, AboutYou and EMP. As well, H&M Kids is putting the finishing touches on its exclusive offerings that will be launched later this year.
One of the most creative extensions to mark the anniversary is a replica of Elliot's iconic BMX bike that will hit mass retail later in the year (E.T. riding in the basket not included). Interestingly, the original film was one of the first global blockbusters to leverage consumer product tie-ins and the new campaign will be replete with nostalgic references will please both the casual fan and the growing community of enthusiasts and collectors.
The E.T. 40th anniversary programme its part of Universal's 100 year legacy spanning titles that remain icons of popular culture to this day, including Back to the Future, JAWS, Jurassic Park and many more. UBD is continuously expanding its partnerships around this treasure trove of nostalgic IP that seamlessly aligns with the emergence and perpetual resonance of classic pop culture from the 1920s through today.