Dunhuang and ARTiSTORY Announce Global Licensing Partnership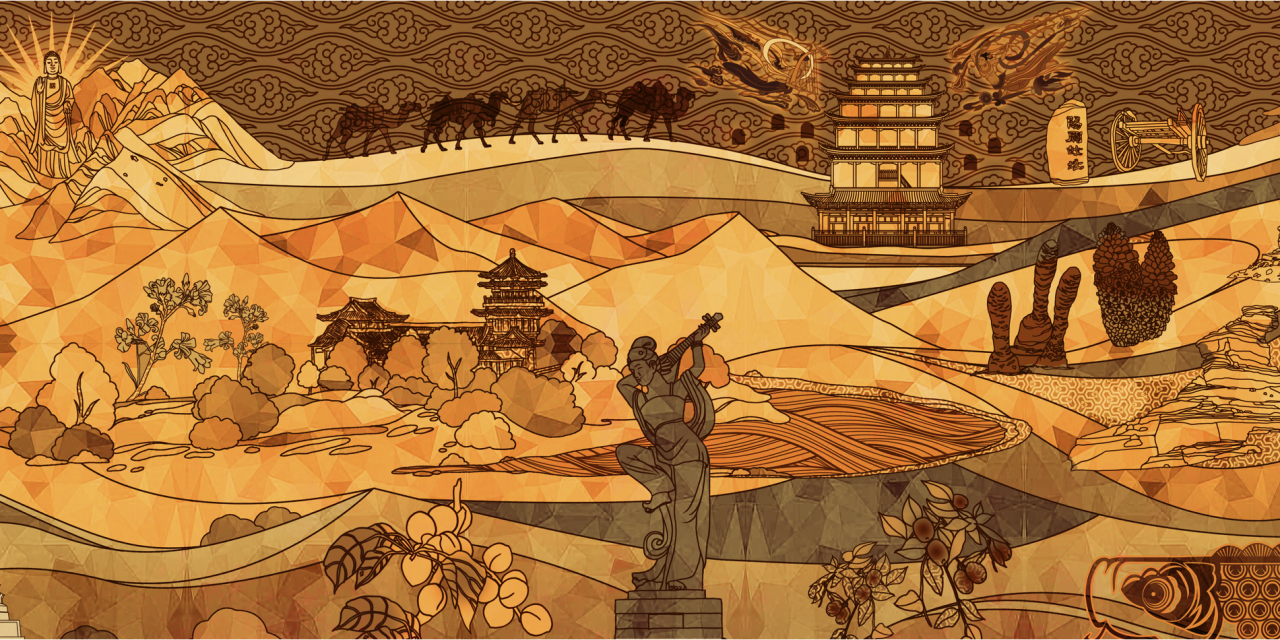 Dunhuang Culture & Tourism Group (DCTG) and ARTiSTORY have announced an exclusive partnership that will allow both parties to work closely together to establish a licensing programme for key markets across the globe, such as North America, the EMEA and Asia. This historical, multi-year partnership is one of the firsts of its kind for a Chinese cultural IP to be licensed to global retailers and consumer brands outside China.
Dunhuang Inspiration, an art and cultural brand established by Dunhuang Culture & Tourism Group will be operating this licensing programme with ARTiSTORY. Based upon the city of Dunhuang's abundant cultural and tourist resources, DCTG holds the exclusive operation rights to the city's well treasured cultural heritage sites. The city of Dunhuang sits at a unique position along the historical Silk Road. Lying by the Gobi Desert and north of the Mingsha Sand Dunes, Dunhuang was an essential resting point for travellers passing between East and West one thousand years ago. The gathering of diverse people and cultures led to Dunhuang's prosperity with great legacies such as the world-famous stucco sculptures and murals of Mogao Caves. Dunhuang Inspiration is a brand designed with cultural creativity and vitality. It embodies DCTG's commitment to preserve, exhibit, and stimulate appreciation for the art of Dunhuang.
Through the partnership, Dunhuang and ARTiSTORY's global creative team will collaboratively develop original design assets under annually refreshed themes such as "Voyage of Discovery" and "The Rhythm of Dunhuang" inspired by the world-class beauty of Dunhuang. Together, Dunhuang and ARTiSTORY will create a full spectrum of IP design assets such as illustrations, prints & patterns, badges, icons, colour palettes with narratives for licensees to use via merchandising, content marketing, online and offline retailing, and immersive experiences. This will also help global retailers and consumer brands to engage more successfully with a global audience and speed up their market penetration in China, Japan, Korea, SE Asia, and beyond.
ARTiSTORY, an IP licensing specialist, envisions extending the reach of its cultural partners to a much wider global audience and aspires to be a leading powerhouse of arts and cultural IPs. In addition to its core vision of "Artefacts to Merchandise", ARTiSTORY provides global retailers and consumer brands with high-quality content in versatile formats, such as editorials, videos, live streaming right from the museums, immersive shop windows, and pop-up stores that are developed based on the annual art and cultural IP themes. ARTiSTORY is supported with IP protection and business investment capabilities from Sinofaith IP Investment Company (SIPIC), a member of one of China's largest one-stop IP service companies – Sinofaith IP Group. Together with SIPIC, ARTiSTORY is well-positioned to build a comprehensive eco-system of IP licensing that supports the art and cultural organizations.
Sun Xiaoqiang, Chairman of Dunhuang Culture & Tourism Group comments, "Dunhuang culture is so profound that it requires our lifelong time to research and pass it on to our future generations. The Group, together with ARTiSTORY, will bring refreshed narratives of Dunhuang culture to a broader range of industries, blooming more brilliant light."
Yizan He, Founder and Managing Director of ARTiSTORY comments, "ARTiSTORY is delighted to partner with Dunhuang Culture & Tourism Group. We look forward to enabling global retailers and consumer brands to engage shoppers more effectively with art and cultural IP and storytelling."