Denise Van Outen Makes Fireman Sam Debut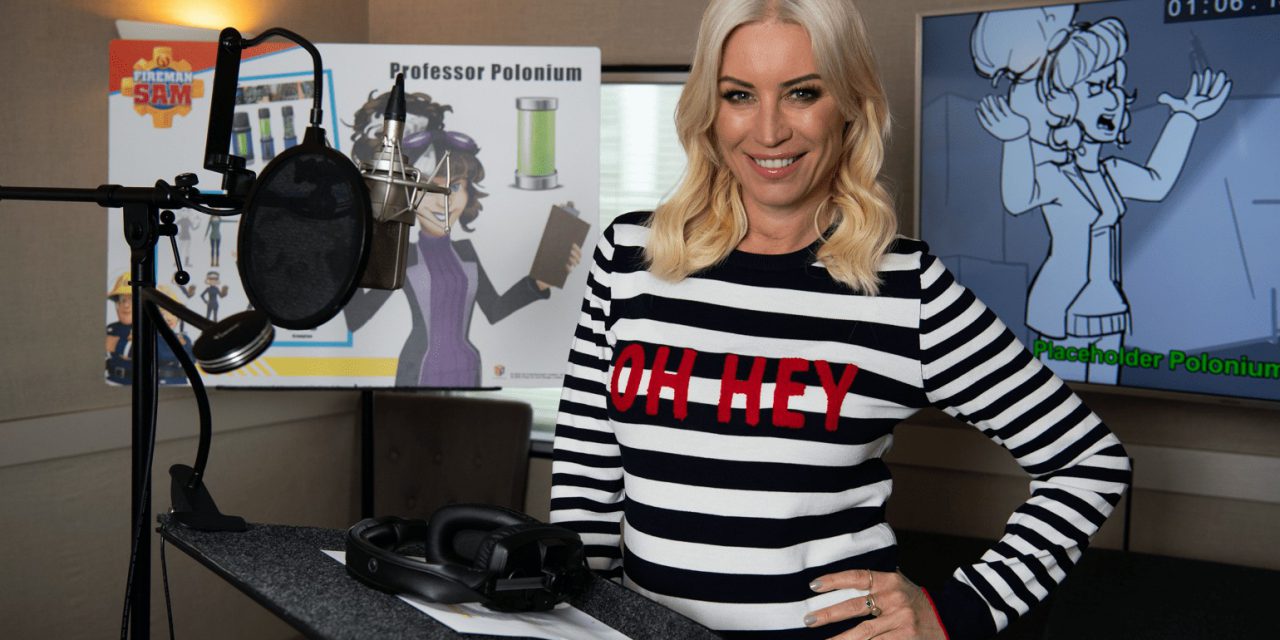 Denise Van Outen says she feels privileged and honoured after signing up to voice the character of Professor Polonium in the new feature-length special 'Fireman Sam: Norman Price and the Mystery in the Sky,' which premieres on Cartoonito, Saturday 5th December at 5pm.
Today, a behind-the-scenes video package and images of Denise recording her part in the studio have been released to announce her participation and to mark the upcoming premiere. In the special, Denise's character, Professor Polonium, wreaks havoc across Pontpandy as she tries to prove she's the best hero there is, by making full use of her latest invention, the super rescue suit. Unfortunately, things take a turn for the worse, and a series of fires break out across the area. Who will now save the day and become the real hero?
Denise Van Outen says: "It's a real privilege and honour to be asked to be part of Fireman Sam. The show is an institution for us in our family and I absolutely love it. My daughter Betsy is going to be so surprised when she finds out I have got a starring role. We always used to watch it together and I am definitely going to be the coolest mum at her school".
Discussing her character Professor Polonium, Denise says: "I am thrilled to be playing professor Polonium. She's quite larger than life, very excitable, very opinionated and quite bossy, and she is out to make as much money as she possibly can. She goes to Pontypandy with her super rescue suit, which is her invention. She wants to show off, she thinks she's going to make millions of pounds, actually she says she's going to be a trillionaire. Except there is one small problem; everything goes slightly wrong and she causes havoc. Cue lots of fires!"
Ruth Henriquez, Infant and Preschool Marketing Director, Mattel EMEA, said: "We're delighted to bring the brilliant new feature-length special for Fireman Sam fans to watch and enjoy. This is the team's most action-packed adventure yet so expect all the thrills and spills of Fireman Sam stories with added jeopardy, as mad-cap professor Polonium visits Pontypandy and creates absolute chaos in the village. This is one not to be missed!"
The Fireman Sam brand, a preschool favourite for over 30 years, brings real life action, rescue, bravery, safety and community storylines to life through the Pontypandy Fire Fighting Team. Based in the (fictional) rural village of Pontypandy, the firefighters are pillars of the community and the heroes of every rescue. Whether stuck on a high cliff-face or caught in an underground cave, the residents of Pontypandy know help is always close at hand thanks to the brave and resourceful Fire Fighting Team. 
Since being created, Fireman Sam content has aired in over 155 territories and 36 languages; in 2019 there was over 3bn global views on the official YouTube channel. Fireman Sam™: Norman Price and the Mystery in the Sky is being distributed by Canada-based DHX Media, who in 2016 struck an exclusive deal with Mattel to distribute Fireman Sam content worldwide.