Deliveroo partners with The Very Hungry Caterpillar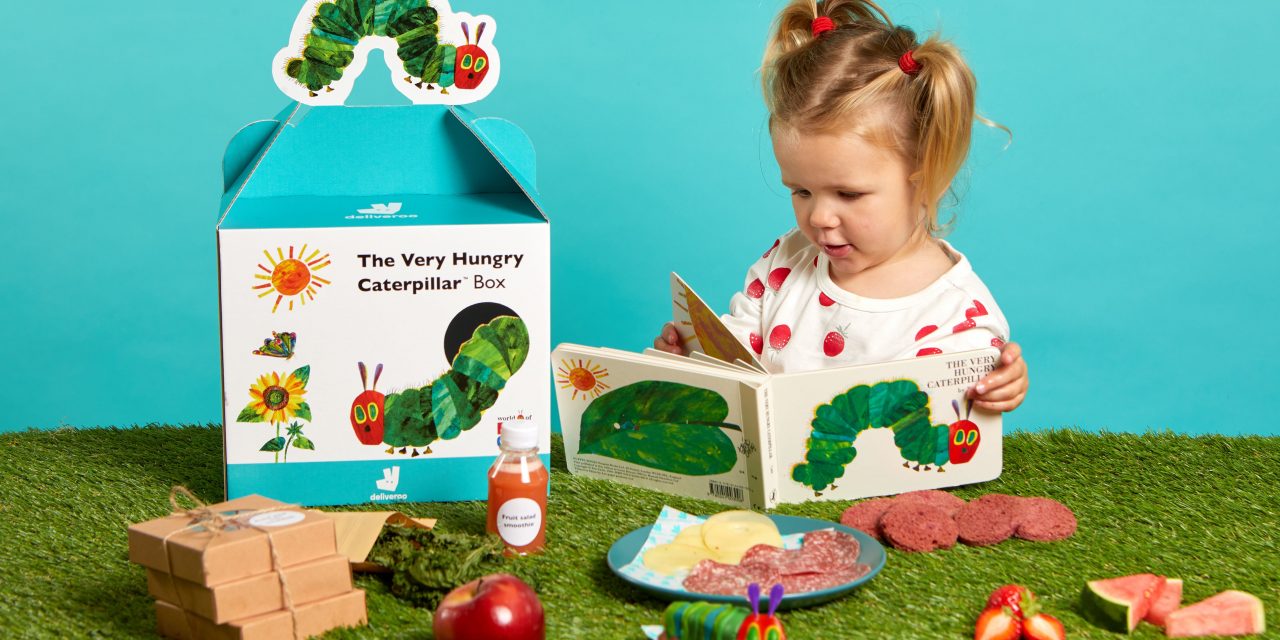 To celebrate World Literacy Day, Deliveroo and Rocket Licensing established a partnership to create a limited edition The Very Hungry Caterpillar meal box.
The meal box launched on 8th September and was available to buy from Deliveroo Editions in London, Manchester and Leeds for £2.79, with all profits being donated to The Very Hungry Caterpillar's charity partner, Action for Children.
News of the campaign had a huge reach of over 66 million people with coverage in four national newspapers, 22 regional titles, four social media channels, six trade publications and one consumer magazine appearance, totalling 37 pieces of coverage. 98.5% was stand-alone coverage with headline mentions and branded images.
The Deliveroo Very Hungry Caterpillar meal boxes encouraged families to come together and read a free copy of the much loved caterpillar's tale included in the box, while enjoying different foods that are featured in The Very Hungry Caterpillar's journey.
Included in the box was a fruit salad smoothie, made with all of the critter's favourite fruits – strawberries, apples, pears, oranges, watermelons and plums; a chocolate caterpillar cake, with edible eyes, nose and legs; leaf crisps made with kale; plus 'build-your-own' sandwiches filled with beetroot 'salami', Emmental and sausage.
The collaboration with Deliveroo is the latest in a series of innovative partnerships with Rocket Licensing, which manages the rights for the Eric Carle classic in the UK and Eire. The brand has also wiggled into The Eden Project to host weekends for families; teamed up with the Royal Horticultural Society across four gardens and shows; joined the Beano characters over at Gulliver's Theme Parks; and become a main attraction at London Zoo, among many others. The Very Hungry Caterpillar also recently scooped the Licensing Award for the Best Classic Licensed Property at the 2021 awards.
Aisha Jefferson at Deliveroo, said: "We were so excited to collaborate with one of the most-loved children's books around the world to help families across the UK celebrate World Literacy Day. We wanted to create something inspired by The Very Hungry Caterpillar story that could spark imagination with families of all ages, offering a feast for the eyes and stomach. The meal boxes were loved by customers as they weaved in all of the fun, colourful, and delicious elements of The Very Hungry Caterpillar and the world he lives in, while raising funds for charity."
Charlie Donaldson, Joint Managing Director of Rocket Licensing, added: "We were delighted to have worked with Deliveroo on this fun and creative partnership which satisfied both appetites and hungry minds with its fantastic meal box and classic book offering. We were also very pleased to be supporting Action for Children, a long-term charity partner of The Very Hungry Caterpillar brand, in their hugely valuable work."