Danger Mouse exclusive, limited edition, licensed figurines raising funds for KidsOut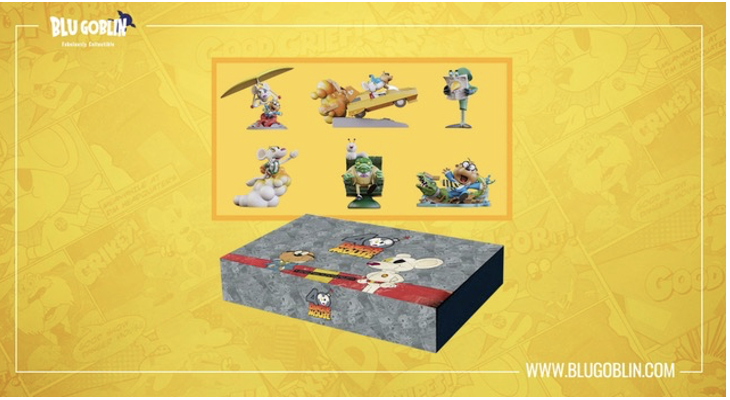 Blu Goblin creates premium, limited edition, exclusively licensed collectible models, replicas, figures and art, from nostalgia to modern day, across the worlds of entertainment, sport and gaming. Proceeds from every single transaction raise money for good causes.
Danger Mouse, one of the stars of The Queen's Jubilee Pageant, is the centrepiece of an exclusive, limited edition, original figurine collection designed and developed by Blu Goblin to celebrate his 40th year on our screens. Supporting KidsOut, the collection was premiered at the star studded KidsOut London Question of Sport evening last Thursday. Blu Goblin donated one set of these exclusive figurines to the fundraising auction, the winning bid was an incredible £1,000 towards the amazing fundraising total for the evening of over £50,000.
Gordon Moulds, CEO of KidsOut said "We are thrilled to be part of Danger Mouse's 40th Anniversary. We would like to thank Blu Goblin for bringing together the partnership and developing the exclusive products and for Boat Rocker's support in granting the licence for the Danger Mouse figurines to be sold on Blu Goblin's website. Proceeds from the figurines will go to supporting children that have escaped serious domestic violence and found sanctuary in a Woman's refuge".
Since 1981, Danger Mouse, the world's greatest secret agent, has been on a mission to save the world from the villainous and evil Baron Silas Greenback. At his side the ever faithful and always fearful sidekick Penfold.
Danger Mouse, based on the 1960s TV series, Danger Man with Patrick McGoohan, not James Bond as people always thought, was originally created by Cosgrove Hall and voiced by Sir David Jason. The new generation of the cartoon series, is owned by Boatrocker Studios with Danger Mouse voiced by Alexander Armstrong.
Nicola Herrmann VP, Brand Management & Licensing (UK, AUS, EMEA) Boat Rocker said: "This partnership with Blu Goblin is a great example of how brands can connect to support charitable causes and we are delighted to be embarking on this exciting new mission that supports KidsOut."
Grant Morgan, CEO of Blu Goblin said, "We are delighted to have brought together Danger Mouse and KidsOut. The world has changed dramatically, as have consumer habits. Brands must now demonstrate that they care and stand for more than just profit. Consumers want the brands they love to commit to positive, social and environmental impact. To make a meaningful contribution to the quality of their lives, while also helping others. Charitable causes benefit from perfectly matched brand partnerships, like this, which bring PR, donor acquisition and most importantly funds to deliver their services".
Creating a vibrant social following while building a rich user database, Blu Goblin will segment and deliver relevant messaging to a growing community of committed collectable enthusiasts, a plethora of fans of licensed brands, as well as an increasing base of existing Blu Goblin fans. Dynamic remarketing to these audiences, with information about current and future cross-sell collectable campaigns will make Blu Goblin the 'go to' platform for limited edition, framed art, models, figures and figurines.