CHESSINGTON LAUNCHES WORLD OF JUMANJI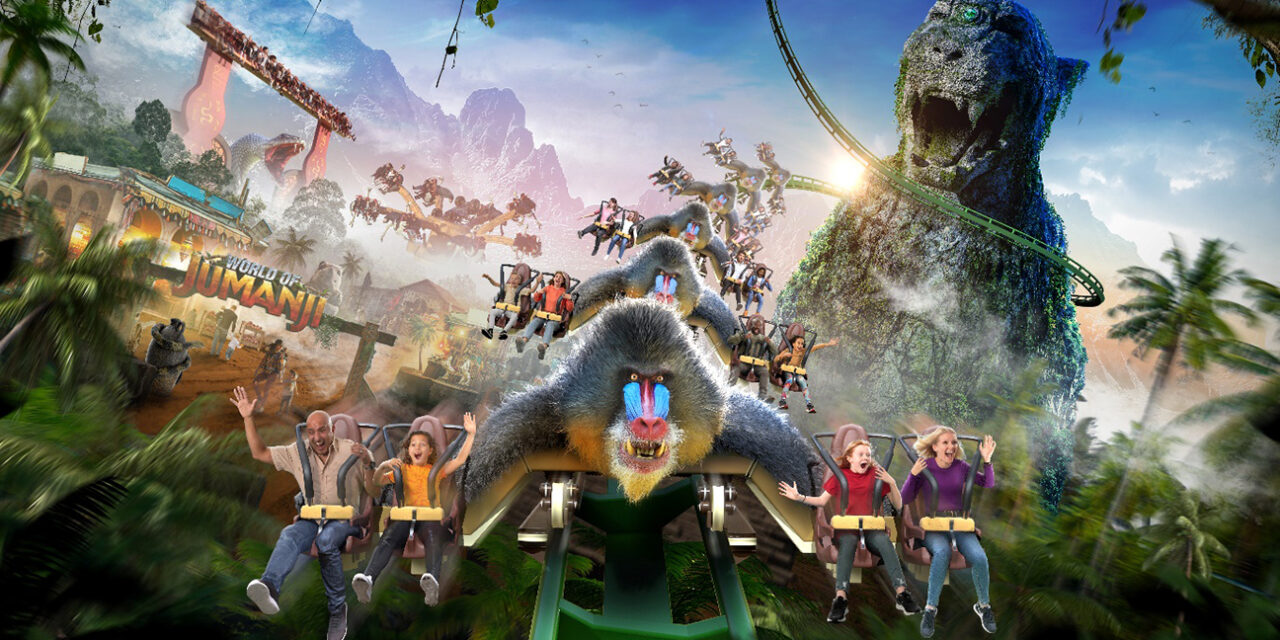 Chessington World of Adventures Resort in the UK has today announced World of Jumanji – set to open in spring at the Surrey Theme Park and Zoo – will include the World's ONLY Jumanji rollercoaster. The World's first Jumanji themed land will also feature two further rides and much more, as Chessington brings the box office hit film franchise to life in its wildest adventure yet!
World of Jumanji will see families follow in the footsteps of Dr. Bravestone, through a whole world of adventures to locate the Jaguar's Eye Jewel, lift the curse and save Jumanji.
The first adventure, and the World's ONLY Jumanji rollercoaster, Mandrill Mayhem, will sweep up riders in the long arms of a mandrill, as the horde whisks those from just 1.2m tall around the sites of Jumanji, all while dodging the hazards of the jungle. The most fearsome of all the wild animals, the mandrills are unpredictable and will launch at full speed through the treetops, flipping upside down on a hair-raising adventure, spiralling to the summit of the 55ft tall Jaguar Shrine. Glimpse the Jaguar's Eye Jewel glow before falling and braving the adventure again… backwards.
Not just the World's ONLY Jumanji rollercoaster, Mandrill Mayhem is a winged, launch, shuttle ride, with an inversion – a first for Chessington, which last introduced a rollercoaster back in 2004.
Two further adventures in World of Jumanji will await families…
Dodge the fangs of the black mamba on a dizzying, untameable ride in the bazaar, Mamba Strike. Then swerve a herd of stampeding ostriches on a whirlwind ride in the dunes on Ostrich Stampede.
The single largest investment in Chessington's history, World of Jumanji will also feature a maze of pathways – some trickier to navigate than others – based on the iconic Jumanji board game. Themed food, drink and merchandise will also be on offer.
Complementing the above, six NEW Jumanji themed bedrooms will be introduced to the Chessington Safari Hotel as well.
Scott O'Neil, CEO of Merlin Entertainments, which operates Chessington, said: "We look forward to Welcome-ing you to the Jungle this spring, as the amazing World of Jumanji opens at Chessington World of Adventures Resort. Families should prepare to be turned upside down… literally, as the first NEW rollercoaster in nearly 20 years at the Resort has a twist, turn and flip that will have you holding on to your seat! This is the Next Level for families wanting to explore the ultimate adventure together."
World of Jumanji at Chessington World of Adventures Resort follows a global agreement between Resort operator, Merlin Entertainments, and Columbia Pictures Location Based Entertainment