Celebrating 25 Years of Socks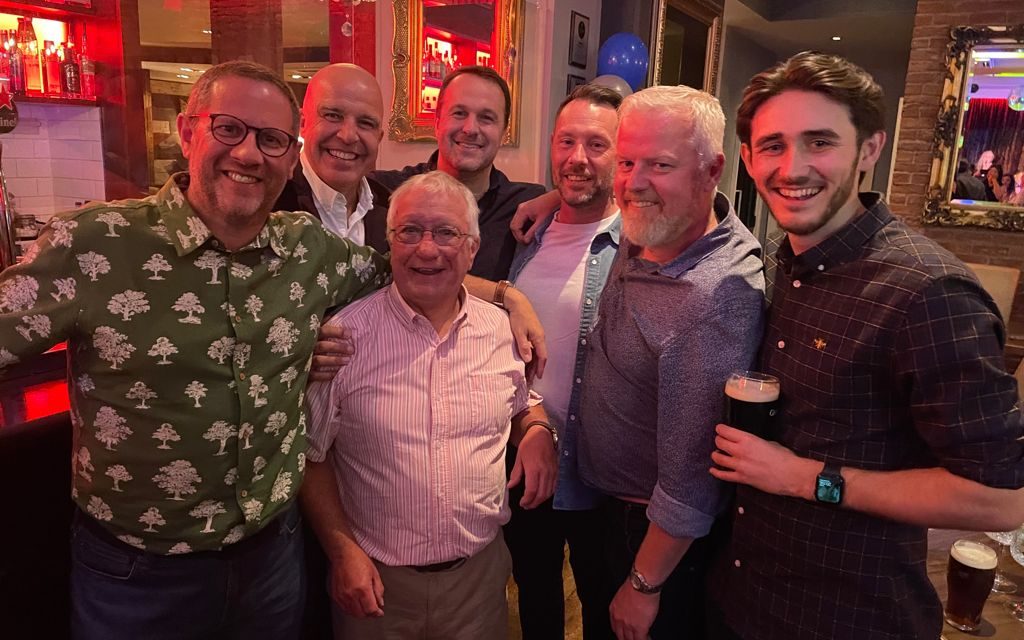 Over the weekend, Roy Lowe & Sons have been celebrating a significant milestone as they have now reached their 25th year in the sock world.
The company was founded in 1996 by brothers Tim and Martin Lowe, named in tribute to their late father, whose sock career spanned more than half a century and rose to managing director at manufacturer Samuel Eden.
Since then, they have been providing licensed character and non-licensed socks to many a bare foot, supplying to the UK high street retailers, grocers, independents, online retailers and in recent years, direct to the consumer. Martin Lowe, "When I left school in 1981, my old man said to me: 'No-one else will employ you so come to the factory on Monday!'. That was the start of my affinity with socks. Because of this, I have been given the honour of never having a job interview during my working career. I have learnt a lot over the years, but I think my main lesson to pass on would have to be that the best business has always been done over a drink or five – I think Ben and Hannah are trying to emulate this!"
Combining Tim's technical expertise, with Martin's in-depth knowledge of customer markets and the licensing industry has seen the company grow its reputation to be the UK leaders in licensed character socks. "The new management structure is well covered with Steven, our Finance Director, and Phil, our Technical Director, who have been with us since the formation of the company. Then we have Ben, Kelly and Hannah who are stepping up to drive the business forward. We are very thrilled to take a back seat and watch the business grow." Tim Lowe
"The odd 35 years in licensing has flown by, from the first exhibition held in the landmark hotel, through to starting the suit phenomenon at the business design centre – which was so successful certain people tried to get in on the act one year! 😊 (Jakki from Max publishing). Licensing has always made socks fun and I am proud to say I have made friends for life, David and Nigel from Aykroyds, Tim at TDP to name but a few. And of course, the sock monkeys who I have worked with over the years – thank you for your valuable time. It is great looking back at what we have achieved, when we started licensing at Eden's we were in the top 3 in the Disney royalty stream. At Lowe's we have worked on so many different deals, signing Harry Potter, currently coming up to a 20 year partnership with Peppa and Nickelodeon, and of course the numerous agencies all with their own unique selling points.
Fund raising for the light fund was always a pleasure, Deannie Doo, Radda and myself started with the 'tri-sockle' biking from Mansfield to the licensing awards in London. As most blokes who become MAMIL's (Middle Aged Men in Lycra), know that lycra tends to flatten certain bits out. We decided over a boozy lunch to enhance said certain parts by using large carrots as props. Needless to say, we were getting a few gasps of appreciation from the front tables!
Can I say it's been an absolute pleasure and if you haven't argued/fallen out with me at some point, you weren't doing your job correctly." – Martin Lowe
"All of us Lowe children were all told repeatedly since we were young not to go into socks; clearly Kelly, Hannah and I failed to listen! From my first week at work in Las Vegas, where I received a warning on my first day for being late – apparently being out all night wasn't an excuse! It has certainly been a learning curve on socks, licensing and drinking. I think I speak on behalf of the whole company (past and present employees) when I say how proud we are of what Tim and Martin have achieved over their careers, and over the last 25 years with Roy Lowe & Sons. What an incredible tribute to Grandpa, one of which lives testament to his name and reputation. Here is to the next 25 years of Roy Lowe & Sons!" – Ben Lowe