BRANDS & RETAIL UK WINTER CONFERENCE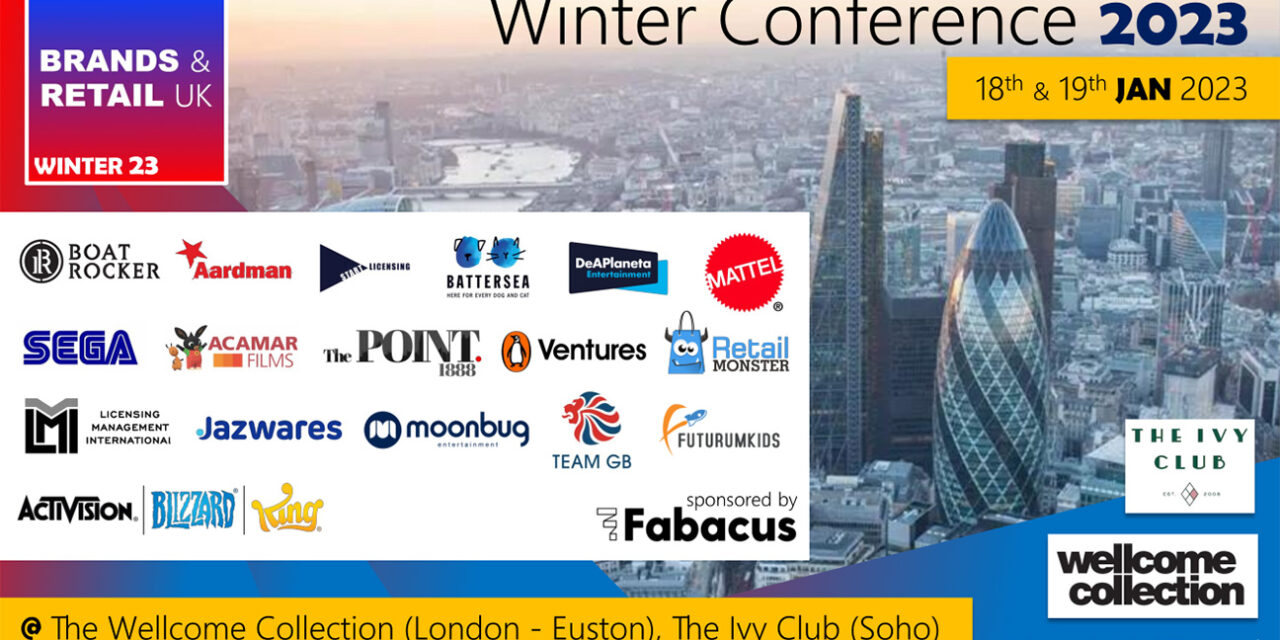 Brands & Retail UK conference announces a new slate of brands taking part in Winter 23 conference…. and confirms Fabacus will be returning as the conference headline sponsor.
New Confirmed brands include: Fabacus – (Headline Sponsor), TeamGB (Day One), Futurum Kids (Day One), LMI – Licensing Management International (Day Two) and Activision Blizzard (Day Two).
"With only a couple of months till our event – I am pleased to see our great brands are now planning their presentations for 2023.
Our event in January will be the first licensing event of the year and gives our brand presenters an opportunity to present their updates in front of an audience of VIP Retailers and Licensees, and right before the toy season starts". – Ryan Beaird – Event Director Brands Retail UK Conference.
Brands Retail UK Winter 23 will take place at the Wellcome Collection Museum (London – Euston) on Wednesday 18th and Thursday 19th January.
Full conference line up:
Boat Rocker – (Day 1)
Kelebek Media – (Day 1)
Penguin Ventures – (Day 1)
DEA Planeta – (Day 1)
Start Licensing / Aardman – (Day 1)
The Point 1888 – (Day 1 and 2)
Retail Monster – (Day 1)
SEGA – (Day 1)
Mattel – (Day 2)
Acamar Films – (Day 2)
Jazwares – (Day 2)
Battersea Dogs & Cats Home – (Day 2)
Moonbug Entertainment – (Day 2)
With only Seven unreserved 15 minute slots left for the conference if you are a brand and wish to present to a room of VIP Licensees and Retailers please contact Ryan Beaird – event director.
If you are a Licensee or Retailer you can now pre-register two seats in the 150-capacity theatre to watch the screenings.
As a reminder the conference is FREE for Licensees and Retailers to attend with food and drink included and complimentary. Tickets for the VIP ivy parties are also on sale for the audience through the website.
If you wish to book a remaining presentation slot please email Ryan Beaird and if you are a Retailer or Licensee and wish to reserve your seats send an email and we will hold some spaces for you.
Website: www.BrandsRetail.uk – Contact Event Director: Ryan.Beaird@BrandsRetail.uk