Boat Rocker Scores Numerous Dino Ranch Licensees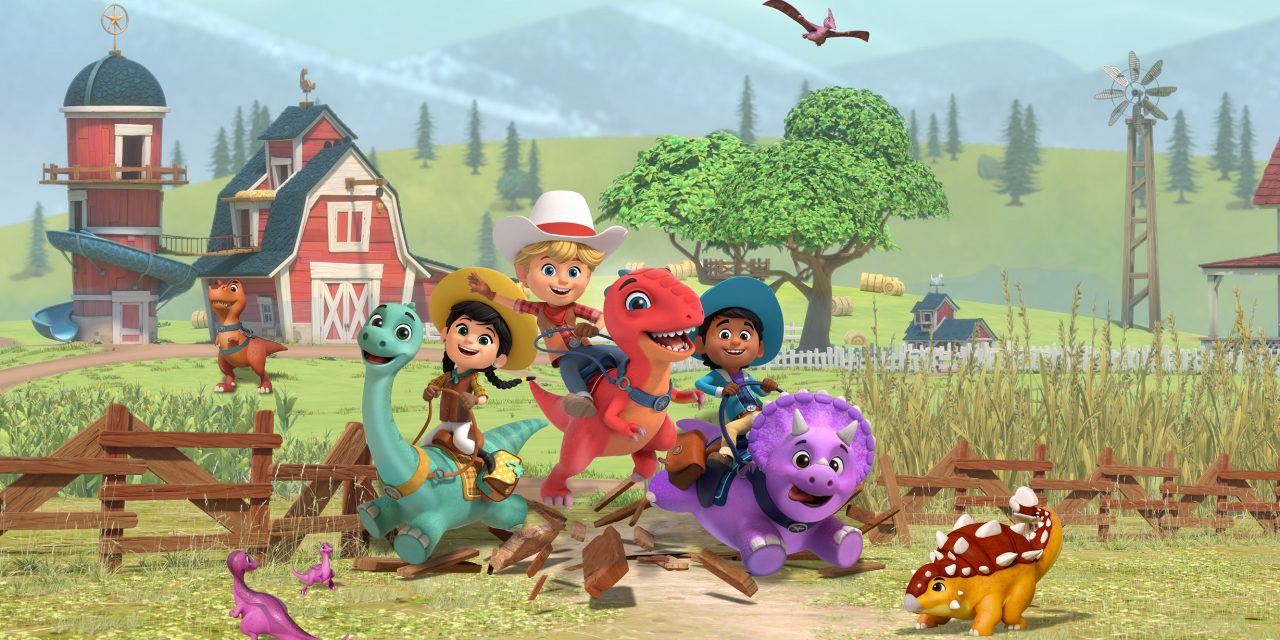 Boat Rocker Studios (a division of global entertainment company Boat Rocker Media) has announced a raft of new leading licensees for its top-rated preschool show Dino Ranch across key categories in the U.S. and Canada.
The roaring success of the series, set on a 'pre-Westoric' family dinosaur ranch, has sparked intense interest across multiple consumer categories, allowing Boat Rocker to corral multiple deals in key areas, including apparel, home décor, timepieces and costume characters, with more to follow.
Young Dino Ranch fans can look forward to dressing themselves day and night in Dino Ranch branded apparel. The Bentex Group and their affiliates Dreamwave and HIS International, known for their creativity, high quality and customer service, will be producing Dino Ranch daywear, swimwear and outerwear, while Komar Kids LLC, a global leader in the design, sourcing, manufacturing and distribution of apparel with over a century of expertise, will be producing a range of sleepwear for kids to ride off to bed in.
Dino Ranch will be brought to life at live events and festivals with our partner Oasis Productions Inc. providing costume characters for the U.S., reaching audiences to engage their curiosity and sense of play; and Spirit Halloween, the largest Halloween retailer in the country with over 1,400 locations across North America offering one-stop shopping for everything from costumes to décor and party goods to accessories, is gearing up for a spooktacular range of kid's and pet's dress up costumes and accessories for Halloween 2022.
Fans can recreate the ranch look at home thanks to Franco Mfg, creators of inspiring, decorative and innovative home décor, who will be launching a range of products, including bedding, bedding accessories, bath and beach for the U.S. & Canada. Kids will always know when it's Veloci-time with the forthcoming range from Accutime, designers and manufacturers of innovative watches, smart watches, clocks and cameras.
Alongside publishing partner Scholastic these categories will roll out from Spring 2022 following global master toy launch by Jazwares this summer.
Kate Schlomann, EVP Brand Management and Content Marketing, Boat Rocker Studios, said: "There has been a phenomenal response to Dino Ranch on Disney Junior where it has been the number one preschool U.S. cable show since its launch. It's not just viewers that love the show, we have received an incredible reaction from both the broadcasting and licensing community and are delighted to team up with such a prestigious herd of licensees to provide our Rancheroos with a roar-some range of high-quality products across these key categories."
Dino Ranch (a 52 x 11' 3D animation) premiered in January on CBC and CBC Gem (Canada) and on Disney Junior and DisneyNOW in the U.S., ranking as the #1 U.S. cable series among Kids, 2-5 and has sustained this top position since launch. The official Dino Ranch YouTube channel, youtube.com/DinoRanch has reached over 10.6 million views since its launch.
Dino Ranch launched in the UK on Disney+ on April 23rd and in Australia on April 2nd. It airs daily at 12.30pm and 7:00pm ET/PT on Disney Junior in the U.S., and Saturdays at 9:00 am ET on CBC in Canada. The series is due to roll out internationally in other territories later this year.
Dino Ranch is created by Matt Fernandes (of Industrial Brothers) and produced by Industrial Brothers and Boat Rocker Studios, in association with CBC Kids and Radio-Canada. Boat Rocker Studios manage the global franchise development including content distribution and consumer products.