Acamar Films Launch Colourful Rainybow Toy Campaign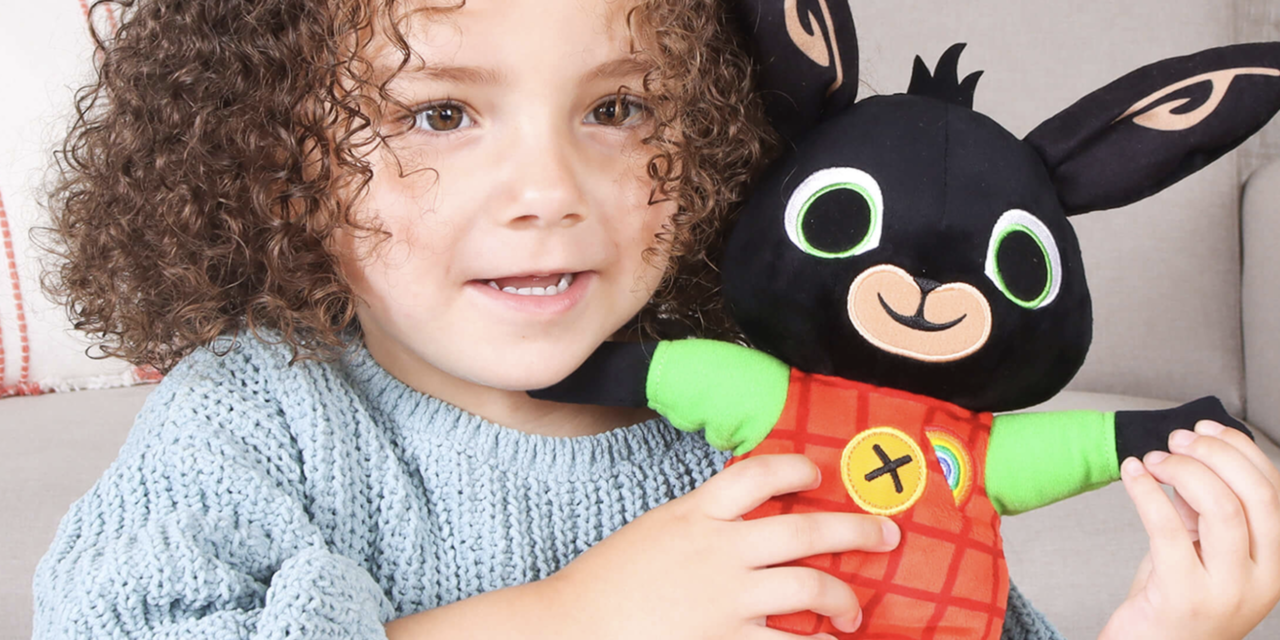 Acamar Films launches a colourful and comprehensive campaign to support the launch of the newest Bing toy, Talking Rainybow Bing, developed and produced by Acamar Film's master toy partner, Golden Bear. 
Including activations across digital and social platforms as well as the Bing: Watch, Play, Learn app, the Rainybow campaign is supported by Acamar Film's master publishing partner HarperCollins who will be using their social channels and running a promotion for the Bing book, The Rainybow Song, a singalong sound book. Audio partner, Tonies will also feature  the Rainybow Song via their mytonies portal. Rainybow activities will initially be rolled out on UK-facing platforms with elements activated across different territories to support Talking Rainybow Bing as  the toy launches in different countries. 
"Rainbows always seem to be a favourite with young children and Talking Rainybow Bing is a fantastic toy that not only will delight those children who are captivated by rainbows but also Bingsters, for whom the Rainybow Song is a favourite," said Natalie Harvey, Executive Director, Sales, Acamar Films. "Golden Bear has created a beautiful soft toy and it is brilliant to see its launch supported across so many different platforms."
Bing's Rainybow Week runs until Friday, 24th March on the Bing Bunny facebook page, giving grown-ups who have Bingsters in their lives the opportunity to win a Bing prize bundle every day. Families can also enjoy the special Rainybow social filter, the third social filter to be released by Acamar Films. The Rainybow filter will mean that social users can take selfies or create videos of their Bingsters with Bing ears and in front of the distinctive Rainybow design while the Rainybow Song plays. 
On the Bing UK YouTube page, Bingsters will be able to watch a special Rainybow Show! A special compilation of themed Bing clips, along with a specially-produced live-action clip of a Bing Rainybow mural being painted. The Rainybow takeover continues on bingbunny.com with Rainybow crafts, colouring sheets and activities. 
The Talking Rainybow Bing toy debuts in the UK this spring with rollout in countries including Italy and The Czech Republic set for later this year. The toy can create a rainbow effect on nearby walls through the use of the multi-coloured 'light behind' feature. By pressing Bing's hands, children can hear one of 12 sounds including Bing phrases, instrumental music of the Rainybow Song that first appeared in the episode "Show." The Talking Rainybow Bing toy is approximately 30 cm tall and suitable for children from birth. The packaging for the toy features a quick response (QR) code that, when scanned, takes families to a dedicated Rainybow web page with the Rainybow Song video, Rainybow Song lyrics, Rainybow activity sheets and more.
In addition to the activity across the Bing digital and social platforms, the Talking Rainybow Bing toy is also being supported with a YouTube, social and influencer campaign coordinated by Golden Bear.