Aardman and RSPB extend Robin Robin partnership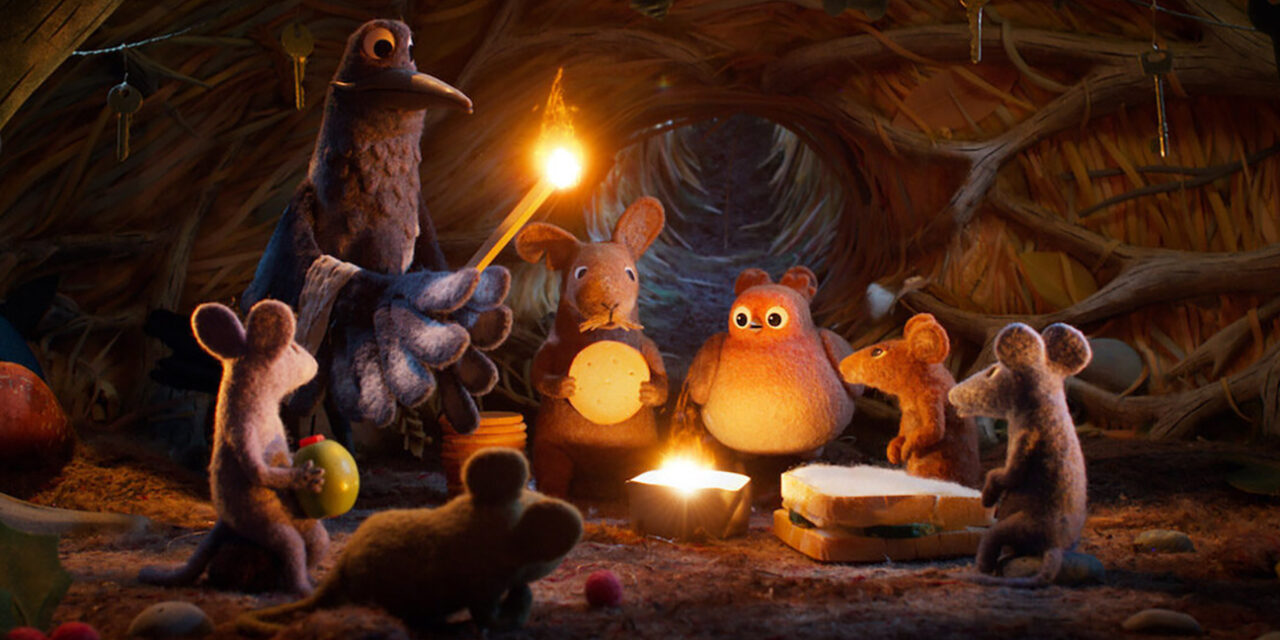 Robin Robin will be returning to RSPB nature reserves this winter in a continuation of the studio's partnership.
Aardman has today announced a continuation of its partnership with the UK's largest nature conservation charity, the RSPB. Following its partnership in November 2021 to celebrate the launch of the festive holiday short film Robin Robin, the partnership aims to inspire families to discover robins and other wildlife around them.
This year, the partnership with Aardman and Netflix has been extended to host bespoke Robin Robin adventure trails on over 30 of its nature reserves around the UK. These fun-filled trails will allow the whole family to experience the festive joy of Robin Robin, all while spending time in the great outdoors.
Running from 26 November to 8 January, young adventurers will be able to pick up their own special activity pack and follow the Robin Robin trail. The activity pack will be filled with fun things to help families make the most of their Sneak around RSPB nature reserves and discover more about the nature that lives there.
Audio trails will also be available at some RSPB nature reserves, voiced by Bronte Carmichael, the voice actor for Robin Robin. Other activities on offer will include storytelling events and robin themed crafts.
RSPB nature reserves with shops will have Robin Robin books, soft toys, felt sets, an exclusive Robin Robin pin badge and products on offer to help families look after robins and other wildlife at home this winter.
Rachel Dee, RSPB Visitor Experience and Event manager, said: "We are so excited to be working with Aardman and Netflix again to celebrate the festive magic of Robin Robin. Our exciting trails will allow families to go on their own sneak adventure and immerse young adventurers in the Robin Robin story and bring it to life amongst nature. We hope the film and our trails can inspire everyone to discover robins and other wildlife near them and get outside in nature."
Dan Ojari and Mikey Please, co-creators and directors of Robin Robin, said: "Exploring the Newport Wetlands Nature Reserve with our families was the perfect way to celebrate Robin Robin release day, and we're thrilled that she has been invited back for more adventures in the underbrush. That Robin might help our younger audience engage with wildlife, getting them away from screens and out into the wonderful world of actual nature, is a fabulous result to come from years of moving tiny puppets bit by bit by bit! In this critical time, when the irreplaceable value of nature is evermore under threat, it is our continued honour to stand by and support the RSPB."
The Robin Robin licensing range continues to grow with new titles from master publisher Macmillan Children's Books, a plush from master toy partner Aurora, a needle-felting kit from The Makerss, greetings cards and stationery from Museums & Galleries, a picture disk vinyl from Lakeshore Records, an advent calendar from Flametree and POD range from Threadless.