21 Things Happening at the 21st BLE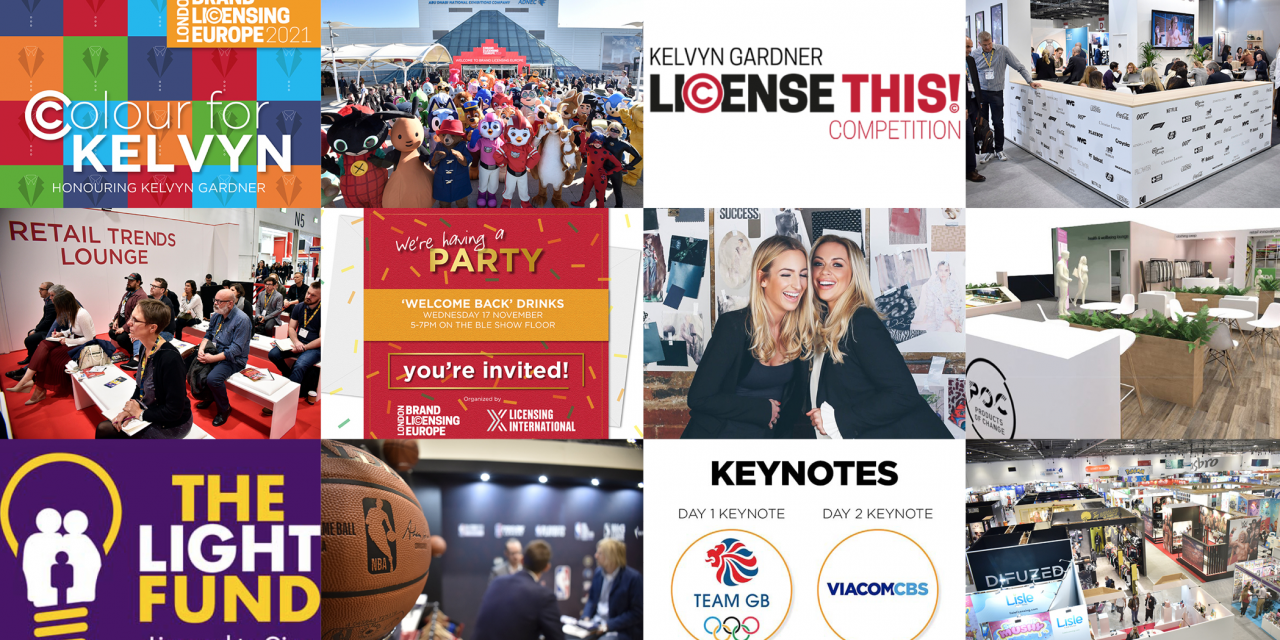 Register for a free ticket to Brand Licensing Europe in person (17-19 November, ExCeL London) and online (30 November – 1 December)
2021 marks the 21st edition of BLE. Here's a list of 21 things to see, do and enjoy as this year's event returns in person, running 17-19 November at ExCeL London. Attendees can register now for a free ticket from www.brandlicensing.eu and start requesting meetings and planning their diary.
"There is SO much happening at BLE 2021, it was hard to stop at 21. We can't wait to be at ExCeL this weekend to prepare to welcome everyone back next week and reconnect the European licensing industry for the first time in over two years," said Anna Knight, VP Licensing, Informa Markets.
Going for Gold: Team GB keynote with live conversation from Olympic gold medallists Tom Daley and Charlotte Worthington, alongside Tim Ellerton (Team GB) and Will Stewart (The Point.1888) – hear the athletes talk about their journeys to Tokyo and a panel debate on building the Team GB brand and their unique approach to brand licensing with sports fans and communities in mind.


Colour for Kelvyn: Join us as we wear bright clothes and create a rainbow of colour for Kelvyn Gardner on day 2 – Thursday 18. His family will join Anna Knight at 0900 to officially open the show. Donations to The Light Fund will be gratefully accepted on stand #C155.


Paws for thought: Meet and cuddle some of the Battersea dogs as they help you relax and smile. They can be found alongside ice-cream treats on the Battersea Dogs and Cats Home stand #C201. You can also meet two pups and two adult dogs from Guide Dogs for the Blind on Wednesday 18 November. Visit Bulldog Licensing on #A182.


Sports illustrated: our super cool astro-turfed Sports Zone features UEFA Club Competitions, Manchester City FC, FC Barcelona, FC Internazionale Milano, Olympique de Marseille, Tour de France and Dakar, NBA, Federation Francaise de Football, England Football, FC Porto, Federacâo Portuguesa de Futebol, RFEF, Dependable Solutions Inc, Rugby World Cup 2023, SCRIBOS and Superclub game.


'What's next' in retail Six brilliant retail-only sessions in the Retail Trends Lounge to challenge and inspire retail brains from Buyers Eye and Nextail Labs, Kids Industries, Hasbro and George @ Asda, The Style Sisters, The Insights Family and Black Lives Matter Licensing Movement.


Get a selfie with the 'fluffs' – Our character parade, featuring the likes of The Snowman, Smurfs, Minions and Gruffalo, will be back in style at 1130 on Wednesday and Thursday – follow them as they wander through the halls for their annual photo opp.


Celebrate the licensing next gen: the final of this year's Kelvyn Gardner License This! competition takes place on Friday at 12pm in the Retail Trends Lounge and everyone is welcome to join the nine finalists as they battle it out to win one of three trophies – Brand & Design, Character & Animation and Product Design.


And breathe… take five in our Health & Wellbeing Lounge in our Sustainability Activation or Health & Wellbeing Café on stand #E131 where you can find peace, quiet and healthy drinks and snacks.

Go green in the BLE Sustainability Activation on stand #A131 in partnership with Products of Change. Be inspired by the brands in our showcase including Natural History Museum, Tesco & Dreamtex. See dedicated spaces from Eden Project and George @ Asda, discover more from Teemill and its commitment to the circular economy, material innovation inspiration from Wastebuster and Ecoalf and sign up for a 121 clinic with PoC.


Swap shop… bring a preloved piece of licensed clothing and a donation for The Light Fund and swap it for something new to you in our Newlife Charity Branded Clothes Swap.


Walk the floor. There are close to 200 exhibitors taking part in BLE 21, so make sure you take time to walk the vibrant, colourful show floor and visit the likes of Hasbro, CAA-GBG, Crunchyroll, Magic Light Pictures, The National Gallery, Moomin, NBA, Chupa Chups, SEGA, Perry Ellis International, Sophie La Girafe, V&A, ViacomCBS, WWE, Banijay Brands, BANDAI NAMCO Europe, Crunchyroll, Rights & Brands, Wildbrain CPLG and many more.


Drinks are on us. Join BLE and Licensing International for Welcome Back drinks between 5pm-7pm on Wednesday in the Crunchyroll Bar, BLE Bar and Motul Café on the show floor.


Style Sisters – Come and meet celebrities' most trusted duo 'Style Sisters' to hear their story, grab one of 40 giveaway copies of their book and be in with a chance to win a wardrobe detox on Day 2, Thursday 18. You can hear their session in the Retail Lounge at 2.15pm and join them for a meet and greet at the BLE Bar at 2.45pm.


D&I in toys and licensing. ViacomCBS will present our second day keynote at 1pm in the Platinum Suite, where they'll be referencing new D&I research across the toy category. Note that access to both keynotes this year is on a first come first served basis.


'Who's next' in licensing. Don't miss the Agents of Change gallery featured in entrances S2 and S4 to the show.


Art attack. Meet the winners of last year's License This! and exciting artists and illustrators in the BLE Art & Design Zone, including eejits, Ginger Betty, Kate Mawdlsey, Vicki Thomas Associates, Ideas & Inks, Siobhan at April Rose and Scatterbrain Studios.


Roll cameras, action. License Global TV is making its BLE debut and would love to speak to retailers, brand owners and licensees about what's next in licensing. Keep an eye out for our roving reporters.


Licensing newbie? Upgrade your BLE registration to include Licensing U, your essential course to understanding the licensing industry. Take a trip to the Licensing International stand #B121 – the industry trade association will be able to provide more information.


Sustainability launch – Obki on Sky Kids will be a leading force in driving the sustainability agenda on a global platform through a series of worldwide licensing deals via newly signed licensing agency the Radius Group. Launching on day one, Obki will bring together the most sustainable companies to curate a range of brand lifestyle products, including apparel, plush, toys, food and publishing for children. See the launch at the Sustainability Activation on #A131.

Arrive in style – visit our online travel centre to find out everything you need to travel to BLE smoothly and safely. If you need to book a day 2 test to enter England, you can find the details here.


Be Covid-safe: Don't forget to bring your face mask and Covid pass or negative lateral flow test result to enjoy a safe show.