ZAG signs global deal with SAI Group's KANDIZ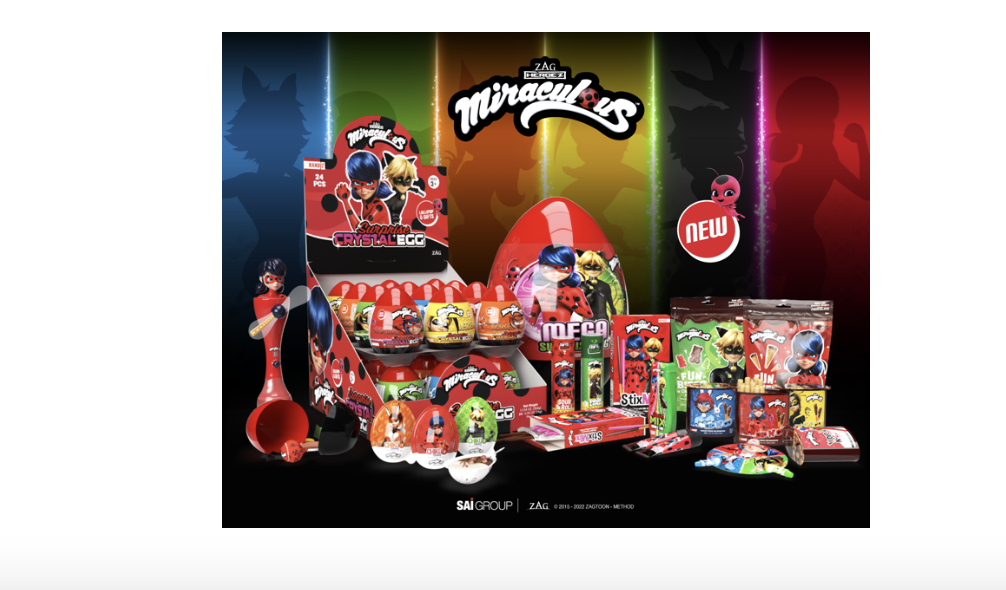 ZAG has teamed up with Turkey's SAI Group, a renowned producer of licensed children's snacks and confectionary products, ranking among the top 10 worldwide. The collaboration is set to create a diverse line of KANDIZ snacks, cereals, and candy for the highly successful global brand, Miraculous™️. The announcement was conveyed today by Carlotta Caracciolo, ZAG's Vice President of Licensing & Retail for the Middle East, Turkey, Greece, Africa & India.
The new innovative and appealing product lines are rolling out this fall, with select SKU's available by the end of this year in the USA, Canada, Middle East, UK, Europe, Turkey, North Africa, CIS countries, LATAM, and Australia.
Miraculous™️ – Tales of Ladybug and Cat Noir is now in its fifth season, scoring top ratings in more than 120 countries around the globe across multiple traditional media outlets and streaming platforms; and Miraculous™️: Ladybug and Cat Noir, The Movie, launched theatrically in Europe this summer topping the box office in France and Germany; and launched on Netflix on July 28. Retail sales for the brand are over $US1 billion with 300 million products sold; and with broad appeal across age demographics, Miraculous™️ has become a planetary digital craze with over 37 billion views on YouTube (authorized and user-generated content).
At KANDIZ, a dedicated team of food nutrition experts strives to achieve a harmonious blend of taste and health, meticulously choosing ingredients, including natural colors, flavors, and healthy additives, to create products that are both delicious and nutritious. The broad product line includes Crunchiz breakfast cereals; Puffed Rice Bars; Dip 'n' Go chocolate spread with breadstick; StixMix biscuits dipped in milk chocolate and strawberry cream; a range of Fun Bites with premium Belgian chocolate; Sparkles and Gummiz, made with real fruit; mixed fruit Jelly Cup's; fruit juices fortified with vitamins with no added sugar; Mega Surprise and Surprise Crystal Eggs; and cocoa and vanilla cream Chiko Surprise eggs with premium toys such as activity books, jigsaws, games, water-soluble tattoos, crafting materials, and more.
SAI Group is dedicated to offering plastic packaged items that are either 100% recyclable or biodegradable, actively reducing their environmental impact and contributing to ocean preservation.
"SAI Group is committed to delivering top-tier customer service and quality products, and their emphasis on sustainability aligns with our shared goals," said Caracciolo. "With SAI Group's focus on providing healthy sweet choices, Miraculous fans everywhere can enjoy incorporating some tasty treats into their daily diet."
Alper Müftüoğlu, President, SAI Group further explained, "By integrating the globally beloved superheroes Ladybug and Cat Noir into our product lines, our aim is to inspire kids to make healthier food choices. We also maintain a strong commitment to adhering to the strictest regulations and quality standards, demonstrating our unwavering dedication to safety and quality."