Yu-Gi-Oh! Takin' it to the Streets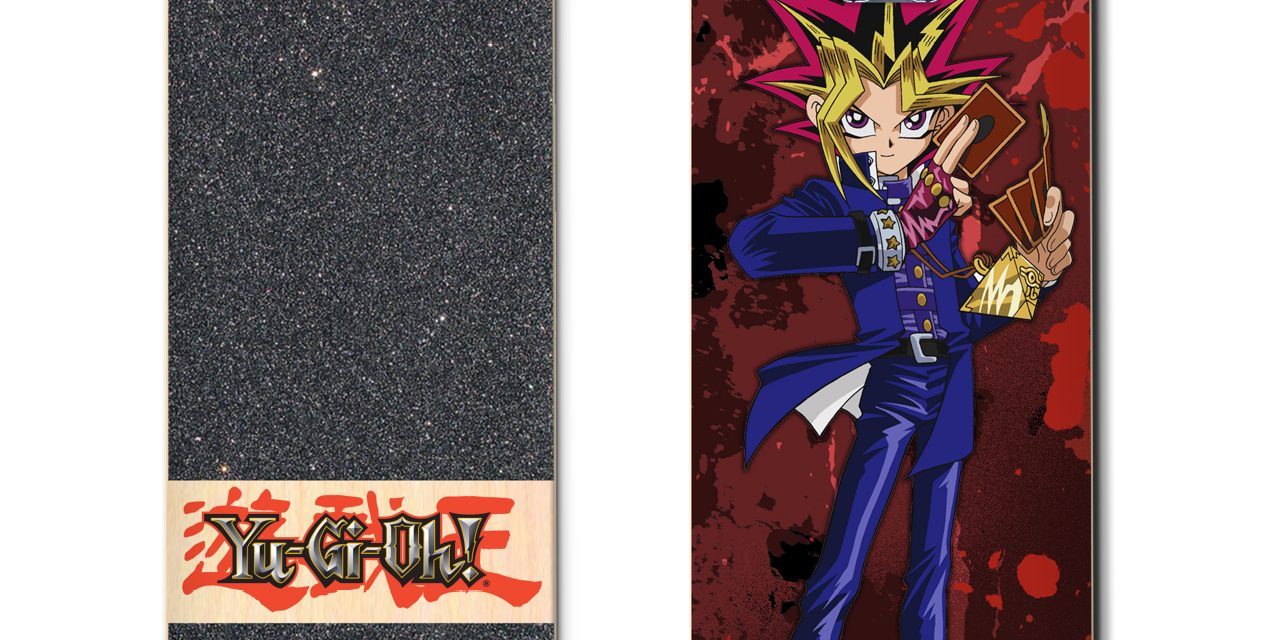 Konami Cross Media NY, Inc. has announced it has signed new deals with leaders in Street, Hip-Hop, Youth Fashion and Skate culture in an effort to strengthen the connection between Gen-Z and the Yu-Gi-Oh! anime franchise. The announcement was made today by Jennifer Coleman, Vice President, Licensing and Marketing at Konami Cross Media.
The new licensing effort — marking a first for Yu-Gi-Oh! — will feature extensive product development for Gen-Z consumers who grew up as fans of Yu-Gi-Oh! bringing an array of new products with a fresh and energetic youth-friendly appeal.
"Today's youth are edgy, expressive and bold in their fashion statements. These new collaborations will entertain our fans while providing a creative and authentic way to express themselves and their affection for the Yu-Gi-Oh! brand," said Jennifer Coleman, Vice President, Licensing and Marketing at Konami Cross Media. "As Yu-Gi-Oh! prepares to celebrate its 25thAnniversary, we believe that the franchise needs to cover a broader swath in the market and these new deals will allow a generation of young adult fans to interact with the brand in ways that have never before been possible."
Among the highlights:  
Taking inspiration from anime/manga culture and international styling concepts, Hypland will offer a capsule collection of Yu-Gi-Oh! products set to debut in Fall 2021. The collaboration will kick off with pop-up shop events in both New York City and Los Angeles. The New York City pop up will take place October 9th & 10th and the Los Angeles event will happen October 15th – 17th. Based in Los Angeles, Hypland is an apparel brand designed for those who want to push the limits of streetwear attire as well as a leader in pop up fashion and home décor.
For the first time ever, thanks to a deal with Madrid Skateboards, Yu-Gi-Oh! will have its own line of skateboards and longboards. In time for the 2021 holiday season, Madrid Skateboards plans a North American launch of the new Yu-Gi-Oh! line. Madrid believes that skateboarding is about expressing individuality, exploring the world, conquering fear, and thwarting boredom and will lend its expertise in bringing to market an exciting skateboard line based on Yugi and his duelists.
Underwear is the foundation of every outfit we wear, so it's important for it to be comfortable. PSD Underwear specializes in just that — premium, affordable underwear made by and built for athletes, trendsetters, or people who just really love underwear now including fans of Yu-Gi-Oh!. PSD's new deal will allow Yu-Gi-Oh! fans to dress themselves from the inside out with colorful foundation pieces showcasing fan favorites on underwear, boy shorts and sport bras available for Spring 2022. Yu-Gi-Oh! joins celebrity athletes Jimmy Butler, Ja Morant, Trae Young and Social Media Star Sommer Ray, all of whom serve as PSD Underwear brand ambassadors.
A new licensing deal with Tuned in Tokyo will meld together the world of Yu-Gi-Oh! with a niche audience of car enthusiasts who are also passionate about Japanese design and graphics. The new line of merchandise will be available exclusively on Tuned in Tokyo's website this winter. The Licensing deal with Tuned In Tokyo was facilitated by The Brand Liaison as agent for Tuned in Tokyo.