Xilam in Deal with Disney for The Doomies & Chip 'n' Dale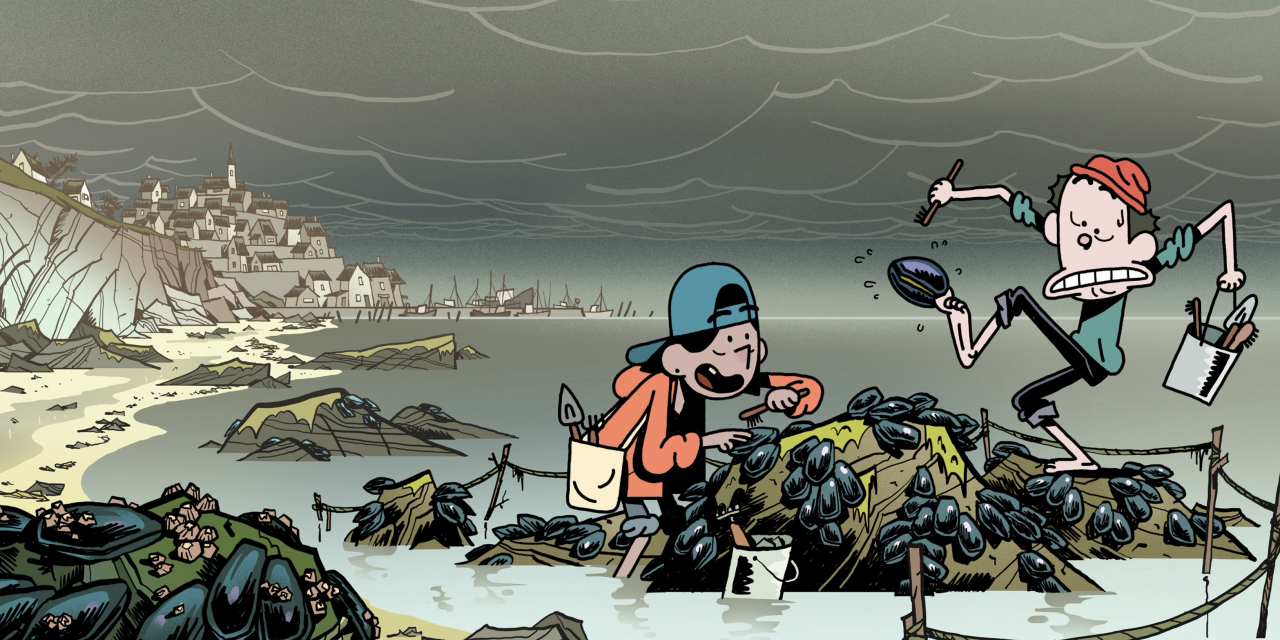 Xilam Animation, an independent producer and distributor of animated content, has announced the signing of deals with Disney to produce two new animated series for its Disney+ platform.
At this week's Annecy International Animated Film Festival, Disney today announced the production of the upcoming series, The Doomies, an original creation by Xilam Animation, which it will produce in 22×22' format. The Doomies was created by two established Xilam talents: Andres Fernandez (Zig and Sharko, Moka), who will also direct the series, and Remi Zarrour, AKA Pozla (Moka, Monkey Business). The series is a horror comedy and marks Xilam's first project aimed at a teen audience.
When best friends Bobby and Romy mistakenly open up a gateway to another world, they turn their sleepy coastal town into a hotspot for terrifying creatures of doom. Roped into an epic supernatural mystery, they will cross paths with the so-called "Chosen One" and do battle with both literal and inner monsters. The Doomies is a spooky comedy that combines thrills, chills and surprises with character-driven comedy from an odd couple of ordinary teens engulfed by extraordinary circumstances. Its fast-paced humour and high-stakes action take place in a quirky French town in the heart of Brittany, imagined with moody flair and graphic style.
Disney also revealed it has ordered a second season of Chip 'n' Dale: Park Life from Xilam, in an extended 54×7' format. The order builds on the success of the first season (39×7'), which launched on Disney+ in summer 2021. The upcoming second season will be directed by three experienced Xilam directors: Jean Cayrol (Floopaloo, Paprika), Fred Martin (A Kind of Magic, Oggy Oggy) and Kahlil Ben Nahmane (Zig and Sharko, Oggy Next Gen).
Chip 'n' Dale: Park Life stars Disney's much-loved chipmunk underdogs in a non-verbal, classic-style comedy, following the ups and downs of two little creatures living life in the big city. Combining the traditions of slapstick cartoons with contemporary, comedic character-driven narratives, season two introduces huge new adventures for the two tiny troublemakers. Nervous worrier Chip and laid-back dreamer Dale are joined
in their perpetual pursuit of acorns by Donald, Pluto, Butch and other iconic Disney characters as they face down bullies, great and small.
Marc du Pontavice, CEO of Xilam Animation, said: "We are thrilled that Disney is supporting an original creation by Xilam in a highly innovative content segment – horror comedy for teens – which demonstrates the studio's capacity to revitalise its offering. We're also proud to continue the Chip 'n' Dale adventure, which is a testament to Disney's continued trust in our ability to bring back such iconic characters from their repertoire. The success of the first season on Disney+ marks a new milestone in our expansion in the US market. I would like to extend special thanks to the Disney EMEA teams, who provided us with vital support for this achievement."
Orion Ross, VP Animation at Disney EMEA, added: "At its heart The Doomies is about ordinary kids dropped into utterly unreal and unspeakable peril. I think we can all relate to that. It's always played for laughs, and we'll cheer as Bobby and Romy somehow manage to save themselves and their town from seemingly certain doom. I also love the evocative and moody setting Andrès and the team at Xilam have created for this show, in an eerie town on the northern coast of France."