Xilam Group Brings Two Brand New CGI Series to Cartoon Forum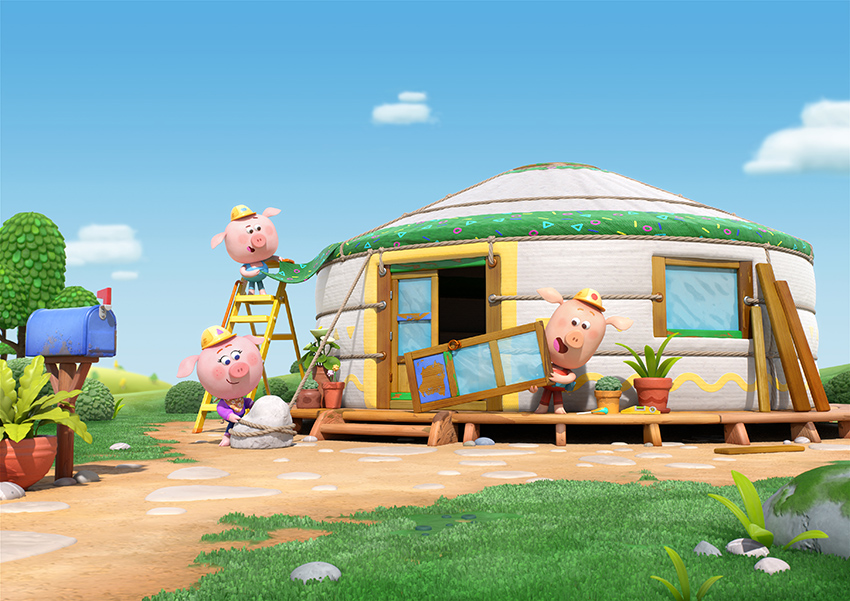 Academy Award-nominated French animation studio Xilam Animation is set to bring two brand-new projects to Cartoon Forum. Both dynamic projects are CGI animation, strengthening Xilam's commitment in that space. 
The first project, Piggy Builders (52 x 11'), is a fun and unique preschool series navigating the key themes of teamwork and family, created by Marie Manand, Julien Hazebroucq and Emmanuelle Leleu. Ever wondered what happened to the three little pigs after their well-known misadventure with the wolf? They realised that building houses, together, as a team, is what they enjoy the most. This trio, Cesar, Charlie and Cornelia, are now known throughout the entire forest as the Piggy Builders – and their creations have cosy interiors, clever architecture and eco-friendly materials – an invitation to have fun with playing and building. In order to help their friends and neighbours, they can make the impossible possible. They can build, renovate and repair: they'll deal with any construction challenge one may be facing!
Also heading to Cartoon Forum is 39 x 13' action comedy series Wild Life City. The series has been created by the celebrated Nicolas Deveaux, renowned for his work in creating and animating picture perfect animals. Co-produced by Cube Creative Production and Xilam Animation, it is aimed at children ages 6-11 and is a lively mix of comedy writing with spectacular action scenes. It dives into the brightly coloured hills of Wildlife City, a lovely town on the seaside where animals all live in harmony. Turtle Kate, Koala Betty, Elephant Tom and Flamingo Jason run The Lighthouse Market, a cosy hangout where you can chill out with your friends, upcycle your broken items, or use the ultra-fast – and eco-friendly – delivery service. Everything would run smoothly, if it weren't for a mischievous roller-skating trio of gibbons looking to undermine the Lighthouse's popularity. Luckily, our four friends can count on each other – and their sets of wheels – to counter the monkeys' plans. Expect epic chases and stunts, but also tons of laughter and a strong dose of emotions!
Marc du Pontavice, Founder and CEO at Xilam Animation, said: "We are continuing to grow and diversify our slate with new vibrant CGI projects following our successful foray into the format. Piggy Builders and Wild Life City are perfect additions to our production slate, revealing innovative talents, encompassing Xilam's style and ideals in a unique way, with new loveable characters and fun adventures for both the preschool and 6-11 demographic. We are very much looking forwarding to debuting the series and introducing them to the global marketplace at Cartoon Forum."