World's fastest Man & Mr. Men Little Miss Team Up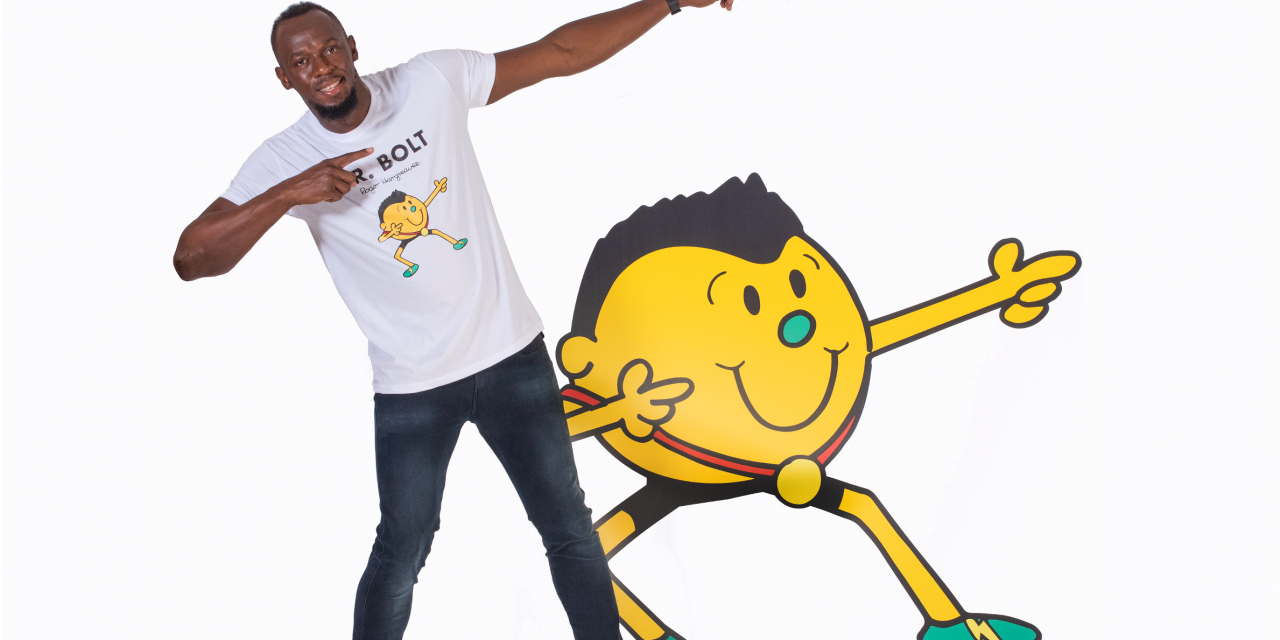 Usain Bolt meets the World of Hargreaves to bring to life MR. BOLT, the world's fastest man character using the distinctive story-telling and illustrative style of Roger Hargreaves.

Published by OPUS, the brand new mashup storybook written and illustrated by Adam Hargreaves introduces the character MR. BOLT. Inspired by the fastest man in the world Usain Bolt, this new children's book is written with the whimsical humour and design made famous by Adam's father, Roger Hargreaves.

It is true to say that as well as winning medals, Usain won millions of fans all over the world. The hope is that this new mashup story of MR. BOLT will inspire boys and girls to use their talents, however big or small, and to bring a smile to everyone they meet along their journey.
The 'Golden Ticket' Race Prizes
To celebrate this special release SIX Golden Tickets will be randomly hidden inside SIX copies of MR. BOLT.
The 6 lucky winners to find these Golden Tickets will not only be invited to meet Usain Bolt in
person next year in 2022, but they will also have their photographs taken with the fastest man in the world to celebrate the special occasion plus their book will be signed by both Usain Bolt and Adam Hargreaves.
 
Usain Bolt Says: "It's important to me that I can inspire children all over the world, from different walks of life. This is why the MR. BOLT book and his story means so much to me. There's an important message in the book which is delivered with fun and humour and it makes children smile." 
It was great to partner with the iconic Mr. Men Little Miss series to create the MR. BOLT story. I love the creativity, energy and fun these books bring to children all over the world. I'm very proud of the MR. BOLT book and thrilled to be part of their universe!"
Adam Hargreaves Says: "Usain's achievements are a remarkable feat of athletics and it's an honour to be asked to to turn him into a Mr. Man. I had a lot of fun creating the book and Usain makes for the perfect Mr. Man character, the fastest man in the world! I hope that everyone enjoys reading the story as much as I enjoyed writing it."
Alastair McHarrie – Licensing Director Sanrio Says: "What a way to finish our 50th Anniversary celebrations, a mashup with the greatest sprinter of all time. It was an honour to see him live at the 2012 London Olympics as it is to partner with him on this truly inspirational Mr. Men collaboration".
Karl Fowler – CEO, publishers OPUS Says: "In helping to bring Usain Bolt and the Mr. Men Little Miss series together, two iconic Opus
partners, it has been such a fun experience in creating this new mashup children's book. With Usain's incredible sporting achievements and the MR.BOLT story and message we hope children will connect in a fun and inspiring manner that only the Mr. Men Little Miss series can deliver"