Winning at Squid Game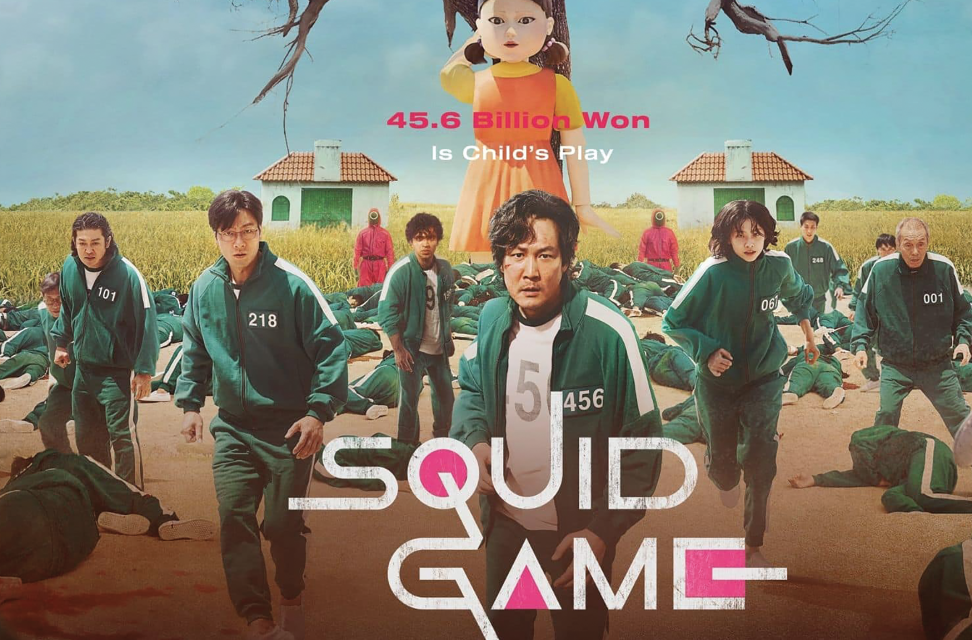 By Francesca Ash, Publisher, Total Licensing
The inexorable rise of streaming services such as Netflix, Amazon Prime, Hulu, Disney + and others has, of course, transformed the content landscape. And, inevitably, had a major impact on viewing habits and viewer loyalty which, of course in turn has impacted on merchandising sales.
The figures are extraordinary. More than 74% of US consumers subscribe to a streaming service, according to findings from The Leichtman Research Group, and the landscape has become intensely competitive. There are over 200 platforms now available to viewers globally, and more than 20 in the US alone.
Whilst lockdown negatively affect millions of people and businesses, it without doubt benefitted the streaming services.
Whilst most of the streaming services began life with existing content, their foray into creating original content was inevitable.
Bridgerton and Tiger King from Netflix became huge success stories. But in mid September – only a matter of weeks ago – a Korean series launched that has eclipsed them all – Squid Game.
Squid Game is a dystopian drama from South Korea that has, according to Netflix, been watched by 111 million fans around the world since its debut. It has topped the charts in over 80 countries.
The show's plot focuses on a character called Seong Gi-hun (Lee Jung-jae), a man who has accrued a sizable amount of debt as a result of his gambling habit. Struggling financially, he accepts an offer made by a stranger to join a high-stakes game that could solve his monetary woes. He is taken to an unknown location, where he finds 455 other players. They are informed by masked staff — including the ominous Front Man — that whoever wins six games will be given a substantial sum of money. However, these games have deadly consequences for the losers. Gi-hun discovers this when he participates in the first game, 'Red Light, Green Light', watching as his fellow players are gunned down.
Squid Game has already helped a huge growth in subscribers for Netflix – the most recent figures cite 4.38 million new subscribers against the 3.5 million expected. On TikTok, the #squidgame has been viewed more than 22.8 billion times.
And Netflix aren't standing still. The company is actively creating video games based on its original content – seemingly a perfect extension for Squid Game.
Squid Game has become immensely popular in Asia, North America and the UK. And it was only a matter of time before merchandise followed its success.
The Korean apparel industry has been badly hit by the pandemic. Today, factories across Korea have seen a massive demand for green tracksuits and pink jumpsuits with orders both from within Korea and around the world.
Of course, licensees and retailers are keen to capture the ever-increasingly strong market that the show has created.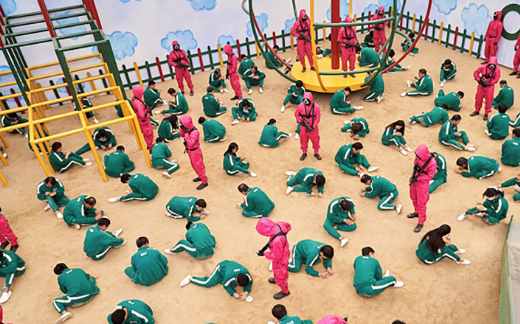 Retailer Zavvi, who are known for creating unusual fashion lines, are set to release ranges of Squid Game trainers, T-shirts, jumpers, blankets and even pillows featuring artwork and logos from the show.
Of course, whilst younger children are talking about the show and inevitably anxious to see what all the fuss is about, Netflix has rated it age 15 and above and new product lines will reflect Generation Z.
And products are flying out of the door. The Squid Game Store (thesquidgame.com) already has several items out of stock and carries an impressively deep range of different items – from the Rope of War to 456 T-shirts, guard masks and much more. Similarly, The Netflix Store carries a substantial range of different apparel and non-apparel products.
Merchandise is even booming on e-commerce platforms in China, even though the show has not been released in the country as Netflix is not available.
Some of the top search results on Coupang, one of the biggest e-commerce sites in South Korea, for the show's products are listed by companies based in the Chinese cities of Guangzhou and Shenzhen, as well as Anhui province, among others. Product offerings are also available on Alibaba's Taobao, China's biggest domestic shopping app, and on international wholesaler Alibaba.com.
In fact, a Chinese merchant cashed in on the success of the show and sold more than 2,000 black masks in three days during the first week of the show's debut.
Squid Game has received a rating of 7.7 out of 10 from more than 229,800 users on Douban, China's largest movie and book review platform. It is currently ranked the third-most-popular film and television show. And all of this without Netlix!
Although nothing has been announced, it is more than likely that there will be a second – and maybe subsequent – series. Not bad really when you consider that it took creator Hwang Dong-hyuk ten years to get Squid Game to screens after a number of studios rejected the project for its 'bizarre' content. 
SQUID GAME – THE FACTS
• Squid Game creator Hwang Dong-hyuk originally came up with the idea for the show in 2008, when he was in debt and struggling financially.
• The script initially took a year to write, but it was rejected everywhere until being picked up by Netflix 10 years later, in 2019.
• Hwang originally wrote it as a movie, and when he decided to turn it into the series, he fleshed out the games more and added characters.
• Hwang says the title and key game are inspired by the real squid game, which was his favorite thing to play as a child. He chose it because he felt that it symbolizes society.
• The giant doll from "Red Light, Green Light" is based on iconic character illustrations from children's textbooks in the '70s and '80s.
• The playground set was made huge to resemble the way playgrounds feel big when you're a kid.
• The set for the glass stepping stones game was over a meter above the ground, which made the cast genuinely scared.
• The dorm was designed to look like a warehouse, highlighting the way the humans in it are treated as objects.
• The coffins were shaped like gift boxes to signify the way the creator of the game felt as though he was a god, giving contestants a gift even in death.
• Art director Chae Kyung-sun was inspired by fencing masks — as well as traditional Korean masks for the staff's masks.
• The design of the room with the incinerators was modeled after the Auschwitz concentration camp.