The National Team of Poland & its Licensing Program
Since 2013, Polish FA has been developing its licensing program, constantly cooperating with various licensees. Today, with a portfolio of nearly 500 products, one online and two stationary shops are set as a model for other European football federations. The licensing program of the Polish Football Association is a collection of products with the PZPN family trademarks and images of the Polish national team players. It is an offer for football fans to be even closer to the Polish national team and a chance for producers to create unique products.
Popularity of football and the Polish national team
Today, football is the number one sport of Poles, with 48% of children in Poland playing it and 70% of Poles declaring that it is the main sport they are interested in. Football is not only a sport for men; we observe a trend associated with the fact that the female version of this game is gaining more and more interest, with 63% of Polish women declaring that they like and watch this sport. The popularity of this discipline is due to its positive image and the Polish national team, which is supported by 87% of Poles (Kantar Media, 2019). The members of the Polish national team who are successful on European stadiums – Robert Lewandowski, Wojciech Szczęsny, Grzegorz Krychowiak, Piotr Zieliński, Arkadiusz Milik, Ewa Pajor are only some of the role models for young players to imitate on the pitch and in everyday life.
Precise rules and wide range of licensing products
When purchasing a Polish FA license, licensees can use the logo of Poland as well as the recognizable slogan "United by football", images of male and female players of the Polish national team in their official jerseys. The subject of licensing is also the image of the national team's mascot – the White-tailed Eagle. Each manufacturer has access to an extensive photo database and a licensing portal with graphic materials.
219 million – the total number of licensed products sold since 2013
By creating licensing products, PZPN licensees emphasize the advantages of using football, which is associated with exceptional values, the idea of competition, a healthy lifestyle and fair play principles. Moreover, significant media coverage, recognition as well as confidence in the national team and its players is a way to reach a new, extremely committed audience.
Rich offer, proven quality and continuous development
Morning coffee in a mug with your favourite football player and having fan by the board games with family? All this is possible thanks to products with images of the Polish national team players, which are available in the Fan Shop of the Polish national team (www.sklep.laczynaspilka.pl), large retail chains, petrol stations, bookstores and press outlets. The catalogue of license products is a real paradise for all fans of the Polish national team. Younger fans will love school equipment, scarves, colouring books, bedclothes, board and card games as well as collector's cards and figures. In addition, there are phone cases, mugs, water bottles, computer accessories, content-rich books and food products, including mineral water and ice cream. The offer also includes a collection of clothes, with the official match jersey of the national team at the forefront.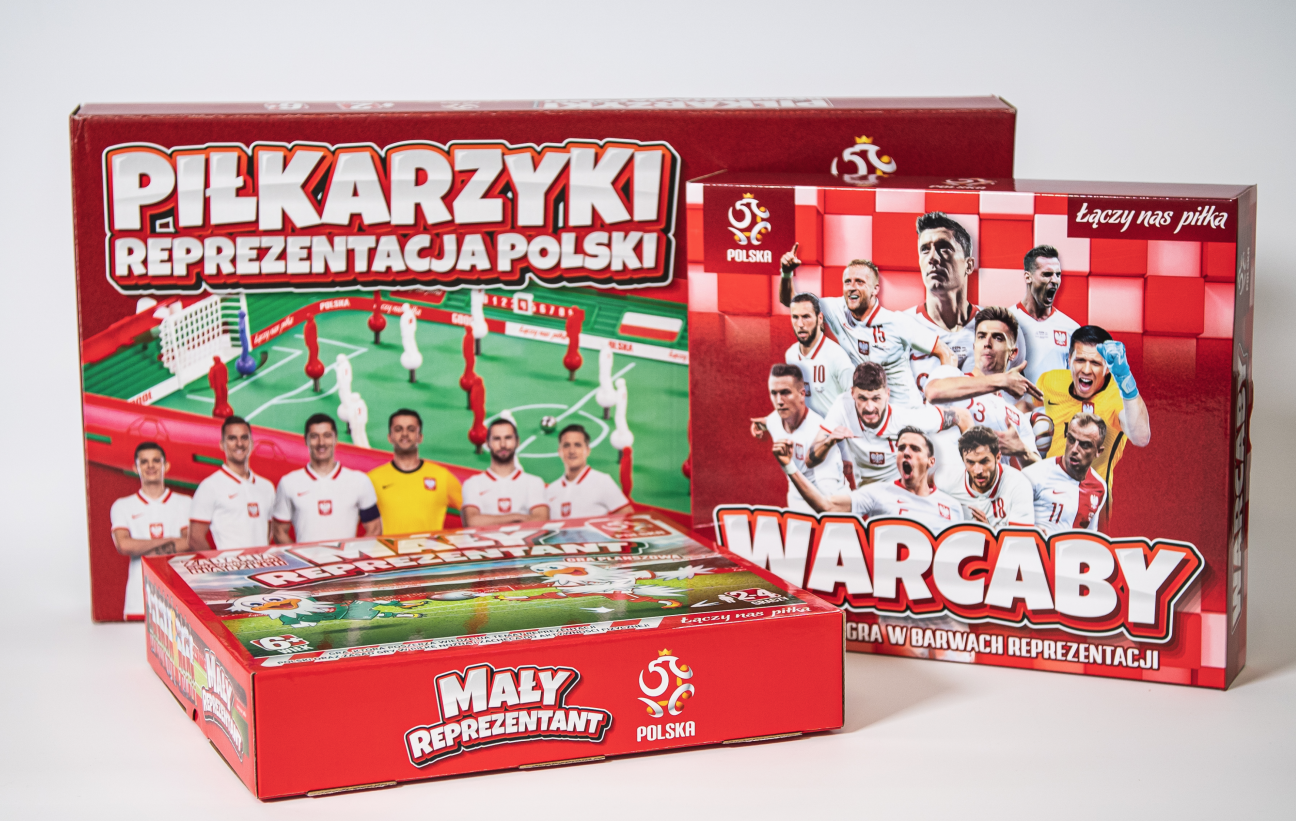 All licensed products of the Polish Football Association are marked with an appropriate logo with a caption reading "Official Licensed Product of the Polish Football Association". A product marked in such a way is a guarantee of the highest quality and an assurance that it was manufactured in accordance with the standards of the Polish Football Association. Thanks to the three-stage acceptance of our products, they are tested in many respects: visual, usable and content. In 2016, the Union of European Football Associations (UEFA) awarded PZPN and the licensing program with the UEFA KISS Marketing Award in the Best Commercial Partnership category. Today, we have the pleasure of working with 26 licensees. However, with the fans in mind, we are constantly trying to expand the scale of our operations and build a new offer. For more information about the PZPN licensing program as well as inquiries about cooperation and development of new products, please contact marketing@pzpn.pl. United by football!