The Astonishing Bravery of the Team Behind Ukraine's Brave Bunnies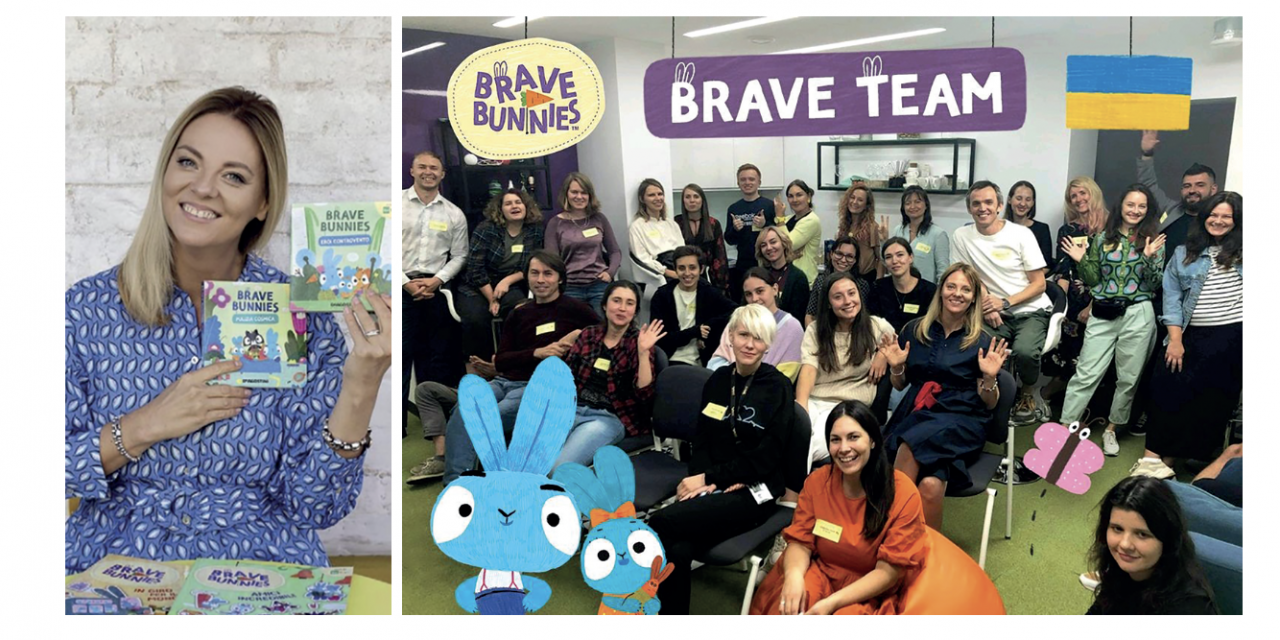 Olga Cherepanova and her team at Glowberry, creators of the only global Ukrainian children's property, Brave Bunnies, are astonishing in their personal strength, commitment and gratitude to partners. With a name that could not be more apt, preschool series BRAVE BUNNIES was on an upward trajectory before the unimaginable happened in their hometown of Kyiv, Ukraine, with global partners, agents, broadcasters and more jumping at the chance to work with the bunnies, whose ethos is friendship and kindness.
As this article is being written, some of the team may have fled horror and war and become refugees while the rest of the team are stuck in Ukraine or volunteering to support refugees and national defence, but they remain as determined as ever to continue the very brave mission of their BRAVE BUNNIES. At a time when the world is watching with utter despair as events in Ukraine unfold, the BRAVE BUNNIES symbolise the resilience and optimism and spirit of the Ukrainian people.
Olga outlines here, in a heartfelt piece, what the recent events mean for her, her team of creators, and the extremely successful Ukrainian export, BRAVE BUNNIES.
"I really want to write today, amidst all that is happening, that I am incredibly proud of Ukraine. Here live beautiful and talented people! Three years ago, here in Kyiv, we came up with the idea for our project BRAVE BUNNIES, which is now successfully broadcast in more than 63 countries. My initial intention was to tell everyone how crucial it is to respect the diversity of this world. At the time, this topic sounded to me like it was the most important for the younger generation. They are about to live in a time when human migration is coming to the fore and will probably become increasingly important due to global climate change. And now, in the terrible situation the whole world has had to face, especially my beloved Ukraine, this message has become even more important."
"The big mission of BRAVE BUNNIES is to show kids that it is important to respect the difference of others and their boundaries. We follow our main characters as they meet new friends who are very different from each other – just like all of us! Each episode shows real-life examples of how to find an approach to each person without pressure or changing their uniqueness. This big idea quickly attracted many partners from different countries and wonderful professionals from all over the world – Spain, UK, Italy, USA, Canada, Mexico and many more – to our project. Working on the show has been a great lesson in tolerance, support, and understanding of different points of view and cultures. Together we are making a product that is enjoyed by children all over the world."
"Every one of our partners wrote us a warm letter of support today and suggested real help, and that is so precious, friends. Thank you! But my post today is first of all about how proud I am of our Brave Bunnies Ukrainian Team. This picture is two years old, and on it, unfortunately, it doesn't present all the talented and beautiful people working on the project in Ukraine – coming up with ideas, drawing illustrations, writing music, and organizing the team of 100 people on three continents and in many countries. They all have long become more than just colleagues, they are close friends and amazing people. I don't have a more recent picture, but I'm waiting for better times to make it for sure!"
"For now, our BRAVE BUNNIES team is apart, focusing on protecting their homes and their country. "Our lives have been completely overhauled in a single day, but they are still our 'previous' lives: in the midst of sirens and bombing and unfunctional roads, we have to try and get food, arrange for some drinkable water. We save our lives and the lives of our loved ones. We pack everything into one small backpack and leave everything we have built and loved. We leave and lose our loved ones. We experience feelings that two weeks ago we never thought we would experience in our prosperous life, which we have been building so hard and for so long… And most importantly, now each of us already knows that the most precious thing in this world – human life and safety – can be violated in an instant."
"We hope to be together again soon to continue with our show and take more recent photos. Also, I really hope that my idea that you can always find a way to create something beautiful together without conflict will find even more resonance in the world today, and the new generation will know exactly how to accomplish it. We strongly hope that the horror that is happening now will end as soon as possible, and we will be able to return to normal life. We thank everyone who helped us in these first hard days of the war, opened their hearts, the doors of their homes, and shared the essentials. We are very grateful to all our partners who help the project move forward. It gives us hope that together we can bring back a prosperous time for all."
After the first presentation of BRAVE BUNNIES at the Cartoon Forum Festival in Toulouse in 2019, it was then the most-viewed preschool show at MIPCOM 2020. Since then, Glowberry has worked with its global master agents Big Picture Licensing and Panderia to create the brand strategy and sign-up strategic best in-class partners for wave #1. As Olga herself says, "BRAVE BUNNIES had a quick and very brave start!" Partnerships soon followed with Aardman as the global content distribution partner, Spin Master as global master toy licensee, DeAgostini as a 360 partner for Italy, Penguin Random House as multi-territory publisher and PMI for global Collectables and BTS. Agents were actively signing up the first local licensees for wave #2 rollout including Roy Lowe, Five Mile Press and Caprice when the unprecedented crisis hit. Licensing agents are signed up around the world for wave #1 launch, including WildBrain CPLG (CEE/Nordic/Benelux/Greece/Turkey), El Ocho (Iberia), CLM (Africa), Mediogen (Israel), and KidsMe/DeAgostini (Italy). Centa IP was recently appointed as the exclusive licensing agent for Australia and New Zealand.
The global interest in the BRAVE BUNNIES certainly lies in the beautiful and unique animation, the storytelling, and the very relevant messages in each episode that resonate with families wanting to bring safe and positive content to their children, alongside themes of friendship, diversity and inclusivity. Season 1 launched Jan. 2021 with 52 episodes and broadcast partners include Milkshake/Channel5, Nick Jr, Rai YoYo, ABC Kids, HBO Max, Clan, SuperRTL, NRK, SVT, DeA Junior, YLE, RTP, Ceska TV, HOP and Daeyko TV. The production of season 2, as Olga puts it "was well underway when the iceberg hit us."
Glowberry and all parties remain extremely committed to the property and are enormously proud to bring the first Ukrainian kids brand to a global audience. BRAVE BUNNIES remains a trusted brand with pro-social values and an emphasis on fun.
Nothing will keep Olga, the BRAVE BUNNIES and the roaster of supportive partners down. Spin Master has launches planned in 2022 across multiple European territories; Planeta Libri continues to rollout new books in Italy and Penguin Random House are planning an imminent launch of books in the UK for Easter as well as additional markets.
"We just want peace for our country," Olga says. "To be able to continue our lives and business with our international partners and continue to bring our BRAVE BUNNIES to new audiences worldwide across broadcast platforms and consumer products. From the Glowberry team, we would like to thank all of our broadcast and consumer products partners for your continued support during this crisis."
For more information:
dan@bigpicturelicensing.com 
Glowberry will be supporting UNICEF during the crisis. 
https://www.unicef.org/emergencies/conflict-ukraine-pose-immediate-threat-children