The Ashmolean Museum Teams with Team Tea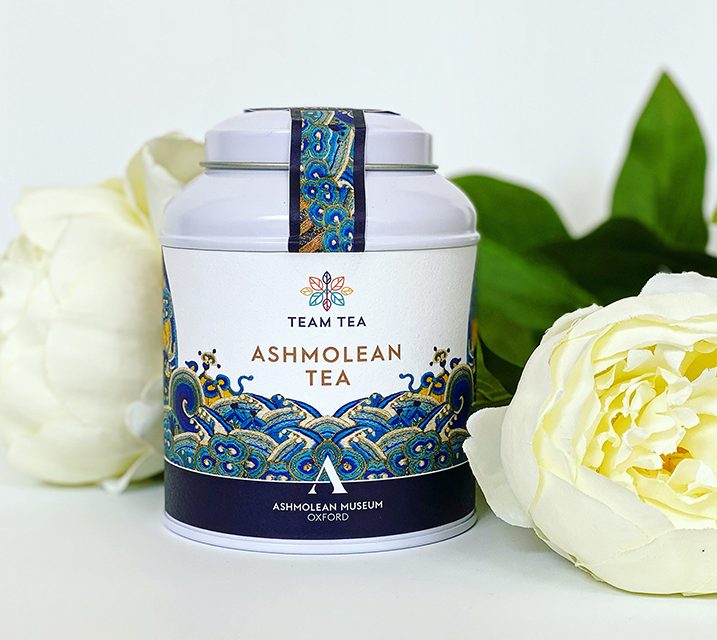 The Ashmolean Museum has announced a new partnership with a local Oxfordshire tea company, Team Tea. What Team Tea do not know about our favourite brew is simply not worth knowing and that extensive knowledge and their great enthusiasm shine through their products as they accompany you on a journey of tea discovery.
Valerie Diderichs, a qualified tea sommelier and founder of Team Tea, has been working with the Ashmolean for several months — exploring and drawing inspiration from the collections and using that experience to create a brand-new tea blended exclusively for the Ashmolean. Valerie explains:
"The opportunity to create a bespoke blend is a privilege and the aim was to capture the essence of the Museum with tea. For this reason, it was important to choose teas with heritage and teas that could convey human stories inspired by the Museum collection. One such story is that of Guy Fawkes' lantern and the infamous Gunpowder Plot, which we allude to by incorporating a very special Black Gunpowder tea in the blend, combined with only the finest single estate teas from Assam and Darjeeling. The resulting blend is refined, elegant and ideally suited to a moment of quiet contemplation."
Team Tea is not the only beverage company to recently partner with the Ashmolean: Hook Norton brewery sits nestled in the Oxfordshire countryside, just over 20 miles north of the Museum. One of only 32 family-owned breweries in the UK, with over 170 years of history, and with the finest example of a Victorian Tower Brewery in the country, Hook Norton's heritage and quality speaks for itself.
Early discussions with Hook Norton's Head Brewer and Managing Director, James Clarke, were — as usual — looking to the collection to inspire the product. However, in this case it is the importance of community, storytelling, and shared values rooted in a deep sense of history where we found our common ground for the first Ashmolean Ale.
James commented, "Working with the Ashmolean Museum to produce their first ale has been a real honour and celebrates our joint passion for history and heritage. We have poured all of our 173 years of beer and brewing knowledge into creating Ashmolean Ale which we hope will help refresh and inspire minds in equal measures."
Both Team Tea and Hook Norton join the Ashmolean's existing partner The Oxford Artisan Distillery to bolster the Ashmolean's presence in the food and drink category.
These are just two recent partnerships brokered by Start Licensing, and the Ashmolean is proud to be working with a broad range of licensees such as Flame Tree Publishing, Woodmansterne Publications, Surface View, Welbeck Publishing, Conway Stewart (The Great British Pen Company), Graphenstone UK and Park Agencies.
Ian Downes of Start Licensing said: "We have been delighted with the response we have received from licensees to the opportunity to work with the Ashmolean. They seem to appreciate the fact that the Ashmolean has such a unique and high quality collection from which they are finding a lot of inspiration. Licensees also like the fact that the Ashmolean team is very supportive and take a proactive approach to Licensing."