The Ashmolean Museum Expands Licensing Collection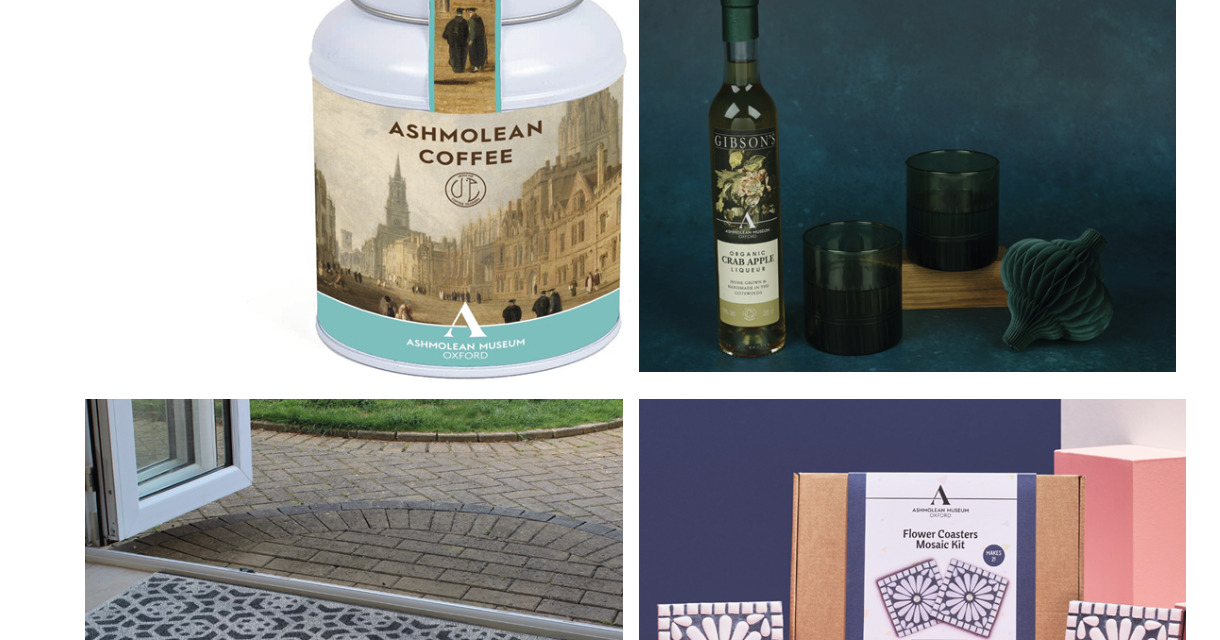 The Ashmolean Museum's licensing programme goes from strength to strength with the addition of five new licensees. The new licensees who have recently come on board are:
Atlantic Mats who are developing a range of mats inspired by objects from the Museum. Atlantic Mats have developed a range of doormats and runners inspired by Ashmolean artefacts such as Iznik tiles and a Jali screen. The Museum has a set of 48 glazed ceramic tiles in its Eastern Art Collection whilst the Jali screen is part of a set of Mughal screens that the Museum believe were used to display Indian Art in the nineteenth century. Atlantic Mats products are made with components including regenerated nylon from waste such as fishing nets and the company has a heavy focus on being a sustainable business.
China Petals are developing a range of mosaic kits with designs inspired by artefacts from the Ashmolean Museum. The kits come with all the elements needed to complete a project including mosaic tiles, grout and glue. There are three products in the Ashmolean range including a Flower Mosaic Coaster Kit with the featured design sourced from a block printed textile fragment and a butterfly mosaic kit inspired by a design from the Museum's Worcester Porcelain collection.
Gibson's Organic Liqueurs are developing a range of Liqueurs using ingredients such as Crab Apples. Gibson's are based in Oxfordshire. Gibson's multi-awarding winning liqueurs are made using only fruit and flowers grown on their organic farm. They join a growing selection of food and drink licensees. The Ashmolean already work with locally based gin producer The Oxford Artisan Distillery, Hook Norton Brewery another local firm who have brewed an Ashmolean Ale and Team Tea another Oxfordshire based company who have created the Ashmolean Tea Blend.
Jericho Coffee Traders are the latest beverage company to partner with the Ashmolean. Coffee drinking has been a mainstay of Oxford life since the seventeenth century. Jericho Coffee Traders are based at the heart of Oxford's High Street in a building that was one of the first coffee houses in the city. Inspired by this heritage, the Ashmolean have teamed up with them to present a special heritage blend. The blend is sold in a tin that features Turner's painting of Oxford High Street which is part of the Ashmolean's collection.
The Indian Block Print Company are a successful Oxfordshire-based company producing the most exquisite block printing kits. The Ashmolean has a rich collection from South Asia, which is helping to inspire creativity. Each block is authentically carved in collaboration with Indian carvers using a sustainable model.
Ian Downes from Start Licensing the Ashmolean's licensing agency commented: "It is very satisfying to see these new licensees come on board. They are joining a licensing programme that is enjoying great success both in qualitative and quantitative terms. Existing licensees such as Park London have delivered successful apparel collections across a range of retailers whilst Graphenstone Paints have picked up a number of industry awards for their Ashmolean paint collection. These new licensees dovetail well with some of the key objectives we have including working with local Oxfordshire businesses and being proactive where possible around sustainability. It is also great to be working with a number of 'new to licensing' companies — they bring fresh thinking and are reaching new market sectors. It also good to see core categories like arts and crafts plus home interiors growing as well."
Dec McCarthy Head of Publishing & Licensing at The Ashmolean Museum added: "We are delighted to welcome our new partners to the Ashmolean's licensing programme. The diversity and creativity is truly inspirational and I feel that we are finding many inventive ways to showcase the Museum's incredible collections to a wider audience. We ensure close collaboration with all our licensees and work through every step of the development stages. It really is my definition of a true partnership."