Sweet Licensing Deals for Fruit-tella with LMG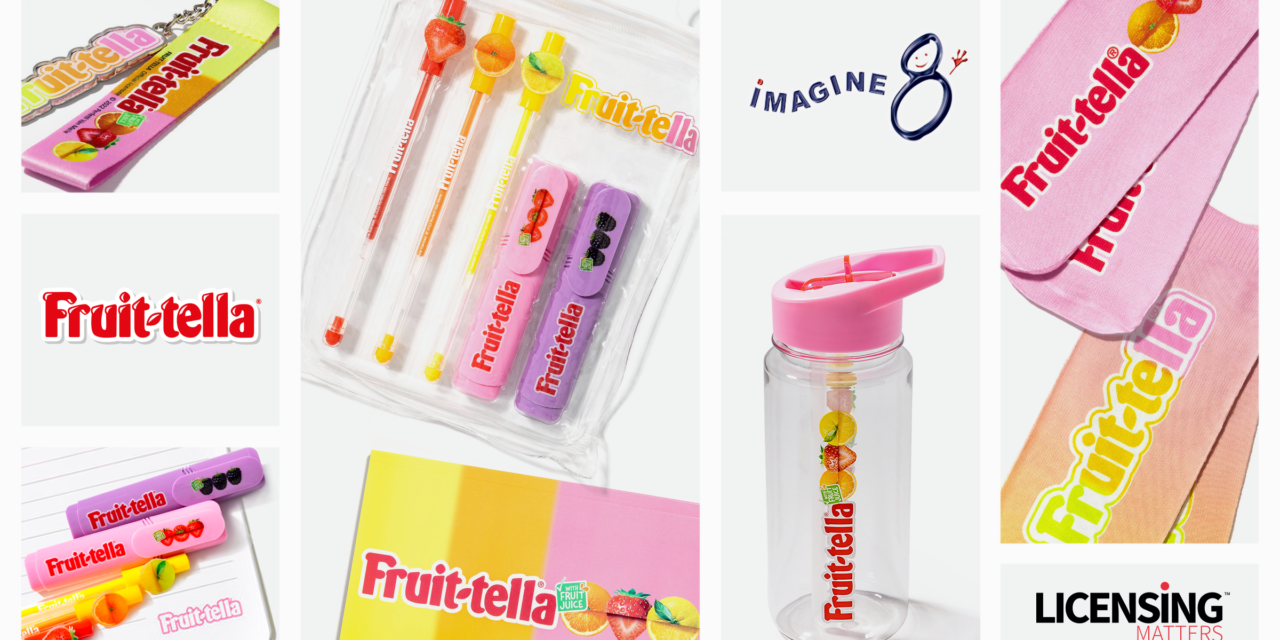 Perfetti van Melle has secured significant agreements for Fruit-tella, the natural and tasty sweet brand produced using real fruit juice, and natural coloring flavours. With a focus on the UK and Benelux markets, the full-service international agency Licensing Matters Global, has delivered partners for Fruit-tella which will extend the brand's reach to the discerning kids, tweens, teens and young adult audiences who aspire to trying new and 'different' products they use as a part of their daily routines.
Amber House, renowned for its innovation in partnering beauty products, has developed a range of 'sweet treats for lips', available at Primark. the fruity lip balms, marketed to consumers as the "Read my Lips" range from Fruit-tella, has already sold more than 300 thousand units, retailing from £1.80 to £2.50. An ongoing cross-category order programme under consideration by all parties.
Imagine8, a UK leader in DTR licensed fashion accessories, stationery, gifts and novelties delivered a range exclusively for high-street retailer Claire's Accessories.  On sale at all of its 500+ UK stores from Q3 2022, Imagin8 has worked alongside the retailer on a product launch to draw a new target audience into its stores, utilising the iconic Fruit-tella brand.  Embracing the fun and colourful brand attributes the collection covers all the Claire's Accessories categories that are synonymous of Imagine8's long-standing relationship with the retailer. Watch this space for the licensed scented plush toys launching in Q2 2023.
Crackerjack (UK), the health and beauty licensing specialist, has signed to develop an assortment of Bath Fizzers & Sponge gift sets that are impactful on-shelf, at retail for the duration of the key beauty gifting season for Q4 2023. Designed in the UK, the focus is to produce a collection which is fun and impactful, suits a range of budgets with a variety of SKUs ranging from stocking fillers to novelty fruit baskets, and representing the vibrant colours of the Fruit-tella brand. Tapping into the current fragrance trends that are mood lifting, feel-good and sensorial the lines will include bath fizzers and sponge gift sets. which will be reminiscent of the Fruit-tella signature fragrances and anticipates launch timings of Q4 2023.
Commenting on the trio of agreements, Leila Loumi, Senior Global Licensing Director at Licensing Matters Global, comments:
"Securing these partners who can reach the kids, teens, tweens and young adult audiences for Fruit-tella has been enjoyable and great fun. From concept development through to seeing the final SKUs, going into production, we have been able to see how these wonderful lines have captured the essence of Fruit-tella and brought to life the equity of the brand. Each partner is an expert in their field and the creativity shown, that's so in-tune with the brand and its consumers, has been exceptional. Each of them has demonstrated how a brand can be extended to excel at elevating the brand values, of Fruit-tella."
"It´s great to see how our fruity Fruit-tella brand is entering the licensing arena, gaining visibility in the market with the valuable help from Licensing Matters Global", says Vanessa Grande, Licensing Coordinator from Perfetti Van Melle. "We´re so excited to see how Amber House, Imagine8 and Crackerjack, have truly reproduced the Fruit·tella joy inspired by its strong fruit equity in the different categories they develop".
.