Fashion collabs come to life at Brand Licensing Europe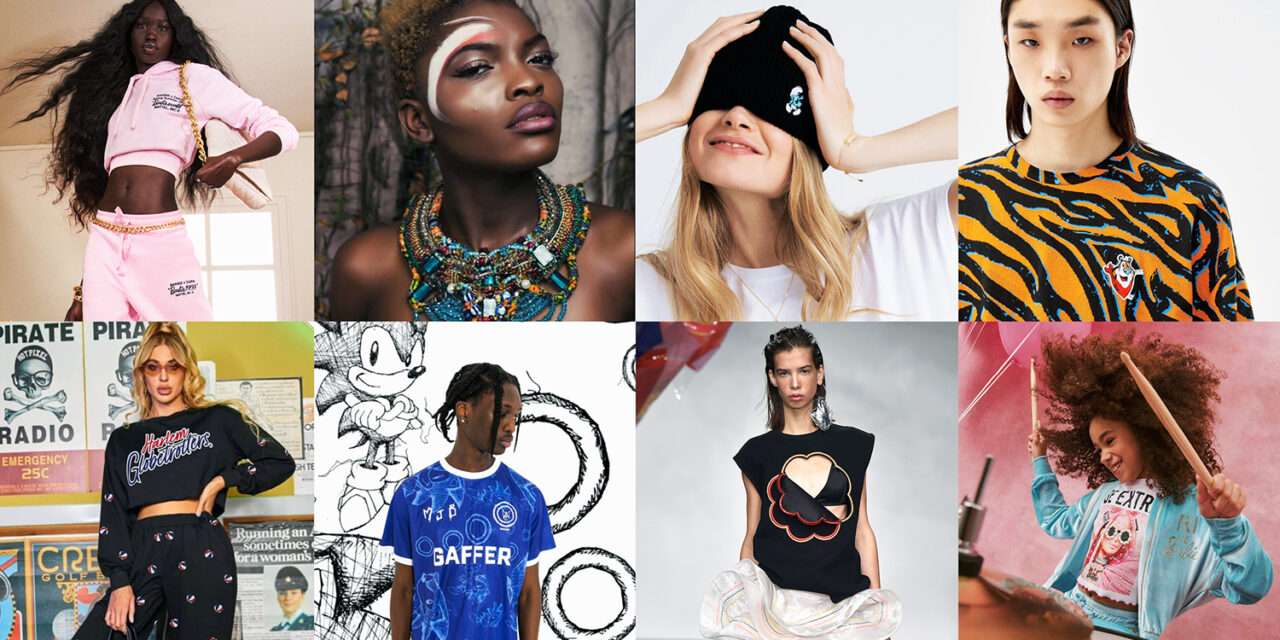 Fashion collabs come to life at Brand Licensing Europe as Barbie x Balmain, Universal Studios x Gucci, Felix the Cat x Levi's, Sonic x HYPE, Mentos x The Lobstars and many more hit the catwalk
Barbie x Balmain, Universal Studios x Gucci, Hype x Sonic the Hedgehog, Mentos x The Lobstars and Black Lives Matter x Fashion United are among the many brands and fashion collabs that will be brought to life on this year's Brand Licensing Europe (BLE) Catwalk.
BLE is Europe's leading event for licensing and brand extension, taking place 20-22 September 2022 at ExCeL London and tickets are free to attend. In respect of the passing of Her Majesty Queen Elizabeth II and the timing of her state funeral on Monday 19 September, this year's opening times are now:
Tuesday 20 September: 12:00 – 18:00
Wednesday 21 September: 08:00-18:00
Thursday 22 September: 09:00-16:00
BLE's 2022 theme is fashion and visitors can enjoy nine live, showstopping 15-minute fashion shows across three days. Please note, the original timings of Collaborations and Barbie: the ultimate fashion icon on Tuesday have changed.
Tuesday 20 September
12:30: Live debut of Colour the Decades, featuring Admiral Sportswear powered by Kornit, a fashion exhibition that reimagines iconic football designs in leisurewear
14:00: Kids, featuring:
Cry Babies Magic Tears (from IMC Toys), displaying their latest ranges with Poetic Brands and R.J Bags

Karma's World (from 9Story Media) from hip-hop artist Ludacris. Offering streetwear-inspired daywear with Poetic Brands and a new exclusive range launching at George at Asda.  

PlayStation from Sony Interactive Entertainment with a collection of 'night to day' styles

Universal Brand Development with clothing inspired by Jurassic, from Molo, M&S, New Era, Zara, Very, H&M and Sinsay; E.T., from Mini Rodini and H&M; Minions, from Kiabi and Lyrical Lemonade and Gabby's Dollhouse, from Walmart, F&F and character.com
16:00: PLEASE NOTE NEW TIME. Collaborations, featuring:
Harlem Globetrotters (from Herschend Entertainment Studios) showcasing their exclusive new collection launching this autumn ahead of their European tour

The Smurfs. With 96% global brand awareness, the Smurfs are not only loved by kids, but also nostalgia fans. Lots of 'Smurfy' apparel will be on the catwalk, including some unexpected famous brands.

Natural History Museum, showcasing their new Natural History Museum x Joanie range with independent fashion brand Joanie Clothing
17:30: PLEASE NOTE NEW TIME. Barbie: The ultimate fashion icon: A Barbie runway takeover by Mattel with looks from Balmain, Gert Johan Coetzee, Alessandro Enriquez, Zara and River Island.
Wednesday 21 September
10:00: Food & Beverage, featuring:
Perfetti Van Melle, revealing its new Mentos x The Lobstars collaboration with renowned pop artist Philip Colbert, alongside successful Chupa Chups ranges. Designer Philip Colbert (Mentos & Lobstars) will be in attendance at BLE.

Kellogg's, Pan Am, Pringles and SLUSH PUPPiE (from Pink Key Licensing) showing off diverse ranges from Primark to high-end collaborations with designer Anya Hindmarch.
12:30: SEGA will take over the catwalk with Sonic the Hedgehog: Fashion in the fast lane featuring Sonic the Hedgehog x Hype, MJB and much more.
14:00: Entertainment Collabs, featuring:
Call of Duty, Crash Bandicoot, Overwatch, World of Warcraft (from Activision Blizzard with Beanstalk) with their latest ranges from Shein, The Hut Group, Fashion UK, Level Up Wear, Erve and more.

Teletubbies x Ellesse x GoGuy will bring their joyful, gender-fluid collection to BLE that launched as part of Teletubbies collaboration with Pride of London earlier this year. GoGuy's founder and director, Sophie Guy, who designed the Teletubbies apparel will appear on stage.

The Next Step (from Boat Rocker Studio), showcasing their range at Pineapple
Universal Brand Development featuring Universal Studios x Gucci, Hot Stuff x Broken Promises, Scarface x Shoe Palace, Kung Fu Panda x Urban Revivo, Universal Monsters x WAAC, Felix the Cat x Levi's, Felix x Vanson M.C., E.T. x Lazy Oaf, Trolls x Milk Boy, Jurassic x The Hundreds and Richie Rich x Reason.
Thursday 22 September
10:00: Culture & Unity, featuring:
Black and LGBT designers, models, creatives and crew

Sibu fresh from London Fashion Week, with their Levi's partnership using denim waste to create innovative fashion pieces with sustainability in mind.

Angela Quansah, an award-winning designer who has appeared in Vogue and Elle, and currently featuring in the V&A's African Fashion show

Bunmi, with their bridal and couture designs

DJ to Cardi B and Idris Elba, DJ Longers

Black Lives Matter apparel from Fashion United
12:45:   Sustainability, featuring Products of Change, Junk Kouture and United Nations' Sustainable Development Goals
Mattel President and COO Richard Dickson: "BLE marks an exciting return to the runway for Barbie fashion as we take over the runway in looks from Balmain, Gert Johan Coetzee, Alessandro Enriquez, Zara and River Island. The clothes and accessories celebrate the incredible popularity and signature style of Barbie as well as the brand's global platform for self-expression. It is very exciting to be back!"
Paul Bufton, Vice President EMEA at NBCUniversal Brand Development: "Fashion licensing is an extremely strong category for Universal. We have a wealth of experience in working with brands from every tier – from high-end designers, such as Prada and Moschino, to streetwear labels, mass- and mid-market suppliers – and we pride ourselves on working closely with our partners to bring the very best products to market: fashion-first collections that have the additional 'pull' for the consumer of their favourite Universal properties."
Natalie Setton, Vice President of Brand Partnerships, Licensing and Content Distribution for Herschend Entertainment Studios, adds, "We're excited to connect our iconic Harlem Globetrotters brand with our fans across Europe. These new collections will be accessible in fashion and sporting retailers this Autumn – just in time for our European tour."
Richard Pink, MD at Pink Key Licensing, continued, "Weare really proud of the diversity of our apparel – they demonstrate how art originally designed to promote food and travel brands, their logos and advertising can be reimagined as genuine fashion icons removing by them from their original context and placing them on the catwalk. We cannot wait to show you!"
Maxine Lister, Head of Licensing, Natural History Museum, said: "We are absolutely delighted to be working with the team at Joanie. We have been fans of the brand for some time now and love the way they approach their collections, both in the way that they celebrate the individuality of women's fashion and their commitment to adopting sustainable fabrics and practices. Our collection with Joanie references many different themes from our collection from our beloved dinosaurs to whales, insects, minerals and much more. There really is something for everyone in this collection and we cannot wait for Joanie fans to see it." Anna Knight, SVP of Licensing, Informa Markets: "I can't stress enough how jaw-dropping, aspirational, inspirational and downright fun the BLE catwalk shows are going to be, We've got everything from Barbie in Balmain and Zara, to Sonic the Hedgehop x MJB and the United Nations, Products of Change and Junk Kouture bringing the climate change conversation to the forefront by challenging the next generation to think differently about fashion and waste. For anyone with a brand that has the potential to extend into fashion and is looking for that nugget of inspiration, this content is gold